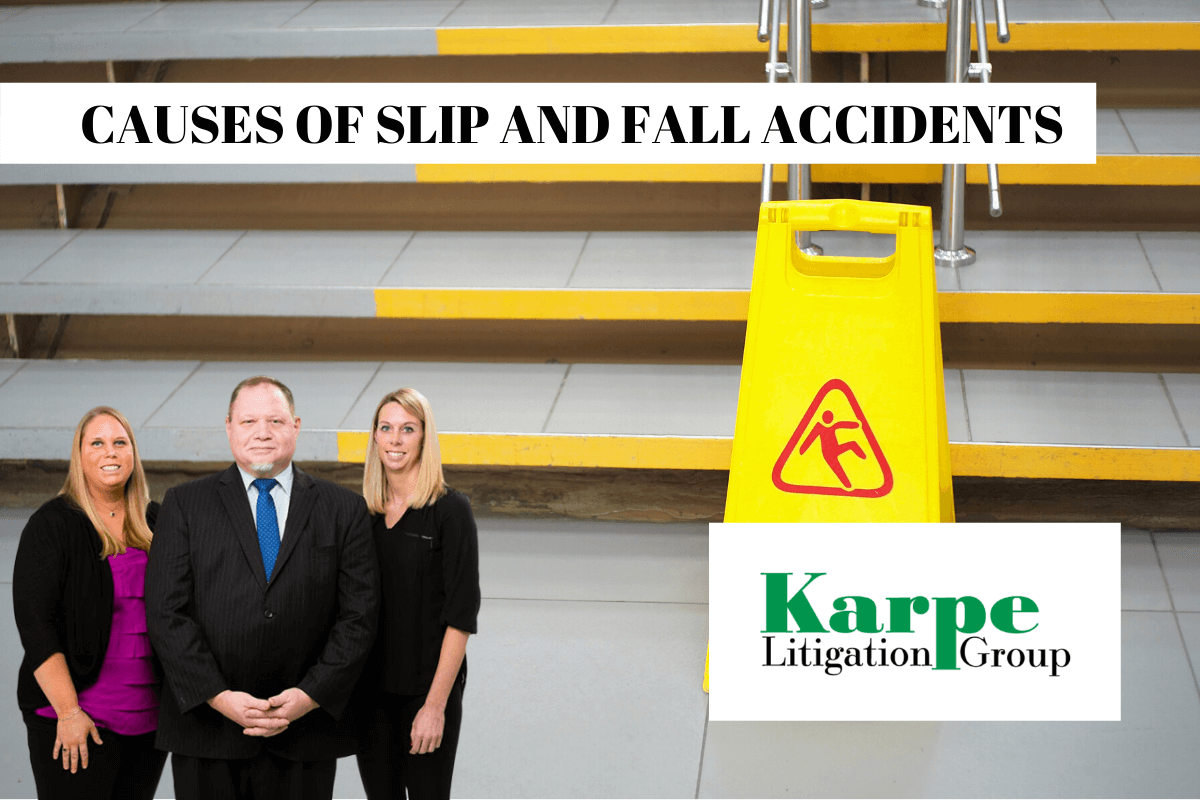 Surprisingly enough, there are several studies that reports that both floors and flooring materials directly contribute to more than 2 million fall-related injuries every year. When it comes to slip-and-fall accidents in Indianapolis, there are several reasons that we've found that are common slip and falls causes. If you've been exposed to some common causes of slip-and-falls, you need to speak with an expert slip-and-fall accident attorney. Call our office at 317-251-1840.
Slip and Fall Injuries
A slip and fall injury is also commonly referred to as a trip and fall accident or injury. Such an injury would be classified under what is call as a premises liability claim. A premises liability claim is a type of personal injury claim or case that is based on a person slipping (or tripping) on the premises of another and, as a result, suffering an injury of some sort. At Karpe Litigation Group, we represent our clients that have premises liability claims that stem from the following areas of negligence.

Wet and Slippery Floors
Wet and slippery floors are due to water or other wet or slippery substances. The National Floor Safety Institute states that more than half of all slip-and-fall accidents are from improperly maintained walking surfaces. The types of surfaces that are particularly dangerous could be:
A recently mopped or waxed floor
Grease on the floor of a restaurant,
A sopping wet pool deck
A sandy ramp to the hotel
A rain-slicked entrance to a casino
Poor Lighting Causes Accidents
It's very easy to have a slip-and-fall accident in a poorly lit area. We are all vulnerable to falls and all sorts of perils when we cannot see certain kinds of surfaces. A place that might not be dangerous in broad daylight could be extremely dangerous in the dark. The property owner has a duty to make sure that all walking areas are well lit at all times. Places such as pool areas, walkways and sidewalks, garages and stairwells are consistently seen as dangerous spaces where poor lighting issues occur.
Lack of or Defective Hand Rails Lead to Falls
In parking garages, shopping centers, apartment complexes and hotels, guests rely on handrails when climbing stairs. When there is either a lack of or a defective handrail, an individual can easily lose balance, or lose their grip and have a potentially dangerous if not fatal fall or accident.

Failure to Follow Proper Safety Practices
Employers have a duty to provide a safe workplace, and unfortunately, they sometimes fail to do so. This failure can stem from either inadequate training or blatant improper maintenance of the worksite. When these acts of negligence leads to work injuries, employees may seek workers' compensation. While they cannot sue their employers, third-party claims for further damages may be a possibility in some instances. We are also an Indiana workers compensation damages law firm as well.
Also read:- Benefits of Hiring an Indiana Slip and Fall Accident Attorney
We've Represented Numerous Clients in Common Slip and Fall Causes
At Karpe Litigation, we have a top-rated Indiana personal injury lawyer that consistently and successfully represents our clients with slip-and-fall claims that come from common slip and fall causes. We are responsive, experienced and dedicated to represent our clients number one interests. It's our duty to work to ensure your rights and best interests are protected at all times. Call our office at 317-251-1840 for help today.