Motorcycle Accident Lawyer
Motorcycle accidents can cause severe injuries which might need personal attention, and the victim has to spend a lot of bucks to recover. Brain injuries are mostly observed in motorcycle accidents, and due to that, many social groups and governments promote wearing helmets and safety guards. Although, if you are injured in any such accident, make sure to connect with a motorcycle personal injury lawyer.
Injured in a motorcycle accident?
Speak with a lawyer, no matter what led to your recent motorbike collision. Depending on the specifics, you might be qualified for compensation from one or more parties.
Statistics of Motorcycle Accidents
You are not alone if you're a motorcycle rider and were recently hit because another driver was not paying attention. Sadly, the motorcycle rider usually ends up with serious, life-altering injuries when the other driver was unable or unwilling to operate their vehicle safely.
In the first quarter of 2022, the National Highway Traffic Safety Administration evaluated that 9,560 persons perished in motor vehicle traffic accidents. This is an increase of nearly 7% compared to 2021.
Early projections by NHTSA indicate that the mortality rate will rise from the predicted rate of 1.25 deaths per 100 million vehicle miles in the first quarter of 2021 to 1.27 deaths per 100 million vehicle miles in the first quarter of 2022.
The U.S. Department of Transportation has made it its top mission to end road fatalities nationwide. Significant investments in traffic safety are made under the Infrastructure Investment and Jobs Act.
The goal of the National Roadway Safety Strategy, which the U.S. Secretary of Transportation unveiled in January, is to lower road fatalities. The long-term strategy concentrates on making people, roads, vehicles, speeds, and post-crash treatment safer in order to save lives.
What Are the Safety Rules for Motorcyclists?
Accidents are sudden incidents, we can't predict or stop them from happening, but all we can do is take precautions. Common safety rules include being alert on roads, using helmets, avoid driving at high speed.
Licensed Driving
You must have a legal government license to drive. However, the legal driving age is 16, and it is a legal offense if you don't carry your license while driving. All states require a motorcycle license endorsement, despite the fact that motorcycle licensing laws differ from state to state. In most jurisdictions, you must pass written and on-vehicle skills exams given by your state's licensing office in order to earn the appropriate endorsement.
Drink and Drive
An individual should drive without consuming alcohol and drugs, including prescribed medicines. Prescribed medications might make you feel sleepy or unconscious, through which you won't be able to drive or manage a vehicle in traffic.
If by chance you hit other vehicles, and if you are on any symptomatic medications or drugs, you can be at fault and have to face the consequences. To be safer, it is always suggested not to drive in such cases.
Traffic Rules
Every rider should be aware of the traffic rules. Such as whether it is left or right-hand driving, speed limit, understanding sign board, etc. An individual should also keep an eye on the maintenance of the vehicle, whether the side mirror is proper, breaks and gears work properly, maintain spare parts, etc.
Wearing Helmet
Wearing a helmet almost reduces 70 percent risk of harsh head damage in motorbike crashes. Persons operating a motorcycle with a motorcycle learner permit are also required to wear helmets.
However, according to traffic laws wearing a helmet is mandatory. Motorcyclists should prioritize their safety and avoid putting their health at risk. Mainly, a helmet keeps our brain/ head safe, but there are numerous other advantages as well such as:
Weather protection
Long hair protection
Wind noise reduction
Avoiding dust touching your face or eyes
Do you need information on Motorcycle Accident injury claims?
Looking for something but unable to find it? Please contact us to discuss your legal matter.
What Should You Do Following a Collision Involving a Motorcycle?
Some of the most vulnerable drivers are those who ride motorcycles. Riders can sustain catastrophic injuries when struck by a car or truck, even when they adhere to the rules of the road and are wearing protective gear such as helmets and Kevlar suits. When riding a motorcycle on the highway and in a city, you need a space that is legal for motorcycle riders. You should not be responsible for paying for the harm to your bike or to your body that results when a driver is irresponsible and fails to provide you with the space you need to ride safely.
Nevertheless, accidents are unpredicted. So, an individual should know what should be done after an accident.
Here's what you need to do after a motorcycle accident:
Inform Police
After an accident, an individual must inform the police and file a report. While compensating the amount, the police report is one of the crucial documents. However, the report carries every detail of the accident said by the victim and the investigation done by the police, which helps to know who was at fault and how much compensation is to be given.
Call Ambulance
However, it is observed that an individual can suffer severe injuries in a motorcycle accident. After an accident, priorly you must seek medical help. If the injury is severe, call the ambulance. Yet, you must seek medical help because, initially, the injuries are not visible; a medical professional can verify them. The medical documents can help you in receiving the compensation.
Store Every Document
If you are stable enough on the accident scene, try to take pictures and video of the scene. Visual evidence can strengthen your case. Make sure you store every document, such as police reports, medical bills, accident scene images, etc. These documents can be helpful while calculating the amount of compensation you deserve.
Hire a Motorcycle Injury Lawyer
A crash lawyer is one who is known for the laws associated with motorcycle accidents. Moreover, they are also known for the ins and outs of the legal service, which is beneficial for a victim. An experienced lawyer takes every responsibility of the case, from collecting evidence to negotiating on your behalf in court. The most significant benefit of hiring a lawyer is that most of the lawyers work on a contingency basis which means you only pay when you win the case.
What Are the Causes of Motorcycle Accidents?
There are numerous reasons which cause motorcycle accidents. But most commonly, it happens due to speeding and distracted driving. Due to small negligence of an individual, people might have to face severe consequences such as:
1. Distracted Driving
Distracted driving is the most commonly observed cause. These days people use cell phones or earphones while driving, which distracts them while driving. Moreover, not focusing on the road can also lead to accidents. This can be a threat to every rider on the road.
2. Speed Driving
When an individual is speed driving, it is highly possible that they might have less control over their vehicle. In such cases, it becomes difficult to put sudden breaks and control vehicles in traffic.
3. Blind Turns
Usually, blind turns lead to a vehicle crash, and if, by chance, any vehicle is at speed, then the crash might get severe for both drivers.
If you meet with an accident where you or your loved one is left with severe injuries, you must seek a lawyer. You might be eligible for compensation from the opposition. You can't share your pain but get recovery for your damages. Then it can be economical or non-economic; also, property damage can be recovered.
Common Types of Injuries an Individual Face in Motorcycle Accidents
Spinal Cord Injuries
Motorcyclists who sustain injuries to their backs or spinal columns risk life-threatening consequences. These wounds include spinal cord injury, herniated discs, and damaged ligaments. One of the most severe injuries in this group is spinal cord trauma, which can cause temporary or permanent paralysis in varying degrees.
Head and Brain Injuries
Wearing helmets on motorcycles significantly lowers the risk of head injuries. Unfortunately, not all riders wear them, putting them in danger of severe brain injuries, concussions, and skull fractures. Head and brain injuries brought on by motorcycle crashes can have life-altering effects as well as long-term physical, cognitive, and behavioral impairments.
Facial and Dental Injuries
Serious motorcycle accident injuries are most likely to occur to the face and mouth. Eye injury or vision loss, shattered facial bones, loose or missing teeth, facial scars, and other problems are possible injuries one may suffer. Some dental and facial injuries sustained in crashes can be disfiguring, which lowers a victim's confidence and self-worth.
Broken Bones and Amputations
Substance orthopedic reconstruction may be necessary if a rider breaks or crushes a bone. Accident victims may also lose limbs or appendages or need to amputate their legs or arms because they cannot be recovered.
What is the Compensation After a Motorcycle Accident or Injury?
It's dicey to estimate the amount of compensation. But the fact is many reasons fall under to calculate the cost. So it is always suggested to seek a motorcycle crash lawyer to know the exact amount and what all damages can be recovered. Here are a few ways we will work to get you the compensation you deserve:
1. Medical expenses
2. Lost wages
3. Property damage
4. Pain and suffering
Comparative Fault in a Motorcycle Accident
Serious injuries from motorcycle crashes can include traumatic brain injuries, muscle injuries, spine injuries, and more. The probability of suffering injuries in a motorcycle accident has been decreased by wearing a helmet while riding. All motorcycle riders in Indiana are required by law to wear helmets. Motorcycle riders involved in an accident with a careless driver while not wearing a helmet may be concerned about how this may influence their compensation claim. Yet, not all riders wear helmets.
There are specific legal requirements for accidental cases in each state's jurisdiction. It is essential to probe Indiana's shared fault system while managing who is at responsible for motorcycle accidents.
In Indiana, a modified comparative negligence approach is used, as per Code IC 34-51-2.
Motorcycle accidents in Indiana are subject to the modified comparative negligence test. In simpler words "51% fault" theory, also known as "comparative fault," a biker cannot sue for injuries if they are more than 51% to blame for the clash. The court will deduct the amount of fault you bear from your financial losses.
For instance, if you are hit by any vehicle but you were at fault by 30 percent, then your compensation amount can be reduced by 30 percent.
What Is Uninsured Motorist Coverage?
Uninsured and underinsured motorist protection is a standard segment of Indiana auto and motorbike insurance policies. You have the option to refuse this coverage formally, but most riders do not. These plans have approx $25,000 per person physical injury and $25,000 per object property damage minimum liability limits. Therefore, if you have this policy and you are injured by an uninsured driver, your own insurance provider is now liable for paying for:
1. Funeral Expenses (in case of death)
2. Medical Appointments
3. Future Securities
4. Vehicle damage
However, while competing with uninsured people, hiring a motorcycle crash lawyer is always suggested because there are several laws that can be filed against the person. There are low chances that an ordinary man might know the ins and out of a legal firm.
What Is the Time Duration for Case to Get Settle?
Well, when it comes to time, several elements again become important. However, in the end, it depends on how a motorcycle lawyer handles the case. Below are the factors on which the time period depends.
1. Gathering evidence and medical documents
2. Negotiating with the Insurance company
3. Court hearings
4. Medical treatment
Hire Top Rated Motorcycle Accident Lawyer
Working with insurance companies after a motorcycle accident while trying to recover from your injuries can be an incredibly frustrating experience. Allow us to help you and be on your side. We have been protecting riders by fighting for their rights successfully since 1999.
However, we are known for our success rate, and for decades, the motorcycle lawyer at Karpe Litigation Group has fought for bikers' rights. We have carefully selected local, independent counsel around the nation because we are experts in motorcycle accidents, and we can help you with your claim by providing free legal consultation. Call immediately for your free consultation if you want justice and recompense for your injury, pain, and suffering.
Few perks of hiring us:
1. We don't charge until we win
2. One lawyer will guide you throughout the case personally
3. We travel to the victim's place if he/she is severely injured
4. We take the entire responsibility for cases, such as collecting evidence, ensuring no one tampers them, compiling documents, etc.
What Are the Fees for Hiring Karpe Litigation Group?
Our bike injury lawyers will handle your case on a contingency basis. This implies that you will only be responsible for paying legal fees if we are able to obtain a money judgment.
However, we are known for our success ratio. You will be provided with a knowledgeable motorcycle injury lawyer who will work diligently to protect your rights and secure just compensation for your losses. We have more than 20 years of legal experience and have the litigation expertise necessary to handle any motorcycle accident.
Regardless, to be more specific here is the amount of segregation of a lawyer working on a contingency basis.
The contingency fee may vary depending on the lawyer or law firm, as well as the attributes of your case. For motorcycle accident lawyers, the standard contingency fee ranges from 33.3% (one-third) to 40% approx of the money they recover for their clients.
Process Follow at Karpe Litigation Group
Analyze the Case
Once a case comes to us, we ensure to understand every detail and fact from the client side. Our motorcycle injury lawyer investigates and confirms them with their sources. Moreover, we collect relevant evidence and documentation to help us represent the case. Later we make a detailed file of every small piece of information, which includes medical bills, property damage, updated statements, lost wages, etc. Your detailed statement should be updated frequently so that you, us, the medical professionals, and the barristers are all on the same page.
Claiming the notice
Written notice that the case has been filed and the other party must appear in court, setting forth a claim against the defendant.
Before claiming the file, our lawyers first gather substantial evidence and witnesses. Additionally, we ensure that no data is tampered with or misused while we gather the evidence.
Later, when enough data is acquired and the individuality of the at-fault party has been established, an initial claim notice that constructively explains the basis for and nature of your compensation demand will be drafted.
Calculating Damages
Our lawyer will calculate each and every damage, whether it is economical or non-economical. However, calculating pain and suffering can be complex, but we personally communicate with therapists and doctors and analyze the severity of the injury.
After obtaining all necessary data and medical expert opinions, we will carefully craft your claim demands. Every element will be supported by reliable evidence and expenses that happened in an accident. Our motorcycle crash lawyer will study every section of the case after claiming and give an approximate amount the victim can receive.
Negotiation
One of the most critical stages of a litigation procedure is negotiation. Even though you have credible witnesses and facts, it is only useful if they are correctly portrayed. We have always practiced asking relevant questions and keeping an eye out for our counterpart's reputations and other essential objectives during negotiations.
We schedule a settlement meeting and try to negotiate a resolution after the insurer has considered your damages request. Each party will exchange offers, and if the insurer is reasonable, the conference presents a great chance to close the claim.
Heading To Court
However, our first try is to come to an agreement outside the court. But, if the case is not solved outside the court, we file a case in court and let the jury or judge decide who is at fault based on the arguments and evidence made in court. We strictly stick to solid proofs and witnesses and argue accordingly. Every motorcycle lawyer is highly experienced and skilled in presenting the case in court.
Karpe Litigation Group Lawyers
Connect with our professional lawyers by dialing 1-888-228-7800 or come down to the office. We will reach you within 24 hours.
Main Office:
19 West 19th Street Indianapolis, IN 46202
Phone: 1-888-228-7800
Motorcycle Accident FAQs
1. What should you do if you are a victim of a motorcycle accident?

It is very unpredictable and depressing for an individual to meet a motorcycle accident. Below are the few points a victim can do on the accidental scene.

1. Report the accident to the police

2. Take pictures and videos of the accident scene

3. If severely injured, seek medical help

4. Talk to a motorcycle lawyer

2. Who is at fault in most motorcycle accidents?

To know the at-fault party, a legal process is followed. Once the case is filed to the police, an investigation is followed in which every small piece of evidence and witness is studied. Later, after analyzing each circumstance, it has been decided who was at fault.

3. Why hire a motorcycle accident lawyer for a motorcycle crash?

After a motorcycle collision, it is always suggested to hire a motorcycle crash lawyer. As they are experts in legal firms. A lawyer can help you in many ways, such as:

1. Negotiating on your behalf

2. Representing you in court

3. Compiling evidence

4. Making you understand your worth

4. How do I choose the best motorcycle accident lawyer?

While looking for a motorcycle injury lawyer, an individual should be cautious about every small move they make. An individual need's to ensure a few things before hiring a lawyer, such as:

1. Past testimonials

2. Total experience in a legal firm

3. Educational background

4. Success rate

5. How long does a motorcycle accident claim take to settle?

The length of time may change from case to case. Any legal lawsuits are not subject to a set term or time frame. It largely depends on how severe the damages and injuries from the accident existed. The settlement normally takes place 6 months to a year after the accident. You may need to wait 20 to 30 days before the insurance adjuster makes you their initial settlement offer.

6. What are some reasons why a lawyer might not take a bike accident case?

Well, there are minimum chances that a lawyer will deny your case. But below are a few common reasons why a bike crash lawyer might decline your case.

1. Difficulty establishing liability

2. Limited resources of the defendant

3. Other lawyers rejected your case

4. The statute of limitations has expired

5. Poor rapport with you

6. Your case involves a novel issue

7. Expense of the case

8. Inadequate amount of damages make it worth their while

7. What are the qualities of the best motorcycle accident lawyer?

However, the qualities of a lawyer increase with experience and the number of cases solved. Yet, below are the common provable characteristics of a motorcycle accident lawyer:

1. Professionalism

2. Good negotiating skills

3. Experience

4. Transparent with a client in terms of case

5. Honest about fees and costs

8. How do you negotiate a higher settlement in a bike accident?

With or without a lawyer's presence, you can use the following recommendations to resolve your disagreements amicably and in a way that benefits both parties.

1. Ensure that the procedure is seen as fair.

2. Identify the tradeoffs and interests

3. Need decision analysis

4. Spend less on discovery

However, hiring a bike injury lawyer is always advisable, as they are skilled and experienced professionals in terms of lawsuits. They might have better and easier solutions for your case.

9. What is the average motorcycle accident settlement?

You must first consider the averages for the type of event you have had to determine a fair settlement value for a motorbike accident—currently, a motorcycle accident settlement averages around $80,000. However, an experienced motorcycle lawyer will help you to study the recovery amount more precisely.

10. Will my bike accident case go to trial?

However, most motorcycle accident cases are settled outside the court, but if the case is severe and any one party is declining for the settlement, then it is highly possible that the case will head to trial. The bike crash lawyer is skilled at minimizing and averting conflicts, but there is ultimately no way to ensure that the opposing party would comply.

We have highlighted a few elements that may influence whether your case goes to trial below:

1. Absence of proof of liability

2. Many parties are jointly liable

3. You put off getting medical help

4. The defense contests the settlement figures

5. You are claiming hefty damages
Motorcycle Accident Blogs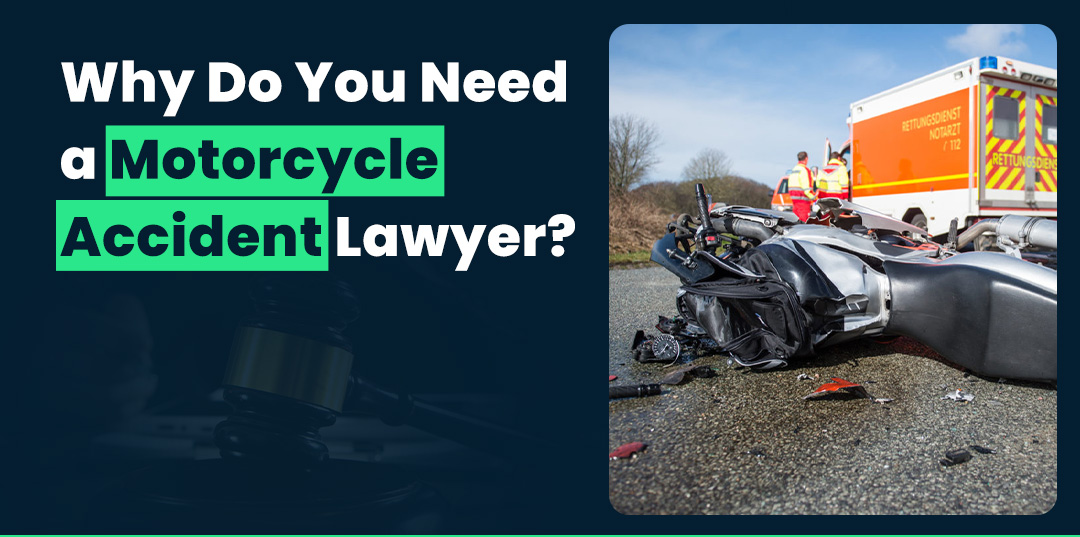 As the number of motorcycles on the road continues to rise, so do the chances of being involved in an…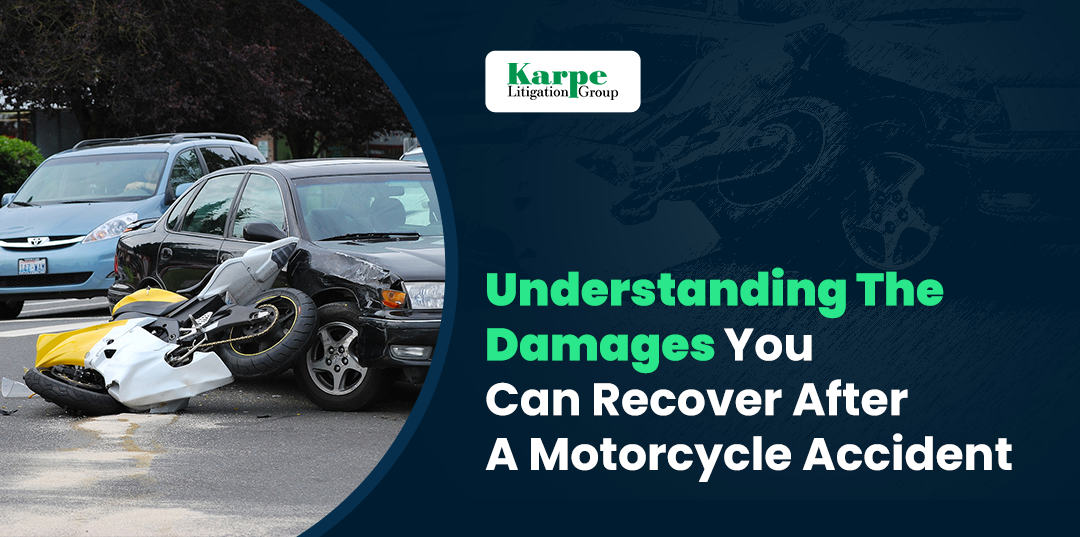 It was on August 28th, 2022 that two people lost their lives in Indiana. As a motorcycle rider, you might…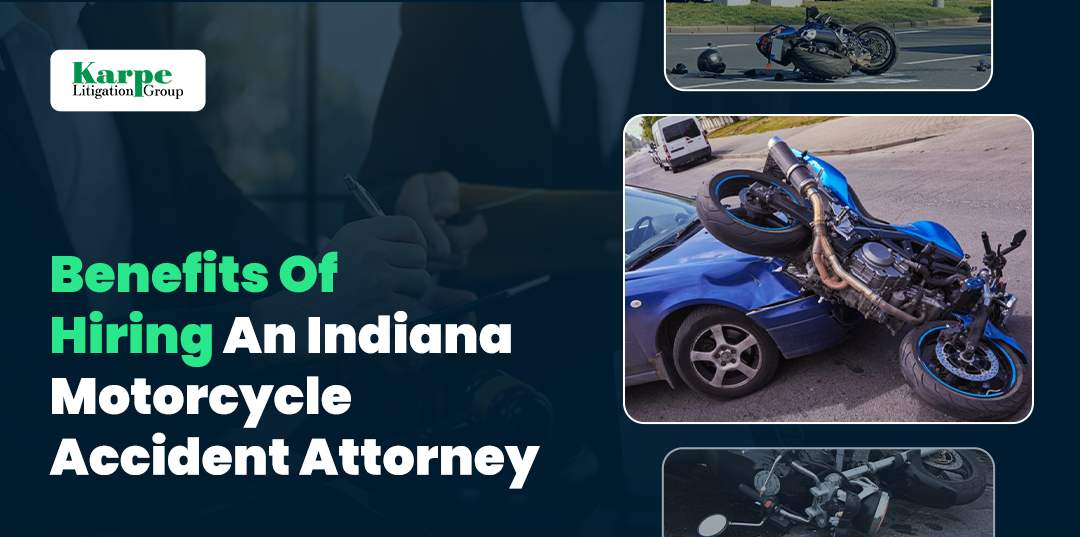 8.2% of US citizens have motorcycles. These fun rides are full of adventure and spending good memories but they are…
Review My Case