Indianapolis Semi-Truck Accident Attorney
Cases associated with semi-truck accidents can be quite complex. Victims will be burdened with substantial medical expenses, pain, suffering, lost wages, and wrongful death. If you are injured in an accident, you must get legal help from a reliable Indianapolis semi- truck accident lawyer to understand your rights as a truck accident victim. Call us today by dialing 1-888-228-7800.
Are you a accident victim?
Our Attorneys get, on average 300% more compensation for their clients than they could have gotten themselves!
Why Are Semi-Truck Accidents So Deadly?
If you ever wondered why an individual would need the services of a semi-truck accident attorney, you need to examine the statistics. It's a fact that in 2017, 4,102 people are killed in accidents involving tractor-trailers across the country – a number up 30% from 2009. About one in 10 highway fatalities happen when a large truck is involved in an accident. Even in less tragic road crashes, commercial semi-truck collisions involve a very different set of problems for truck drivers, motorists, pedestrians, bicyclists, and motorcyclists. It can be very difficult to know where to turn.
Semi-trucks are much larger and much more powerful than the standard vehicle. Due to the height from the ground to the bottom of the truck, cars can be pushed underneath the trailer during a collision or multiple-vehicle crash, causing more vehicular damage and increasing the potential for life-threatening injuries.
The Indiana semi-truck accident lawyers at Karpe Litigation Group are skilled in navigating the complex issues that accompany semi-truck accidents. We have the resources to help when you or a loved one are involved in an accident with a tractor-trailer or semi-truck and will fight to make sure you receive the benefits you deserve.
Which Roads Are Dangerous in Indianapolis, Indiana?
Residents staying in Indiana might have their own guesses and experiences. A well-known group called Health by Design has made up a list of the 10 most dangerous areas in Indianapolis, where accidents are been observed more frequently.
West 86th Street between Michigan and Harcourt Roads.
West 34th and 38th Streets, from Moller Road west to I-465.
West 38th Street between Boulevard Place and Meridian Street.
East 38th Street from the State Fairgrounds to Sherman Avenue.
Martin Luther King Jr. Street from 25th to 30th Streets.
Meridian and Illinois Streets from 14th to 34th Streets.
West 10th Street from Tibbs Avenue to Dr. Martin Luther King Jr. Street.
East 10th Street from Woodruff Place to Arlington Avenue.
West Washington St. from I-465 to Holt Road.
East Washington Street from Willard Park to Arlington Avenue.
Do you need information on Semi-Truck Accident injury claims?
Looking for something but unable to find it? Please contact us to discuss your legal matter.
What Should an Individual Do After a Semi-Truck Accident in Indiana?
A large truck is significantly heavier than a passenger vehicle. Therefore, an accident can cause severe injuries and catastrophic damages if a truck is involved.
When you are injured in a truck accident, you will likely be in a state of scare and may not be able to think clearly. However, remember that your next actions after a truck accident can significantly affect your chances of obtaining maximum compensation when filing a personal injury claim.
If you have been in an accident involving a truck, such as an 18-wheeler or a delivery van, you should first seek medical attention. Once you get stable, you can ask for recovery of the damages. If so, consider speaking with a Semi-Truck Accident Lawyer In Indianapolis.
Here's what you need to do after a truck accident:
Take Photographs
You must click pictures of the accident scene before any vehicle involved runs away. These pictures can be beneficial while showcasing the case. However, the court also allows the representation of the accident's photos and videos.
Seek Medical Help
Immediately call the helpline and seek medical attention. Few injuries are not visible immediately; if you avoid seeking a professional, they might get severe with time, such as brain injury and spine injury
Call Police
If you feel the accident was because of other's negligence, you must call the police immediately. If the accident scene is easy to identify who was at fault, then police instantly take hold of the faulty party.
Hire an Attorney
After getting stable from medical visits, call an attorney. Hire the best Indiana semi-truck accident attorney to get fair justice. An attorney can help you in every way to get you fair compensation which can recover your damage. A professional attorney is aware of every in and out of the legal service.
What Are the Common Causes of Semi-Truck Accidents?
Semi-truck accidents can be caused due to a number of reasons. But the most common reason is trucks carrying heavy luggage; the vehicle gets imbalanced most of the time, and drivers driving for long hours get fatigued. Apart from this, accidents are caused due to speeding, distracted driving, tire blowouts, wide turns, poor maintenance, lack of driving training, etc. Well, accidents are unfortunate and unpredictable, but everyone should take precautions and be safe while driving. All these causes have been observed frequently and reported under these reasons.
What Type of Injuries Can an Individual Face in a Semi-Truck Accident?
Semi-truck accidents can cause severe injuries to an individual. Moreover, one can lose their life or close ones. Few injuries recover with time, and some stay lifelong. The injuries involved are such as:
Damage to internal organs
Injuries requiring or causing amputation
Paraplegia and quadriplegia
Back injuries and neck injuries
Severe burns and disfigurement
What All Damages Are Being Compensated If I Am Injured in a Semi-Truck Accident?
However, a victim can legally ask for compensation for every damage caused, whether economic or non-economic. Although it is difficult to calculate the non-economic damages, but a skilled Indianapolis semi-truck accident lawyer studies the case and figures how much a victim deserves.
Let us see what all damages are being compensated under economic and non-economic.
Economic Damage
Medical bills (ambulance, diagnostic test, surgery, medication, hospital stay etc)
Future medical bills (follow-up care, medical equipment, medicines, etc)
Nursing care
Property damage
Lost wages
Temporary/permanent disability
Non-Economic Damage
Emotional distress
Loss of quality of life
Disfigurement
In the end, all this depends upon the situation of an accident and how much the damage is. An Indianapolis semi-truck accident attorney takes hold of the entire case and estimates how much you deserve. Well, they take responsibility for providing justice to a victim by fighting to get the deserving compensation.
How long will a Semi-Truck accident compensation claim take?
However, it highly depends on case to case. It is more challenging to provide a claim length estimate without an initial claim assessment. The time it takes to resolve a semi-truck accident case can range from weeks to months or even years. There is a lot to look at on both sides, which could explain why it takes so long to reach a settlement if you have severe injuries and property damage.
A claim may take anywhere between 6 and 12 months to process if the treatment or care provider accepts liability immediately. For more complex lawsuits, it can take 12 to 18 months if liability is contested.
How Much Does It Cost to Hire a Semi-Truck Accident Lawyer?
Semi-truck accident lawyers initially take hold of cases and ensure that the client is comfortable. They take the entire responsibility and study thoroughly.
The charges are on a contingency basis. You pay an attorney only when you win the case and get recovery of your damage. It is the fairest system in which victims can get justice without worrying about the fees and costs of the legalities.
However, fees range from around 25% to 40%, depending on the stage at which the claim is resolved and the complexity of the case.
Process Follow at Karpe Litigation Group
Collect the Information Related to the Case
Knowing the facts and understanding every little detail of the case is essential. Our semi-truck accident attorney investigates the facts and confirms them with the sources. Additionally, any supporting documents, including medical bills, property damage, lost earnings, etc., must exist in order to initiate a lawsuit. Your detailed statement should be updated frequently so that you, us, the medical professionals, and the barristers are all on the same page.
Preparing to Initiate Claim Notice
Once enough information has been gathered, and the responsible party's individualism has been proved, an initial Claim Notice can be written that convincingly states the reasons and scope of your compensation demand.
Medical Verification
Medical professionals individually verify the severity of the injury. Since the compensation is paid on the extent of accident-related damage, because compensation is paid for the permanent effects of injury, specialist medical assessment is deferred until 9 – 12 months post-injury. We will arrange examinations with appropriate specialists, and the at-fault party's insurer is also entitled to have you examined by its specialists.
Claiming Damages
After obtaining all necessary data and medical expert opinions, we will carefully craft your claim demand's "damages" elements. Every element must be supported by reliable evidence, including general damages, lost wages, expenses you have incurred, the value of past and future domestic care, and the value of loss of future earning ability.
Negotiation
A settlement meeting is scheduled to try and negotiate a resolution after the insurer has considered your damages request. Exchanges of offers will take place, and if the insurer is reasonable, the conference presents a great chance to close the claim.
Heading To Court
If you cannot reach an agreement within 60 days after the conference, a Claim and Statement of Claim must be filed in court regarding your accident. The defendant may then submit a defense, and the legal procedure continues until the case is scheduled for trial. During this time, witnesses are brought to testify in person, and a judge renders a verdict.
Karpe Litigation Group Lawyers
Reach our professional attorneys by dialing 1-888-228-7800 or come down to office. We will reach you within 24 hours.
Main Office:
19 West 19th Street Indianapolis, IN 46202
Phone : 1-888-228-7800
Semi-Truck Accident FAQs
1. How do I choose the best semi-truck accident, lawyer?

Choosing the best trucking accident attorney is necessary for an individual because they are going to represent you in the entire case. Below are a few points you must verify before hiring an attorney.

Experience of an attorney

Success rate

Education background

Past testimonials

2. How is a fault in a truck accident determined?

Well, there are many things that are investigated to determine who was at fault, such as breaking traffic rules, overspeeding, drunk driving, overtaking, etc. Hiring a trucking accident lawyer will help you to investigate the case more thoroughly since they have their own sources to verify information more accurately.

3. How do you prove who caused a semi-truck accident?

Proving the fault is the most important factor in an accident claim. However, relevant documents and evidence prove who is the victim and who is the culprit. Although, when it comes to proving the accident, it is also important to showcase every paper appropriately, that's why hire an experienced truck accident lawyer in Indianapolis. Since they have fought several cases, they are aware of the ins and out of legal firms.

4. Can I get compensation if the accident was my fault?

You might still be able to get compensation if the accident was partially your fault. Nevertheless, how much fault an insurance company or jury assigns you may affect the compensation you receive.
If you go with a truck accident law firm, they will study your case and give you the possibilities of the case.

5. What are the benefits of hiring a semi-truck accident lawyer?

It is always beneficial to hire a truck accident attorney in Indianapolis. The most common perks are:

Work on a contingency basis

Takes the entire responsibility of the case

Negotiates on your behalf

File a lawsuit

To calculate the monetary amount of damages

6. How long does a semi-truck accident claim take to settle?

The timeline differs from case to case. If the case is complicated and severities of injuries is high, then it usually takes a longer time. But approximately, it takes 6 to 8 months before a settlement.

7. How is compensation calculated in truck accident claims?

In order to determine settlement amounts, numerous economic damages are often taken into the report, including medical costs, lost income, and out-of-pocket costs related to the accident.
Looking forward, to calculate the cash amount of non-economic losses, insurance adjusters compound the amount granted in economic damages by a specific aspect. Anywhere between one and a half and five multipliers are acceptable.

8. How do I get the best truck accident settlement?

Usually, truck accidents give severe injury and property damage. To get the best compensation, it is highly recommended to keep every document properly and hire the top Indiana trucking accident law firm. An experienced truck accident lawyer will ensure to get high compensation and receive the recovery of every damage caused.

9. How much is my semi-truck lawsuit worth?

There is no accurate amount of recovery. It highly depends on case to case. However, there are many factors that are considered while calculating the amount of semi-truck accident lawsuits. The factors involved are:

Total medical expense

Lost wages

Property damage

10. Is my truck accident lawsuit claim likely to go to trial?

When insurance companies deny victims the money they are due, then all personal injury claims have the potential to go to trial. However, there are a few reasons why truck accident claims may be more likely than other kinds of personal injury claims:

The damages are extensive and expensive

Insurance companies are pressured not to settle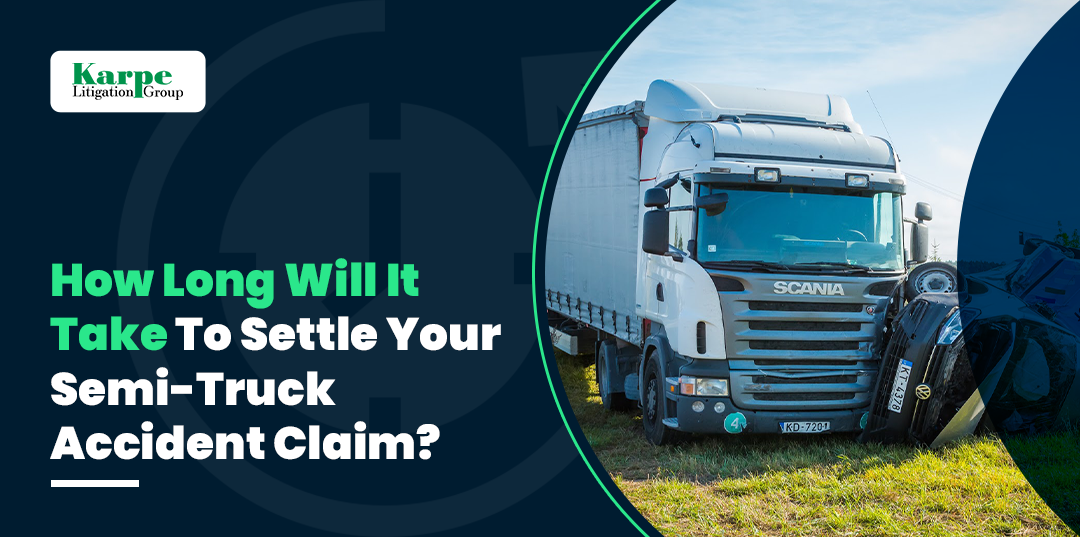 Your physical and mental situation might stress when you face a semi-truck accident. The time taken to settle a semi-truck…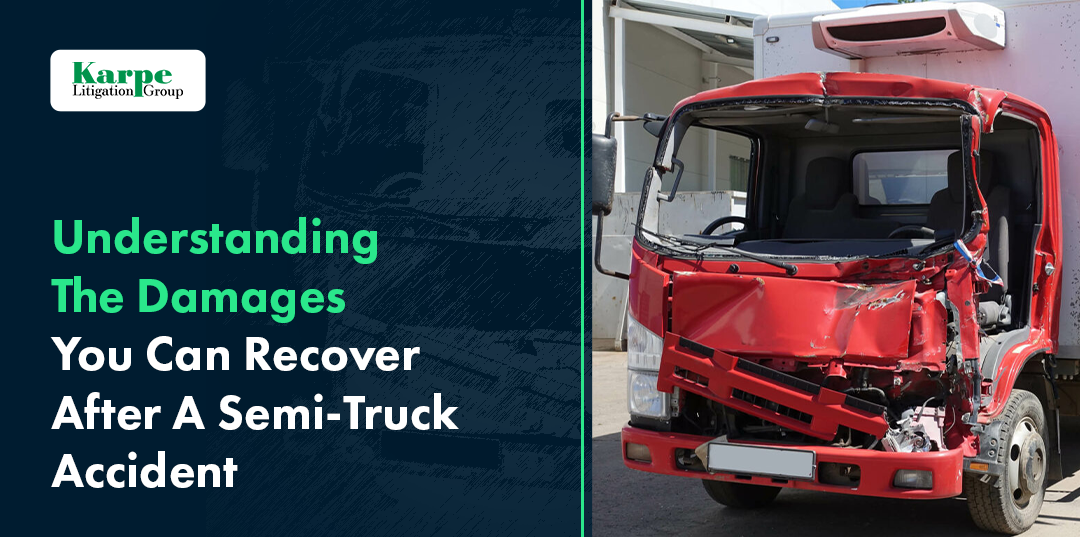 Semi-truck accidents are too common in Indiana. On 20th October 2022, a semi-truck driver was killed in a collision on…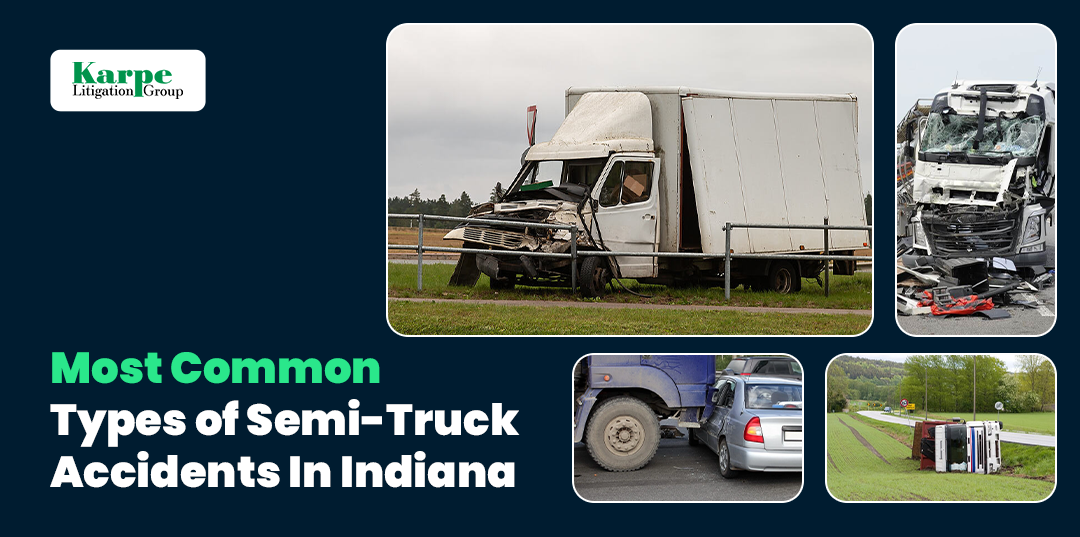 In 2020, 175,821 auto collisions got reported in Indiana. Among these 14,221 were commercial vehicles, a further, 90% of which…
Review My Case