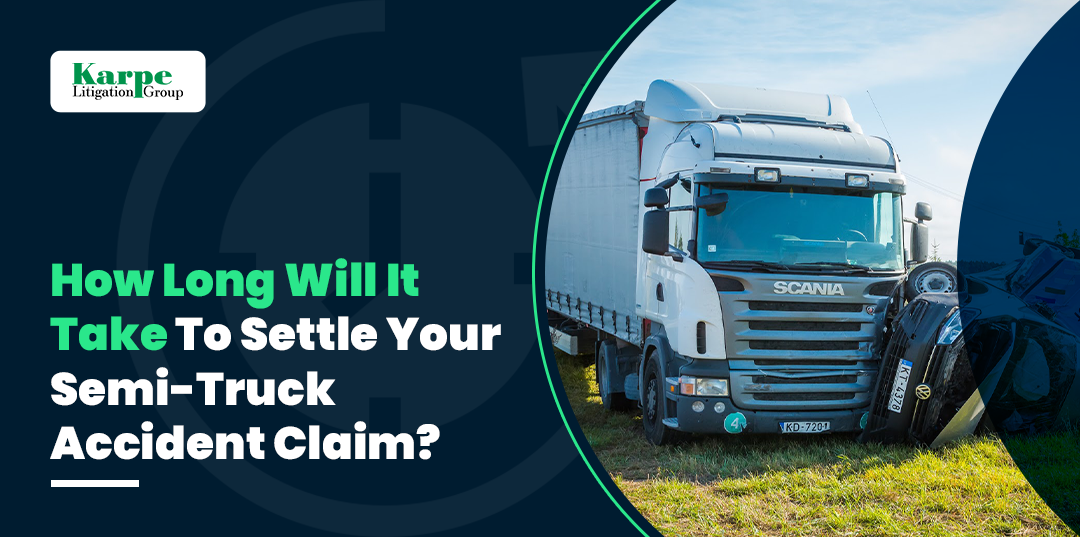 Your physical and mental situation might stress when you face a semi-truck accident. The time taken to settle a semi-truck accident case varies on various factors. It may depend on the severity of the accident, the dates you will get from the court you have applied to, and how long a lawyer will take to build a case. You can try and speed up the process by choosing an experienced Semi-Truck Accident Attorney.
At Karpe Litigation Group, we have lawyers who are well-resourced and experts in their respective fields. When you come to us with your case, we will soon start taking action and start building a strong case. Additionally, we are old in the business. Our consistency and goodwill have created many channels with various entities involved in a semi-truck accident case. These connections will help to speed up the process and serve your plate with full and fair compensation in the shortest time possible.
Nevertheless, let us take a deep dive and look at the factors that might further delay the process of a semi-truck accident lawsuit.
Reasons That Might Delay A Semi-Truck Accident Claim
According to reports, around 73% or around 8983 were the drivers or passengers of the other vehicle that met with a semi-truck collision. This factor might increase the burden and delay the claim settlement. Numerous more reasons might delay the process of claim settlement. As a Top-rated Semi-truck accident attorney, We stated some reasons and explanations. They are listed as follows: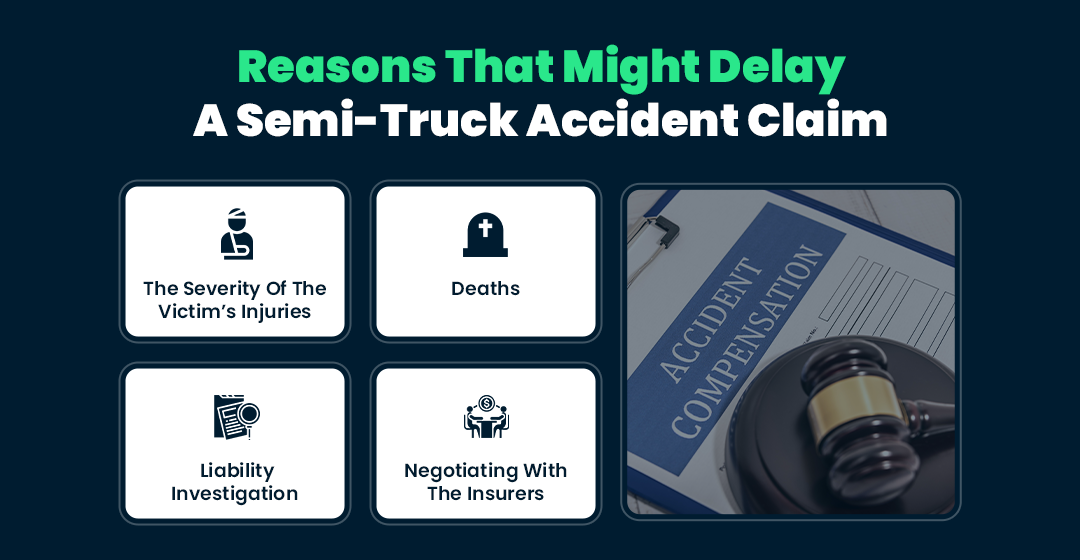 1. The severity of the victim's injuries
When you are involved in a semi-truck accident, the possibility of getting injured severely is relatively high. The period of getting the settlement may get delayed owing to your injuries. In the aftermath of an accident, you will seek compensation for medical damages, loss of income, pain and suffering, disability, and property damages.
While busing an insurance policy, you might get the notion that the insurance will be your guardian angel if you face doom. On the contrary, if your injuries are severe, they will delay your claims as much as possible. They might also blame you for the accident. You can avoid this harassment by appointing a renowned Indianapolis Semi-Truck Accident Attorney. The lawyers will take you for litigation if the insurers are not cooperating with you.
2. Deaths
Unlike car accidents, people do not get lucky with semi-truck accidents. When a semi-truck crashes, the probability of fatalities increases. Losing someone in such an accident may lead to a complicated death case which can delay the settlement process.

3. Liability Investigation
The truck laws and regulations are governed by various federal bodies. Thus, the liability investigation of a semi-truck accident takes longer than any other auto accident investigation. For instance, there are rules for truck drivers regarding how long they shall drive at a stretch. It needs to be proved that the driver did not follow the rules, as the trucking company was pressuring them.
4. Negotiating with the Insurers
Often, due to the slyness of the insurance companies, the lawsuit sees a delay in action. The insurance companies are on constant target to make the settlement as easy as possible. They will try to convince you or pin the blame on you. This negotiation may take some days, which automatically delays the settlement process.
You need to understand that settlement and negotiation is a complex process and thus require help from professional Indianapolis personal injury lawyers like Karpe Litigation Group.
Why choose Karpe Litigation Group?
At Karpe Litigation Group, we have an excellent lawyer with an outstanding track record. To streamline your case and overall legal management, we have top-rated Indiana semi-truck accident lawyers that will manage everything for you. Our main aim is to provide justice and ensure that you receive the financial compensation you deserve. Our team has years of experience in dealing with Indiana semi-truck accident cases, so we know how to get the best possible outcome for our clients.
The lawyers at our firms are competent and have all the major attributions that make us the best. Take note of the excellent features possessed by our lawyers:
1. Excellent communication skills
We, as lawyers, know that you are going through a tough situation. You can speak your heart out, we are here to listen. We will not overwhelm you with bombarding words. Instead, we will help you understand the legalities involved in your case.
2. Experience
With 20+ years of experience, you can trust that our attorneys will fight for your rights and get you the compensation you deserve.
3. Availability
You can reach us anytime if you feel an emergency. If you cannot reach the lawyer you have appointed, you can have a word with our paralegals.
The attributes mentioned above are just a few. Once you meet us, you will know the comfort and easiness you feel around us.
As lawyers, we try to pull all the strings necessary to speed up the case. You can leave the whole matter to us while you rest and recover from your injuries and trauma.

Conclusion
Skilled Indiana Semi-Truck Accident Attorney will be your lifesaver. Do not worry about your compensation once you have appointed us.
Our lawyer will help you from the first phone call till the date you receive compensation. They will help you gather evidence, fill up paperwork and negotiate the claims.
Contact us to get the settlements as early as possible!
Frequently Asked Questions
1. What are the charges of a semi-truck accident lawyer?

There is no direct answer to this question. The charges of a lawyer vary from one individual to another. There is no fixed rate chart. The lawyer's fees are also affected by the complicity of the lawsuit. However, most of the lawyers work on a contingency basis, i.e., they will take a percentage of the compensation you will receive from the lawsuit.

2. What is the statute of limitation in a semi-truck accident case?

The statute of limitation varies from state to state. It is normally two years from the date of the accident. If you fail to file a lawsuit within this time, your case might become invalid.

3. What injuries are commonly found after a truck accident?

Common injuries found after a truck accident include broken bones, head and neck injuries, traumatic brain injuries, spinal cord damage, burns, internal bleeding, and organ damage.

4. How Much Is My Semi Truck Accident Settlement Worth?

The amount of your settlement depends on the severity of your injuries, the negligence or fault of the parties involved, and the insurance coverage available. An experienced trucking accident attorney can help you determine the value of your claim.

5. What is the charge of a semi-truck accident attorney?

The semi-truck accident lawyers are working on a contingency basis. An Experienced Indianapolis semi-truck accident attorney will take a percentage from your compensation amount. Till you get the compensation, your legal finance will be the headache of the lawyers themselves.