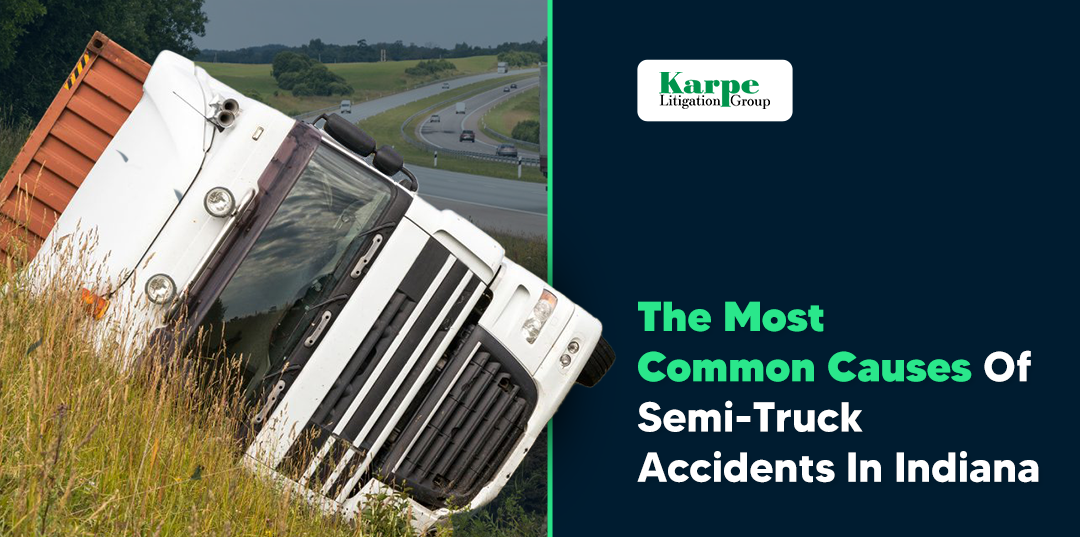 Semi-trucks carry goods that we need throughout the state and nation. The employers of semi-trucks and their drivers need much more expertise to drive a vehicle than the other drivers of passenger vehicles. But the accident occurs without any note. No matter how expert you are at your driving skills, in a blink of an eye, you can land in a catastrophic condition. It is evident that when a truck is involved in an accident, the aftermath is much more severe. The injuries are more serious, the chances of death are higher, and the amount of property damage is also more given the size of the vehicle.
Indiana University Public Policy Institute derived data according to which there are 175,821 collisions in 2020 that were reported. 14,221 out of which were accidents that involved commercial vehicles. Out of which 90% were large trucks.
If you have landed up in such a situation, you can contact an Indiana Semi-Truck Accident Lawyer. Multiple entities are connected to a truck accident- the truck driver, the employers, and the truck insurance companies.
If you are on a quest for a good semi-truck accident attorney, consider your quest ending here. We have an excellent attorney at our legal firm, Karpe Litigation Group. Whether you are hit by a bicycle or a truck, we have a lawyer for individual problems in human life. Our team will be your back support till you get full and fair compensation. Years of being in the legal industry have added to our resources that you will find useful in every step after an accident.
However, before you talk to our best Indianapolis Semi-Truck Accident Attorney, we would like you to know some common causes behind truck accidents. We believe knowing this, you will be more conscious about your activities when you take your vehicle out on the roads.
Most Common Causes of Semi-Truck Accident in Indiana
Multiple sectors are responsible for semi-truck accidents. Sometimes it might be the driver, and sometimes it might be other factors like the weather condition, the employer not maintaining the truck, the other driver involved in the accident, or the road condition.
Let us have a look at some driver-related causes of semi-truck accidents.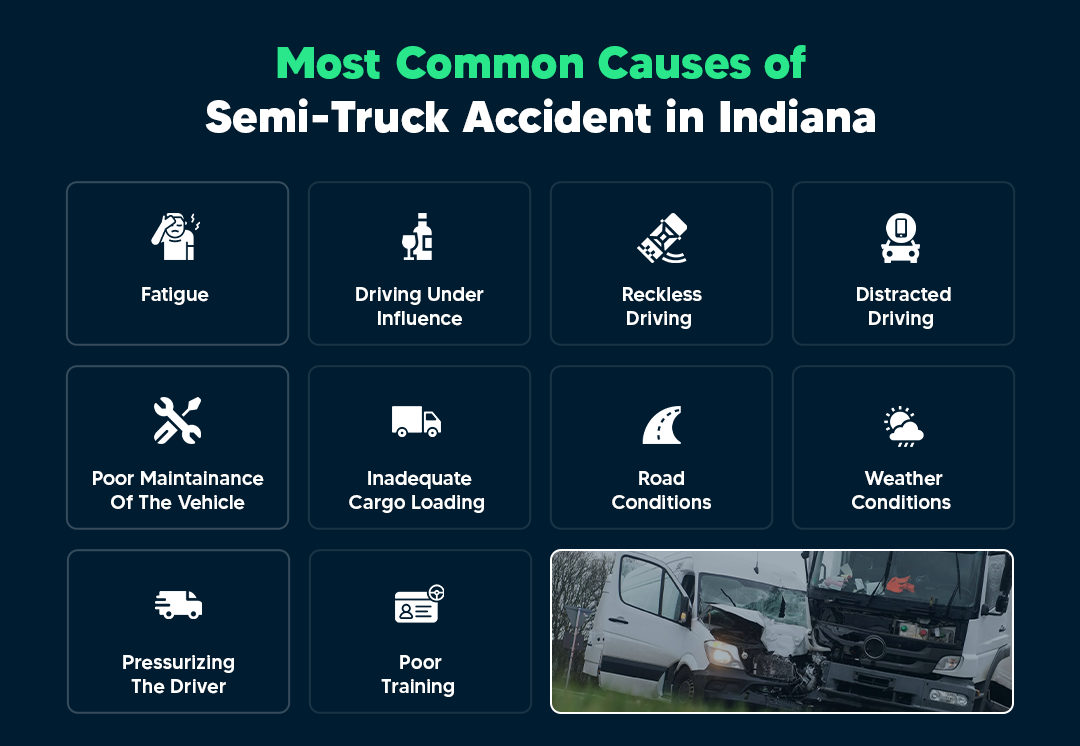 1. Fatigue
The truck drivers are subjected to long working hours. Long working hours for them mean, they are expected to drive for a longer period. According to the law, drivers can take a certain amount of rest between their journeys, but often it is neglected by the drivers. And as a result, they tend to fall sleepy while driving, causing accidents.
2. Driving Under Influence
To be a truck driver you need to have a commercial license. The level of intoxication for commercial drivers is much less than for other drivers. In Indiana, if the Blood Alchohol Concentration is 0.4% or higher, the driver will be arrested. In worse conditions, they will end up in a huge collision.
3. Reckless Driving
Often it is observed that there are truck drivers who do not follow the traffic rules, brake the speed limits, pass recklessly on a two-lane road, and so on. It is a very toxic trait that is seen in many drivers and eventually they end up in an accident.
4. Distracted Driving
Duties that the truck drivers have to commit might involve long driving hours. It might lead to boredom using cell phones while driving or listening to music. It can lead to distraction when they are on road causing a crash.
Other common reasons that do not involve the driver's fault:
5. Poor Maintainance of the vehicle
Employers often neglect their duties of maintaining their trucks. This behavior is very negative as it endangers the life of the driver and the people on the road. For instance, not replacing a worn-out tire might cause a blowout with major consequences. If you are in an accident for your employer's negligence an Indianapolis Semi-Truck Accident Attorney will help you to prove your innocence.
6. Inadequate Cargo Loading
If the truck loaders are not serious with their duties and they perform inadequate truck loading, the truck can tip over if it speeds in the roadway. The truck loading is carried out by a third-party company or the truck company.
7. Road conditions
Potholes, not putting appropriate signs, missing traffic signs, etc., can also cause a truck accident. The sole responsibility in these cases is of the government which has failed in maintaining the road. Furthermore, the traffic authorities did not check the signs if they were tampered with.
8. Weather conditions
Extreme weather conditions like heavy rainfall, heavy snowfall, hailstorm, thunder, lightning, etc., causes a lack of visibility. Eventually leading to a semi-truck accident. In some of the bad weather cases, the mishappening is termed an "Act of God". whilst in other with the help of a Semi-Truck Accident Attorney Indianapolis, you can identify the defendant.
9. Pressurizing the driver
To increase their products, some truck companies put tremendous pressure on the drivers to drive faster and deliver the goods faster. The drivers build a good impression and some are afraid to lose their jobs following the orders. It means that the trucking companies are liable for accidents too.
10. Poor training
Often the drivers receive training from trainers who are amateur. It results in ill-training. Drivers with half-baked driving skills are more likely to end up in an accident.

Why choose Karpe Litigation Group?
Fighting semi-truck accident cases need special training and experience. Karpe Litigation Group has the best set of Indianapolis Semi-Truck Accident Lawyers. We as lawyers are subjected to multiple truck accident cases and have yielded a positive response for our clients. We work day and night for our clients. We will assist with any questing they might have, any expectations they might have, and any kind of other case-related issues. Any unconventional case that you might have will find its search end here at our Karpe Litigation office.
We are aware of the traumatizing situation you are dealing with and we are here to support you mentally and emotionally. Thus, we will allow you all the time to need to be comfortable with us. We are just a call away.
Conclusion
In any case, if you met with an accident then the way to recover from the damages is to hire an experienced and competent lawyer to fight for you. Choosing the wrong person might destroy all your good chances. Do not worry if you have made up your mind to hire an Indiana Semi-Truck Accident Attorney from Karpe Litigation, it is the first step that you have taken to success.
Frequently Asked Questions
1. Can I sue my employer if they have denied the repair of the truck after many requests?

Yes, you can sue your employer if they have neglected your request to repair the truck. Talk to an Indianapolis semi-truck accident lawyer and tell them about the backdrop of the accident. Once they listen to your story they will find evidence that will help you to prove the employer guilty.

2. How can a semi-truck accident lawyer help me?

When you hire an Indiana semi-truck accident lawyer they will take all the legal responsibility of your case. Right from filing the calin, collecting evidence, and getting fair and full compensation, they will be there with you till you see the positive outcome of your lawsuit.

3. What is the time frame for filing a truck accident claim after the accident?

The time frame for filing a lawsuit after the accident is two years from the date of the accident. If you fail this period, you might as well lose all your chances of getting compensation.

4. What is the charge of a semi-truck accident attorney?

The semi-truck accident lawyers are working on a contingency basis. An Experienced Indianapolis semi-truck accident attorney will take a percentage from your compensation amount. Till you get the compensation, your legal finance will be the headache of the lawyers themselves.

5. How long it takes to settle a semi-truck accident case?

There is no time boundary or limitation to settle a lawsuit. It can take a few weeks to a few years. The time takes depends on the severity of the case, the actions of the semi-truck accident lawyer, and various other factors.