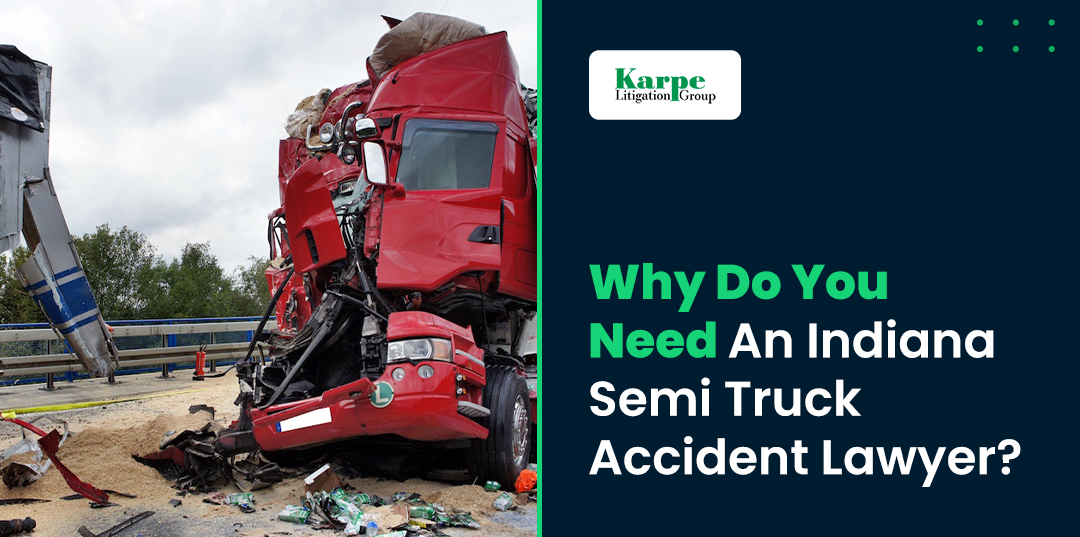 Large trucking companies frequently hire semi-truck drivers. These businesses employ hordes of insurance adjusters, lawyers, and other staff members whose sole objective is to pay a minimal amount in claims resulting from accidents. Do you know? About half of the $20 billion in accident settlements associated with semi-truck collisions are given to injured people who experienced a reduced or lost quality of life.
If you were hurt in a collision with a semi-truck, this fact alone should be enough to convince you to hire an attorney. However, there are more reasons supporting the fact that you should consider hiring a semi-truck accident attorney in Indianapolis.
Karpe Litigation Group is such an experienced, meticulous, and top-rated semi-truck accident attorney in Indianapolis that you can consider for your case. Having years of experience managing semi-truck accident cases, our lawyers ensure receiving optimum compensation for your injuries and suffering.
If you have met with a semi-truck accident in Indiana, you might not be sure about hiring an attorney for your case. However, you can make a massive blunder here. Consulting with the best Indiana semi-truck accident lawyer is highly important due to the following ten reasons.
10 Ways An Indiana Semi-truck Accident Lawyer Can Help You
Your rights are secured by hiring the best semi-truck accident attorney in Indiana with experience. Here are ten ways that can help you: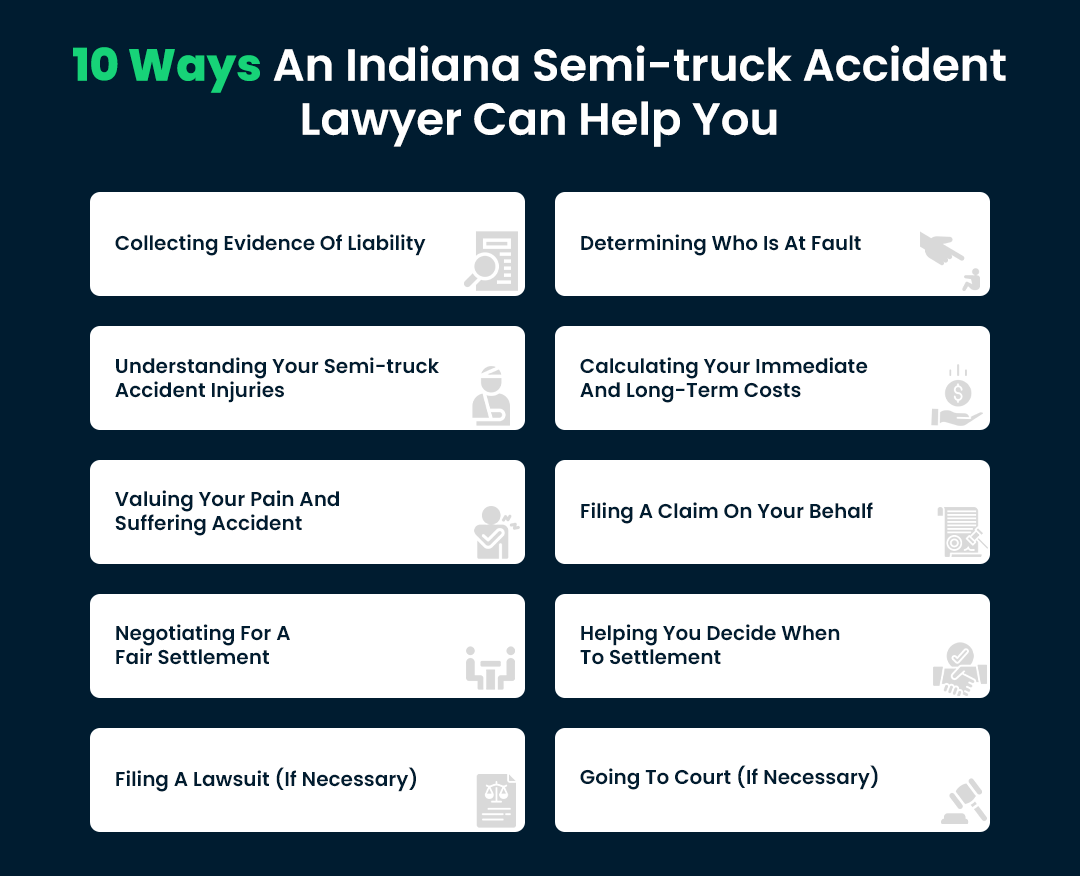 1. Collecting Evidence Of Liability
You must first gather proof of another party's negligence or wrongdoing to recover fair compensation for a semi-truck accident victim. When you hire a skilled Indiana semi-truck accident attorney, one of the first things your lawyer will do is launch a thorough investigation aimed at compiling all relevant evidence to prove liability.
2. Determining Who Is At Fault
Another significant element that can delay the settlement of a truck accident claim is a complex liability. In contrast to most other forms of auto accident lawsuits, a semi-truck accident may involve many at-fault parties, including:
1. The truck driver
2. The trucking company
3. The shipping company
4. Mechanics and maintenance companies
5. The maker of a defective semi-truck
6. The supplier of defective components and parts
To determine all of the parties whose fault resulted in the semi-truck accident, a thorough investigation is necessary. Liability determination frequently entails reconstructing the collision, checking the truck and the trailer, and going over the truck driver's logbook and the trucking company's records, among other things.
These processes all require time. It is especially true if the defendants take their time and don't promptly provide any evidence.
3. Understanding Your Semi-truck Accident Injuries
The most crucial action to take following a semi-truck accident is to get medical help. Semi-truck accidents frequently result in severe injuries. You must make sure that the type and degree of your injuries are adequately documented in addition to seeking urgent care.
Your medical records will be carefully reviewed by a semi-truck accident attorney. To comprehend the long-term effects of your injuries, including probable limits, continuous medical care, and more, your attorney will also speak with medical professionals.
The complete effects of the semi-truck accident on your life must be taken into account, which necessitates both documentary proof and expert testimony.
4. Calculating Your Immediate And Long-Term Costs
Your damages in a semi-truck accident lawsuit include both the costs you have already experienced and any costs you expect to spend in the future.
An experienced Indiana semi-truck accident lawyer can calculate the full amount of compensation to which you are entitled to financial losses such as medical expenses, lost wages, and other expenses.
5. Valuing Your Pain And Suffering Accident
Semi-truck accidents can result in a variety of recoverable damages, not just monetary losses. The pain and suffering you endure as a result of the semi-truck accident may also be covered by insurance. It's challenging to estimate these non-economic damages on your own, so you should speak with a semi-truck accident attorney right away.
6. Filing A Claim on Your Behalf
You might be able to receive compensation for a semi-truck accident without filing a lawsuit. A lawyer for semi-truck accidents may file a claim or several claims on your behalf with all responsible parties and their insurance companies.
7. Negotiating For A Fair Settlement
After almost any accident, dealing with the insurance company on your own is not advised. But the significance of hiring legal counsel following a truck accident cannot be emphasized.
Having a qualified and skilled representative who can negotiate a good settlement on your behalf is one of the main advantages of consulting a semi-truck accident lawyer. The defendants and insurers are unlikely to take your claim seriously if you don't have legal representation. It might cause protracted delays.
Even with an attorney on your side, settlement negotiations may take some time. However, a truck accident attorney will monitor your case and work to quickly negotiate a favorable settlement. You can also rely on your lawyer's expertise to decide whether or not a settlement is reasonable given the seriousness of your injuries and the extent of your damages.

8. Helping You Decide When To Settlement
You must decide whether to accept a settlement offer if one is made to you after doing your research. Based on the settlement offer's value, your long-term needs, and the chance that you will get more money in court, your semi-truck attorney can assist you in making this choice.
9. Filing A Lawsuit (If Necessary)
Filing a lawsuit requires managing a heap of paperwork and other legal formalities. Addressing these requirements can be challenging, significantly when you are injured and recovering rapidly.
However, when you hire a top-rated semi-truck accident lawyer in Indiana, they can analyze the need for filing a lawsuit and perform the needful steps on your behalf.
10. Going to Court (If Necessary)
You have the option of settling your semi-truck accident lawsuit at any point, including in the middle of court proceedings. However, to maximize your award, you must choose a semi-truck accident attorney possessing the prolonged trial experience to represent you in court as needed.
Why Hire Karpe Litigation Group's Semi Truck Accident Lawyer?
Hiring a semi-truck accident lawyer should be one of your first considerations if you were hurt in a truck accident that wasn't your fault. An Indiana semi-truck accident attorney can begin working on your case as soon as you hire them, which increases the possibility that you will receive the money you are entitled to.
The law office of Karpe Litigation Group has years of experience, and we have a track record of success in semi-truck accident claims. We have a solid reputation in Indiana for being clear and assertive in our client advocacy. To defend your legal rights and assist you in getting back on your feet, we are here.
Conclusion
Now that you are aware of all the benefits of hiring Indiana's best semi-truck accident lawyer, it is time to act and do so. The semi-truck accident attorneys at the Karpe Litigation Group have extensive expertise in assisting semi-truck accident victims in obtaining just compensation. Get in touch with us now!
Frequently Asked Questions
1. Should I see a doctor despite feeling alright after a semi-truck accident?

Yes. You should see a doctor after a semi-truck accident even if you feel alright. Sometimes, the injuries and trauma resulting from a semi-truck accident might not be visible. Hence, expert consultation is the best after meeting a semi-truck accident.

2. Can I ask for more compensation after a semi-truck accident?

Yes. Insurance companies and trucking firms do not want accident victims to realize they have the right to ask for greater compensation following their mishaps. Instead, they anticipate that accident victims will accept the first financial settlement they are given. But in actuality, you should negotiate for higher compensation based on the extent of your injury and damages.

3. Is filing a lawsuit immediately after a semi-truck accident beneficial?

The best approach to receive the compensation you are due for your semi-truck accident may occasionally be through litigation. But there are several other legal choices. To discuss all of your choices, you must speak with a lawyer at our office.

4. Why should I hire an Indiana semi-truck accident lawyer?

An Indiana semi-truck accident lawyer can help you get optimum compensation, find liability, collect evidence, negotiate a fair damage settlement, and file a lawsuit if required.

5. Which is the best semi-truck accident law firm in Indianapolis?

Karpe Litigation Group is the best semi-truck accident law firm in Indianapolis, Indiana. We have skilled lawyers having years of experience helping semi-truck accident victims. Our Indianapolis semi-truck accident attorney ensures that you will get fair compensation for your suffering, injuries, and agony following a semi-truck accident.