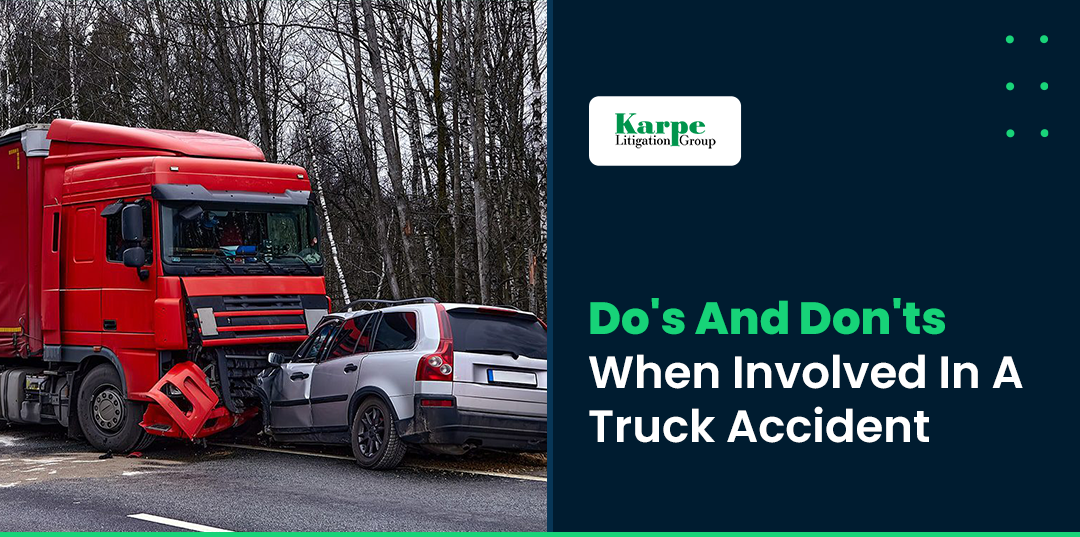 Every day, we travel, and one thing is certain. There is always a chance of a truck accident, regardless of how attentive we are, how well-maintained our vehicles are, or how good the road is. There is no one in charge of this. The best we can do is follow all safety instructions and be aware of what to do in the event of an accident.
Understanding the issues surrounding such accidents and potential compensation claims is essential, whether you are driving a truck or a truck driver runs into you. Nevertheless, everything hinges on your post-accident behavior.
For instance, connecting with the top truck accident attorney in Indianapolis, such as Karpe Litigation Group, is a healthy practice immediately after the truck accident. Our attorneys can help you get the right compensation and safeguard your rights in court. Contact us now!
However, running away from the accident site can backfire on the accident victims. Similarly, not contacting health experts after the accident can have long-term impacts on the victims.
So, everyone must know what you should and shouldn't do following a truck accident. Here are some of the do's and don'ts you should be aware of when involved in a truck accident, with a larger slant on the injured individual.
The Do's
There are a few things you should remember if you are involved in a truck collision. Following a truck collision, you should take a few quick yet crucial actions. After the collision, Indianapolis's truck accident lawyer knows what to do to make sure you receive the just compensation.
Here are some things that you should think about following an Indianapolis truck accident.

1. Seek medical attention right away
The most crucial legal piece of advice we can give is to get medical assistance. Truck accident victims must seek assistance right away. In times of stress, adrenaline's potent effects help keep you alert. It can, however, also conceal discomfort and the warning indications of severe wounds. Make an appointment with your accident healthcare provider as soon as you can if you are not sent to a hospital by ambulance. Internal bleeding, whiplash, and brain damage may initially go unreported. Receiving quick medical attention could ultimately save your life.
Truck accident victims should also understand the importance of medical records for accident claims. Your medical history reveals the connection between the incident and your injuries and any potential financial recompense you may be owed for medical costs.
2. Try to gather related information from the accident scene
You could attempt to obtain information from the collision if no serious injuries were inflicted. Take pictures, record the license plates of the vehicles involved in the collision, and get the contact information of any witnesses.
In the event that you need to appear in court, this information becomes useful. When you have supporting documentation for the accident report the police will have made; you have a better chance of succeeding in your personal injury lawsuit.
3. File a police report
In the event that you collide with a truck, call the police right away. Law enforcement can assist to keep the truck accident scene under control and stop similar occurrences. They could also write a police report with the collision's specifics.
A police report offers an important, objective viewpoint on the facts surrounding the collision that caused your injuries. An accident police report in Indianapolis is essential if you need to later submit an injury claim.
4. Exchange contact information with other people at the scene
It's crucial to share information with any other drivers who may be there. Exchange names, license numbers, insurance data, and contact information with all parties if more than one person was involved in the collision.
If there are any witnesses present, also get their contact information. Their testimonies could bolster your compensation claim.
The Don'ts
Now that you know what to do after getting involved in a truck collision, it's time to get informed of the don'ts. It's equally important to remember what you should do and what you shouldn't do following a truck accident.
Your ability to request financial restitution could be harmed by specific behaviors. Our Indiana truck accident attorney knows about the don'ts to keep in mind, based on the cases they handled in the past.
Let's walk through what you shouldn't do after meeting with a truck accident.

1. Don't drive away
After a collision with a truck, you might feel completely unsteady. The worst action you can take is to flee the accident scene. Remain where the accident happened and make a call to the authorities. Your accident claim will suffer if you flee the scene, and you could face criminal prosecution.
2. Don't sign anything
After a crash, you may be pressured to sign paperwork. Not at all. You can receive an initial payout from the insurance company for the trucking firm in exchange for signing a release. An immediate settlement proposal is probably substantially less than what you deserve.
By signing this agreement, you might be waiving your right to file a lawsuit against the trucking firm and insurer. Never sign or acknowledge anything provided to you by the trucking business or an insurer before seeing a knowledgeable truck accident lawyer.
3. Don't accept any settlement offer
Insurance providers are commercial enterprises. Making a profit and limiting losses is essential to these businesses' success. According to this concept, rapid, lowball proposals could be made in an effort to keep more money in the wallets of the insurers.
Never take a corporation upon its initial settlement proposal. Speak with a lawyer and allow them to bargain on your behalf to get you the compensation you are due.
4. Don't miss your medical appointments
We've already informed you of how crucial it is to get medical help right away following an accident. It is equally crucial to keep seeking medical attention for your wounds. Keep all scheduled follow-up appointments.
Follow your doctor's recommended course of action. The medical records you have are essential to your case. An insurance company may assert that your injuries are not as significant as you claim if you skip appointments or disregard your doctor's recommendations.
Hire Karpe Litigation Group's Truck Accident Lawyer Now!
Even while these suggestions will help you get off to a strong start, it's always a good idea to speak with an experienced Indianapolis truck accident lawyer, especially if there has been a serious accident. Truck accident cases are frequently complex, and they frequently need witnesses, medical evidence, and a thorough understanding of negligence law to be successful.
Hire an Indianapolis truck accident attorney from Karpe Litigation Group now! In the event of an Indianapolis truck accident, a knowledgeable Indiana personal injury lawyer can assist you to obtain full compensation and defend your legal rights.
Call us or contact us online right now for a free introductory consultation. Our Indiana truck accident lawyer is prepared and eager to assist you because we believe that you deserve superior legal representation.
Conclusion
You must be aware of what to do and what not to do after an accident. The course and outcome of events following the accident are determined by your actions. After reading this article, you now understand what to do and what not to do in the event of a truck collision.
Frequently Asked Questions