20+ Years of Experience
Top- Rated Lawfirm
The Fee is Free
Semi-Truck Accident Lawyer
Experiencing a semi-truck accident can bring a major change in living. In addition to the pain of being involved in a crash, victims can expect to be faced with a huge medical bill to pay. Many people see the accident as the start of a lengthy recovery and treatment process. The sufferer may not be able to work after the occurrence, depending on the extent of the injuries. Consider hiring a semi-truck accident lawyer to assist you in identifying the pertinent costs.
Semi-Truck Accident Statistics
The U.S. location provides freeway access, which is necessary for many truck drivers while driving across the state or the country. Sadly, many truck accidents result in injuries to the drivers or passengers of other vehicles. Large trucks occasionally play a role in traffic fatalities on Indianapolis and Indiana roads.
According to the NHTSA, fatalities involving one or more trucks increased by 13% from the previous year. In the same year, there was a 16 percent increase in fatalities in multi-vehicle crashes, periodically involving huge trucks.
There were 175,821 reported collisions in Indiana in 2020, according to the Indiana University Public Policy Institute.
Besides, the below categories showed a moderately higher ratio in 2021.
Multi-vehicle crashes – 16%
Urban roads up – 16%
Involving at least one large truck up – 13%
Daytime fatalities up – 11%
Motorcyclist – 9%
Bicyclist – 5%
Speeding-related crashes – 5%
Police-reported and alcohol-involvement crashes – 5%
Why Do You Need a Semi-Truck Accident Lawyer?
A truck accident lawyer can determine who is at fault, gather evidence, speak with witnesses, negotiate with the insurance provider, and, if necessary, take the case to trial.
While you concentrate on getting well or caring for a family member who was hurt in an accident, a truck injury lawyer can handle every element of your case, such as:
1. Liability in a Truck Accident Case Determination
Many believe the collision is solely the responsibility of the truck driver. However, more than one person may be accountable for losses and injuries. In a case involving a truck accident, potential defendants could include, but are not limited to:
1. The lorry operator
2. The transport business
3. Truck manufacturer
4. The shipping firm (that loaded the cargo)
5. Insurance businesses
6. Government entities
If the truck driver is an independent contractor of a larger truck company, an issue may arise about how much supervision the company executes over its contractors. On American roads, commercial trucks are subject to regulation by the Federal Motor Carrier Safety Administration (FMCSA).
A truck injury lawyer can identify all the liable parties in your particular case and hold them responsible in a lawsuit.
2. Assembling a Compelling Case
A skilled semi-truck accident lawyer can conduct the claim you need to present to the insurance company or present your case to a jury in court. They take care of every small element which is a must in the case, which includes:
Conduct research and gather proof for your claim.
Assemble and compile all your medical bills, expenses, and other proof of loss related to the injury.
Determine all responsible parties and their insurance providers.
On your behalf, negotiate a reasonable settlement with the insurance companies.
If the insurance firms do not agree to a settlement, they go to trial.
So that you can heal and recover your health, an experienced trucking accident lawyer can handle the insurance adjuster and file all the appropriate paperwork in your case.
3. Proving Your Truck Accident Case
In semi-truck accident claims involving auto accidents, negligence generally refers to different things. Firstly, we discover the number of damages caused. Damages that you can receive in an accident can be classified as either economic or non-economic. We build a strong case and collect every document to represent in court.
How Do I Choose the Best Trucking Accident Lawyer?
You might have heard the phrase semi-truck accident lawyer after meeting a commercial vehicle accident. Finding one who has a suitable backdrop in trucking is crucial. As a lawyer is the game changer in every legal case, choosing an appropriate attorney is always suggested. Regardless, there are a number of points that one should mark while hiring a lawyer. Let us discuss a few of the common points below.
Understanding of Truck Accidents
Find a lawyer who holds expertise in commercial truck accidents. Compared to passenger cars, the trucking business is subject to specific restrictions. Truck drivers, transportation firms, maintenance facilities, and owners may all be involved in the risks that trucks provide. Particularly, ask the attorney what their background is on trucking incidents.
Communication
Communication between a lawyer and a client is essential. There should be no gap in terms of legal services. You should be well aware of the concern when speaking with the lawyer. Do not choose a lawyer who uses complicated legalese rather than plain language.
Moreover, ask the lawyer how they will update you regarding the case. Many attorneys use paralegals and assistants to handle routine parts of the case, so you will likely interact with the office staff and the lawyer.
Lawyer's Fees
Lawyers work on a contingency fee basis. This means the attorney receives a share of the money you win in a settlement or at trial rather than charging you an hourly fee. The proportion paid to the attorney usually starts at around 33%. However, it will increase if the matter goes to court or a trial to account for the additional work the attorney must undertake on your behalf. You do not owe any legal expenses if your attorney cannot obtain any financial compensation.
Questions to Ask Your Semi-Truck Accident Lawyer
For most drivers, collisions with semi-trucks are a nightmare. Trucks can impose severe injuries and create catastrophic damage due to their immense size and weight.
After a commercial vehicle collision, you will need legal counsel to represent you. However, when choosing a lawyer, you must ask these common yet mandatory questions.
Do you have experience with truck accident lawsuits?
The more experience, the more knowledge a lawyer has. Since they have worked on a number of cases, they know what all steps are to be taken in different circumstances.
What damages can you help me to recover?
In an accident, you might have gone through much damage such as property damage, doctor consultation, and pharmacy needs. Initially, while consulting, you should ask what all damages will be recovered. To make it easier, make a note of damages caused due to the accident and, according to that, seek compensation.
How do you charge your fees?
Usually, a semi-truck accident lawyer charges on a contingency basis, in which the total compensation's some percent will be the lawyer's fees. But there are few law firms who charge for each session or ask for the money spent on documentation. However, every law firm has its own norms, so before hiring ensure what way you have to pay your lawyer.
What is your success record in semi-truck accidents?
Verifying the history of a law firm is very crucial. It determines how much is the capability of the firm and whether you can rely on them or not.
Are you a fellow of any professional legal associations?
There are many associations or clubs where lawyers meet and exchange their knowledge. You can verify the lawyer's background and surroundings from such associations. However, you can know a lawyer on the basis of their prestige in society.
Are you licensed to practice law in Indiana?
To practice law, the license is a mandatory document for every lawyer. You must ask whether they are holding a recognized license or not.
How will I get updates of the case?
Often, a lawyer handovers the case to a different lawyer as per the case severity or type of case. Also, they hire a junior lawyer or PA who keeps updates and manages documentation of the case. To avoid the hassle, initially ensure the communication process.
Are there any extra costs or fees that may come up during the case?
Apart from attorney fees, there are small expenses such as paperwork, courier, drafting legal documents, etc. In terms of finances, every law firm follows different rules and regulations. To avoid hassles, be clear about the finances and expenses.
How much compensation I can receive approximately?
At times, if the case is not too severe a skilled lawyer can give you an approximate amount that you might receive. Although, for severe injuries, they count the damages/injuries and give you a tentative amount.
Will my case proceed to trial, or is there a better chance of a settlement?
If the case is not that severe and both parties are ready to negotiate outside the court, then likely, the case won't go to trial. However, it highly depends on the type of case.
Top-Rated Truck Accident Lawyers Are Here to Help
If you or a loved one has been injured in a truck accident, do not spend another day worrying. Hire Karpe Litigation Group, as we have the experience, knowledge, and resources to get your rights against insurance companies and trucking companies.
We give personal attention to every client; once you hire us, you will be dealing with the semi-truck lawyer right from the start. However, you do not have to worry about finances, as every lawyer works on a contingency basis at our legal firm. Our priority is to give you justice, and we ensure that you take care of your health we will look into every legality needed.
Arrange a free consultation with a skilled truck accident lawyer with us right away. If you are not feeling well enough to step down to our office or are having trouble getting transportation, our legal team can set up a meeting in your home or a hospital room. We aim to make it as simple as possible for you to receive legal assistance.
Types of Trucking Accidents We Can Handle
Let us dive into the types of truck accidents we handle.
Tractor-Trailer Accidents
When a truck driver misses a smaller vehicle in their blind spot, it might result in a tractor-trailer crash. Due to the size and length differences between a huge truck and a passenger vehicle, the blind spots are pretty different.
18-Wheeler Truck Accidents
Most trucks and 18-wheeler accident deaths and injuries are probably severe. Due to their sheer size and carrying heavy loadings, a driver might lose control while driving.
Defective Component Truck Accidents
No matter how it was produced, put together, or installed, a product with a design flaw is naturally harmful. Individual mistakes made while creating a truck or component are known as manufacturing faults.
Drowsy Truck Driver Accidents
Driver error is a leading cause of truck accidents. Driver fatigue has become common, as too many drivers exceed driving hours and do not bother to accompany a substitute driver.
Jackknife Truck Accidents
Trucks that suddenly brake can cause their trailers to swing at a 90-degree angle, resulting in jackknife incidents. A jackknifing truck poses a severe risk of rolling over or overturning on the road.
Negligent Truck Accidents
If an individual fails to take reasonable steps which might cause harm to other road users is said to be negligence of a driver. Truck drivers are prohibited from using their cell phones or performing other distracting activities while driving. While driving a large tractor-trailer can have much more severe consequences.
Poor Truck Maintenance Accidents
Trucking companies must regularly inspect their vehicle for safety hazards, such as bald tires, unworkable trailer hitches, and brake issues. While on the road, drivers must check their trucks to ensure their load is securely attached and that they are driving a safe vehicle.
Construction Truck Accidents
Heavy machinery can speed up and simplify the work of construction workers on roads and buildings. The drivers have the potential to cause fatal collisions, just like other commercial vehicle drivers. However, many reasons cause accidents on construction sites, such as improper loading, equipment failure, blind spots, etc.
Delivery Truck Accidents
Delivery drivers often work on strict delivery schedules, which puts unnecessary pressure on them. Due to that, they speed up, get distracted, or need to exercise adequate care and caution while driving. When this happens, a severe injury or fatal crash might occur.
Rental Truck Accidents
People often rent trucks to transfer goods when relocating to a new residence. Moreover, trucks can be rented by businesses to transport equipment. These trucks weigh considerably less than 18-wheelers and many other commercial vehicles, yet when they collide with passenger automobiles, they can still cause severe casualties and property damage. Instead of experienced truck drivers with commercial driver's licenses, regular folks frequently operate these vehicles. This increases the risk of accidents because drivers may need more training and experience.
Benefits of Hiring an Experienced Semi-Truck Accident Lawyer
It is not easy to operate a six-wheel truck on the road. Any truck collision may cause severe injuries and property damage, and only a truck accident lawyer can assist with filing claims. As a result, anyone involved in a truck accident, whether as a victim or an at-fault party, should get legal counsel from a lawyer who is experienced in handling truck accident lawsuits. Here are just a few of the many advantages of working with a truck accident lawyer. Expert advice can make all the difference in the outcome of your case and legal proceedings.
Here are the main advantages of hiring a truck accident lawyer.
Compensation
They can help you in receiving maximum compensation.
Case Duty
They take entire responsibility of the case.
Professionals
They are experts in negotiating.
Contacts
They have stronger connections, which can help to find the at-fault party and evidence.
Legal Experts
They are aware of the ins and outs of the legal process.
Fees
They don't charge, until you win the case.
Semi-Truck Accident FAQs
1. Why do you need a Semi-truck accident lawyer?

Truck accidents are becoming increasingly frequent today. We hear about fatal traffic accidents every day, whether they involve cars or trucks. A knowledgeable personal injury lawyer could assist you if you were hurt in a truck accident.

Well, after an accident, you will need a semi-truck accident lawyer to stand by your side in legal lawsuits. Moreover, they can be helpful in many ways, such as:

1. They will negotiate on your behalf

2. They can help you to calculate the amount of damage caused

3. A lawyer will take responsibility from the beginning of the case

4. They can provide you appropriate legal strategy

5. They will ensure comparative fault laws are applied correctly

2. What are the qualities of the best Semi-truck accident lawyer?

Since a semi-truck accident lawyer is going to showcase your case, he/she must carry a few of the qualities before fighting your case. Let us see some of the common yet mandatory points.

1. Transparent with you in terms of the case

2. Good communication skills

3. Updated knowledge of laws

4. Should be aware of every small detail of the case

5. Trial Experience

6. Experience With Trucking Accidents

7. High-level negotiation skills

3. Will I get more settlement money with a Semi-Truck accident lawyer?

Yes, an experienced truck accident lawyer will help you navigate the settlement procedure more appropriately. They carry expertise in semi-truck and large vehicle accidents. Once you hire a truck injury lawyer, they will study the case and calculate the damages caused in an accident and what is the approximate amount you might receive.

4. Why are truck accidents more dangerous than car accidents?

Commercial truck incidents are relatively riskier than collisions involving smaller passenger vehicles. Trucks' size and weight are the primary causes of the major and occasionally fatal accidents that involve these vehicles. Negligent truck maintenance and inexperienced or incompetent truck drivers are other elements that could cause a truck accident.

5. How to find the best Semi-truck accident lawyers near you?

After a commercial vehicle collision, it is necessary to hire a lawyer to represent the case on your behalf. You must ensure that you get the best lawyer and legal services. Before hiring a lawyer, ensure the points mentioned below:

1. Is a lawyer experienced in truck accident collisions

2. The reputation of the law firm

3. Past testimonials of the law firm

4. What is the success ratio of the firm as well as the lawyer

5. How will they keep you updated regarding the case

6. How much will you get paid if an 18-wheeler hit you?

It is important to note that it is challenging to forecast the typical compensation for an accident involving an 18-wheeler. The severity of the accident and the resulting damages often determine settlement amounts. As is typical in collisions involving large vehicles, individuals who sustain serious injuries may be entitled to a higher settlement sum than those who escape with only minor injuries. Below are the factor affecting the 18-wheeler settlement.

1. Whether the victim was partly at-fault for the mishap

2. Severity of vehicle damage

3. The extent of the victim's injuries

4. Lost wages and earning ability

5. Whether the trucking company was following the law or behaving carelessly

6. The liable party's percentage of fault

7. Shared fault rules in the state where the accident occurred

8. Whether the truck driver was driving harshly or broke any traffic rules

9. The age of the victim

7. How are the settlement amounts calculated?

There will be the talk of a settlement for the litigation, whether you have sued someone or are the one being sued. A settlement amount is calculated based on your economic loss (medical bills, lost income, or property damage) and non-economical loss (loss of consortium, pain & suffering, loss of enjoyment). However, a skilled lawyer is an appropriate person to seek help in receiving compensation, as they know the law's ins and outs. They will look into the case personally, including total economic and general damages, and set a settlement range.

8. How is fault determined in a semi-truck accident?

After an accident, a police investigation is followed in which every small detail is studied. On the basis of the investigation file, it is decided who is at fault. The most common factors through which one can be at fault are:

1. Violating traffic rules

2. Using cell phones

3. Fatigues

4. Speed Driving

5. Cutting the lane

9. Will my truck accident lawyer deal with the insurance companies for me?

However, after a commercial truck accident, it is recommended to hire a lawyer to deal with a number of tasks. A lawyer will look into every small detail including dealing with insurance and will gather every necessary document.
Semi-Truck Accident Blogs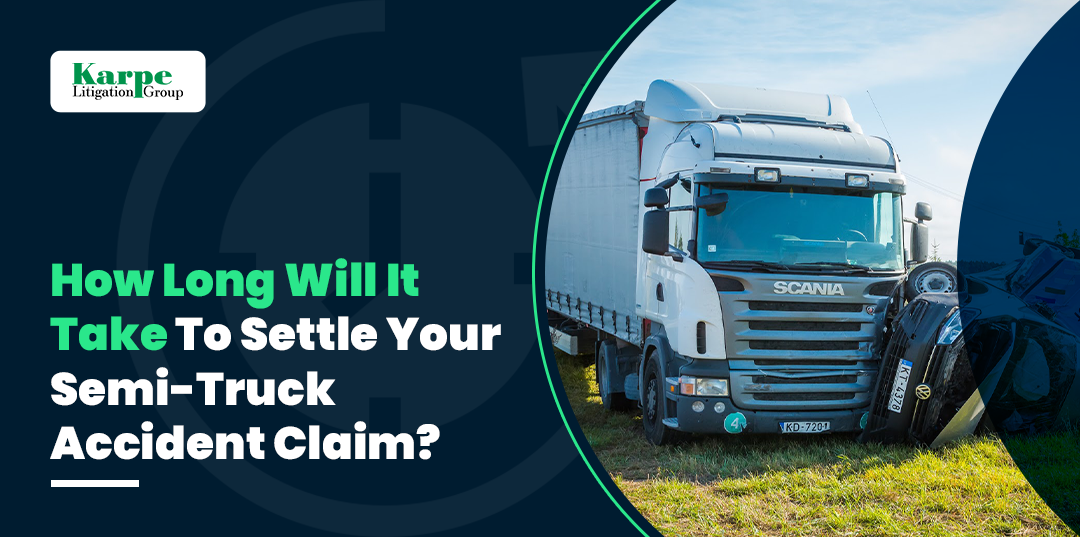 Your physical and mental situation might stress when you face a semi-truck accident. The time taken to settle a semi-truck…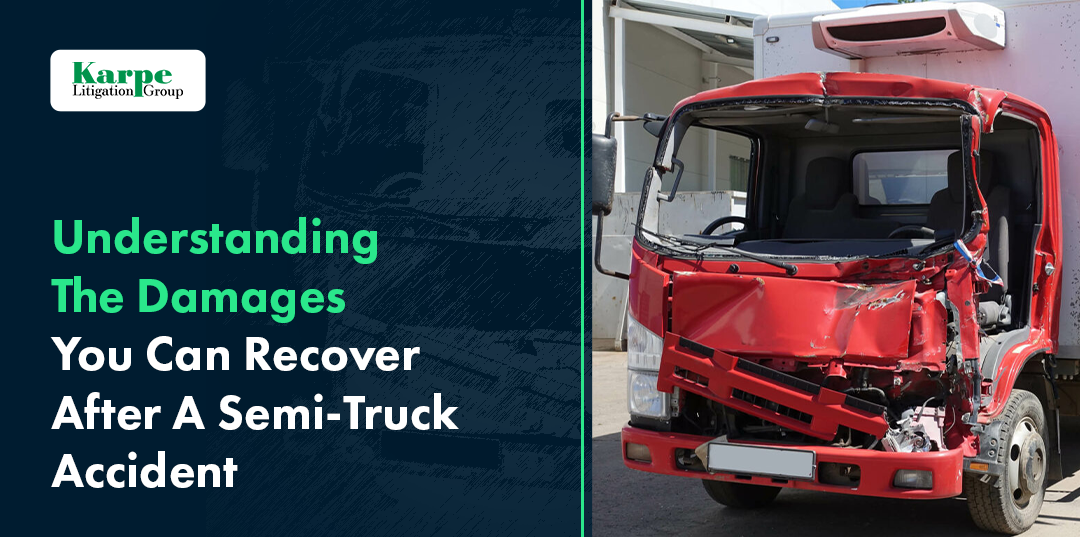 Semi-truck accidents are too common in Indiana. On 20th October 2022, a semi-truck driver was killed in a collision on…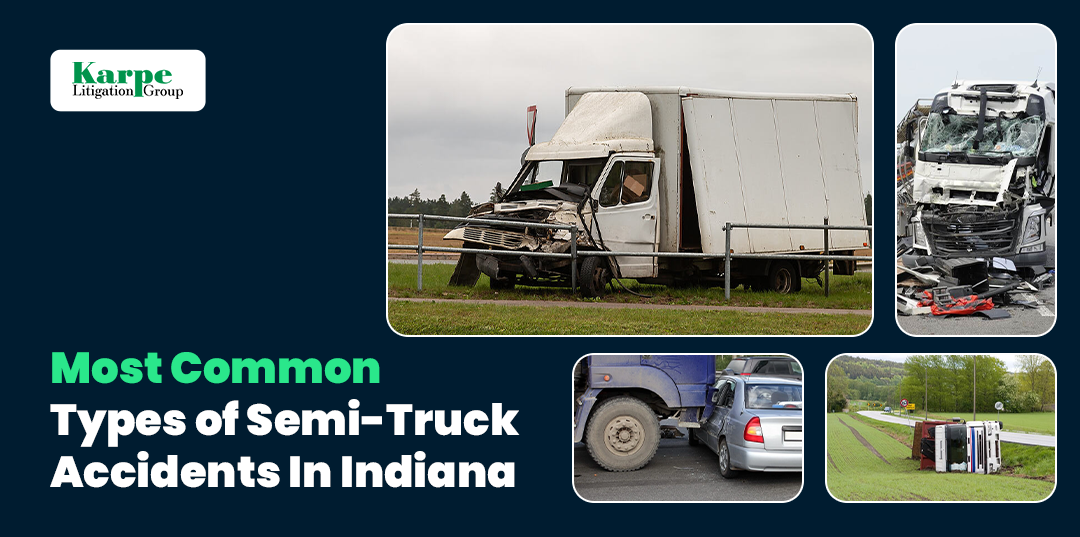 In 2020, 175,821 auto collisions got reported in Indiana. Among these 14,221 were commercial vehicles, a further, 90% of which…
Review My Case