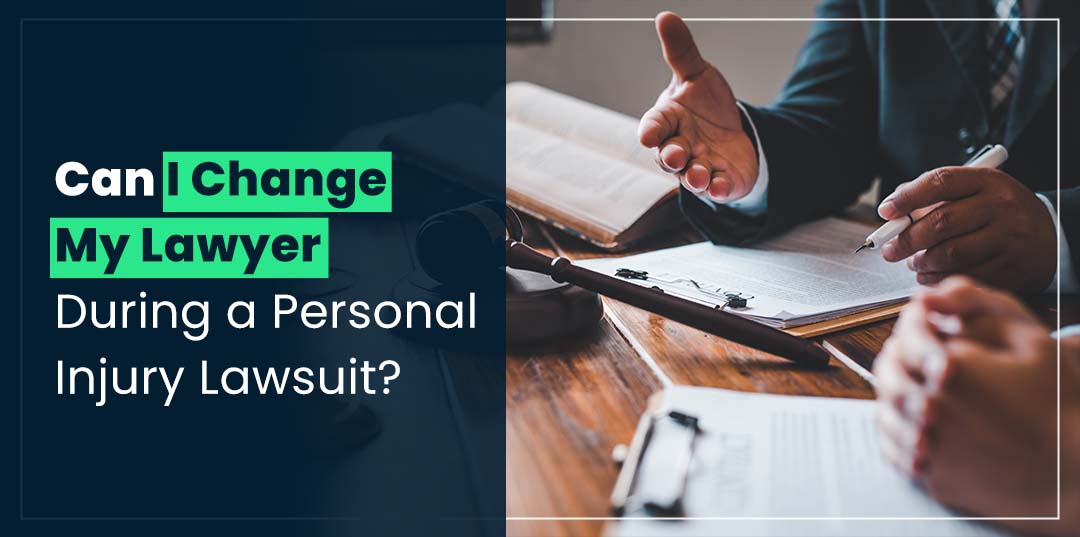 According to the Indiana State Department of Health reports, personal injury is the top cause of the demise of individuals between 1 to 44, and it's among the leading four causes of death in Indiana.
Moreover, people who survive personal injury often require medical attention and must go through a legal process that can cost them time, money, and energy. In addition, personal injury lawsuits can be complicated, and many individuals hire a personal injury lawyer to represent their lawsuit in court.
Individuals may want to change their lawyer during a personal injury lawsuit. If you find yourself or your loved one in this situation, it is essential to be aware of your rights and the potential risks involved in doing so. Many people are unaware of the laws that govern this area, so let's take a look at them.
You have the right to switch lawyers during a personal injury lawsuit. This blog will walk you through the process and help you understand what you need to do if you decide to change your lawyer.
Is It Legalized To Switch Your Attorney During Your Lawsuit?
Yes, the law allows you to switch your attorney during your lawsuit. It's the responsibility of your attorney to meet all your expectations; if they fail to do it, you can switch. Moreover, if you conclude that your current attorney is not competent enough or you don't feel like they are doing a good job, then it's your right to switch.
However, before you search for a new skilled personal injury lawyer, it's crucial first to introspect why you want to switch attorneys. For example, there may be internal issues between you and the attorney, or your attorney may be too busy for your case.
You also need to understand that some personal injury cases can take longer than expected, so patience is essential. Regardless, you have the legal right to switch your attorney if you've still made up your mind.
Different Scenarios When People Switch Their Lawyers
There are several scenarios when people switch their lawyers during personal injury cases and let's dive into some of them: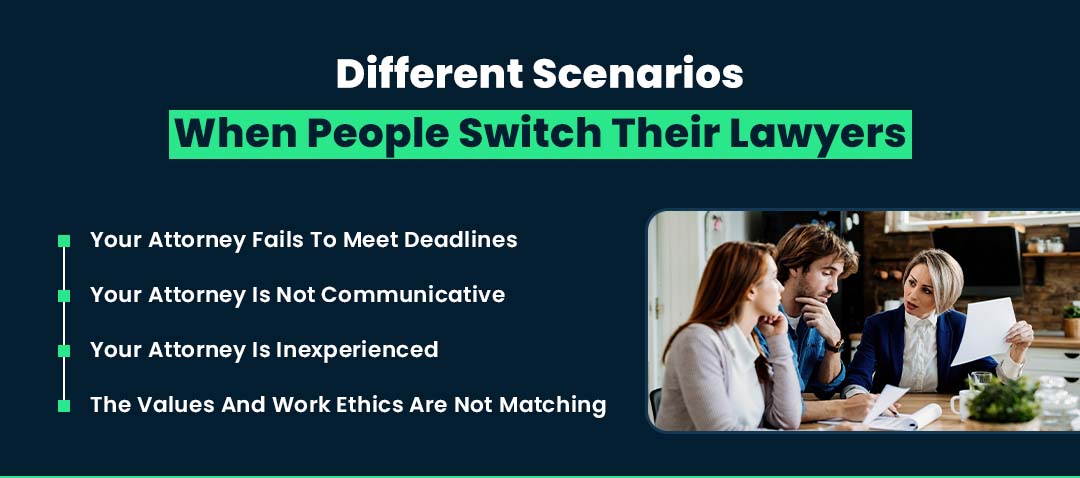 1. Your Attorney Fails To Meet Deadlines
If your attorney fails to meet deadlines set by the court, or if they do not provide timely updates about your case, it's a sign that it's time to switch your attorney. If it has happened to you rarely and has not affected your case negatively, you can give your attorney some time to make up for their mistake. However, if it's frequently happening, you only have the option to switch your attorney.
2. Your Attorney Is Not Communicative
Communication is critical in a personal injury lawsuit. Whenever you feel your current lawyer doesn't respond effectively to your concerns or isn't trying to understand your case, it's time to find a new experienced personal injury attorney. Your attorney should give you updates regarding the progress, any changes from the court, or any new potential evidence. If you need to get this from your current attorney, then it's time to switch.
3. Your Attorney Is Inexperienced
If your case is too complicated, it's vital to hire an experienced attorney who can understand and handle the complexities of your case. If you feel like your current attorney does not have enough knowledge and experience to take your case, then you should switch. Moreover, if your attorney needs to become more familiar with the court procedures and laws, you should change them as soon as possible.
4. The Values And Work Ethics Are Not Matching
If you feel uncomfortable with your attorney's values and work ethic, switching is essential. Your attorney should stand by you no matter what and should be available when you need them. If something doesn't feel right, you must switch your attorney and find a top-rated personal injury lawyer. It happens with many people who don't have the same values as their attorney, which is the only reason they switch.
Are They Any Consequences For Switching Lawyers?
Although there are no significant consequences for switching lawyers, it's essential to understand that it may impact your case slightly. If you change without valid reasons, it may affect your case.
Moreover, if you switch during the middle of your lawsuit, some delays can negatively impact your case. That's why it's essential to be sure before you make any decisions, as switching attorneys is a significant step.
It's vital that you make the switch as soon as possible and spend your time on things other than overthinking them. There is a big reason why you have decided to switch attorneys in the first place, and you must act fast.
If you didn't act fast and waited for the right time, your case may be negatively affected. You will end up losing valuable time and resources, which can significantly impact your case. Therefore, if switching attorneys is the right thing to do, then make sure you act fast.
Can The Court Revoke Your Right To Switch Attorneys?
No, the court cannot revoke your right to switch to a new personal injury lawyer, and you have every right to choose an experienced attorney for your case. However, the court can stop you from doing so if it will cause a significant delay or if there is an improper reason for switching lawyers.
Therefore, it's essential to make sure that you are switching your lawyer for the right reasons and that it will be smooth sailing in your case. If you've decided to take this step, then Karpe Litigation Group is here to help and get you going.

Why Choose Karpe Litigation Group To Secure Your Personal Injury Case?
At Karpe Litigation Group, we understand the importance of a personal injury case, which is why we have years of experience handling such cases. Our personal injury lawyers have the knowledge and expertise to handle these cases with precision, understanding, and attention.
Choose the best personal injury lawyers from Karpe Litigation Group and get the justice you deserve. We understand how important these cases are, and our attorneys will ensure that your case is handled with utmost care and consideration.
Wrapping Up!
It's important to recognize when it's time to switch attorneys, and if you are feeling the urge, don't hesitate. There is a big reason you are thinking of switching, and acting on your instinct is essential. Karpe Litigation Group is here to help and ensure that your case is handled precisely.
Frequently Asked Questions
1. What Should I Do If I Want To Switch Lawyers?

If you want to switch your lawyer, it's vital to act soon and make the switch as quickly as possible. You should contact your current lawyer and let them know that you are considering switching to a new one.

2. How Can The Karpe Litigation Group Help With My Personal Injury Case?

Karpe Litigation Group has years of experience handling these types of cases, and our attorneys have the knowledge and expertise to provide you with the justice you need.

3. Will My Existing Lawyer Refuse To Hand Over My Case?

Your existing lawyer cannot legally refuse to hand over your case. However, if they do so, then you should contact your state bar association and let them know of the situation.

4. Will I Be Able To Recover My Losses If I Switch Lawyers?

Yes, you will be able to recover your losses if you switch lawyers. However, it is essential to note that this process may take some time and a lot of effort. Therefore, it's vital to act soon and make sure that you switch to the best personal injury lawyer in your area.

5. Do I Need To Pay Extra To Leave The Existing Lawyer?

No, you do not need to pay extra in order to switch lawyers, but you need to clear any existing debts with your current lawyer.