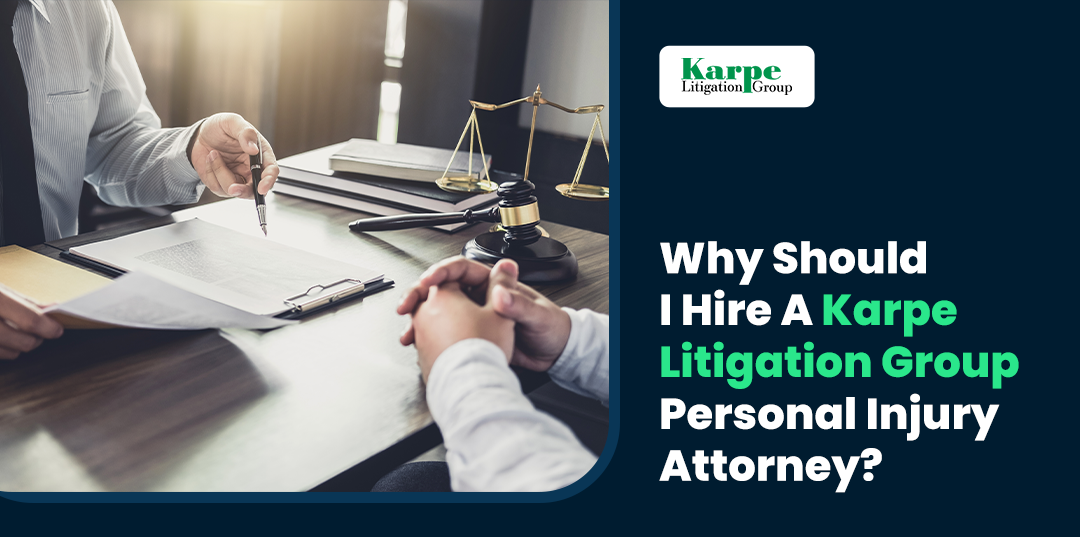 The USA has recorded 400,000 personal injury lawsuits in the year 2020. For a person who is not familiar with the legalities of personal injury, things can get very confusing. After a personal injury accident, you are probably in a lot of pain, and dealing with the case might get overwhelming. With the help of an Indianapolis Personal Injury Lawyer, you will be guided through every step of the lawsuit.
Karpe Litigation Group has some of the best lawyers in Indiana. Once you come under our umbrella, your tension will be our burden. We will ensure that you receive justice and compensation, covering all your damages. We assure you that we will be your guiding angels during this turmoil.
When you have fallen prey to other people's negligence and met with an accident, you can file a civil lawsuit against that person and sue them in a court of law. By filing the personal injury lawsuit, you will be entitled to receive compensation from the liable party for your damages. The damages that could be compensated are:
1. Medical expenses
2. Lost wages
3. Loss of consortium
4. Pain and suffering
5. Property damages
6. Other out-of-pocket expenses that you have made due to the personal injury accident.
Benefits of choosing Our Top-rated Personal Injury Attorney
If not handled properly, a personal injury lawsuit can be a nightmare for you. At Karpe Litigation, we have seasoned lawyers with years of experience who know which string to pull to get your case done quickly with maximum benefits. However, you can look at the benefits you will be getting by joining hands with us.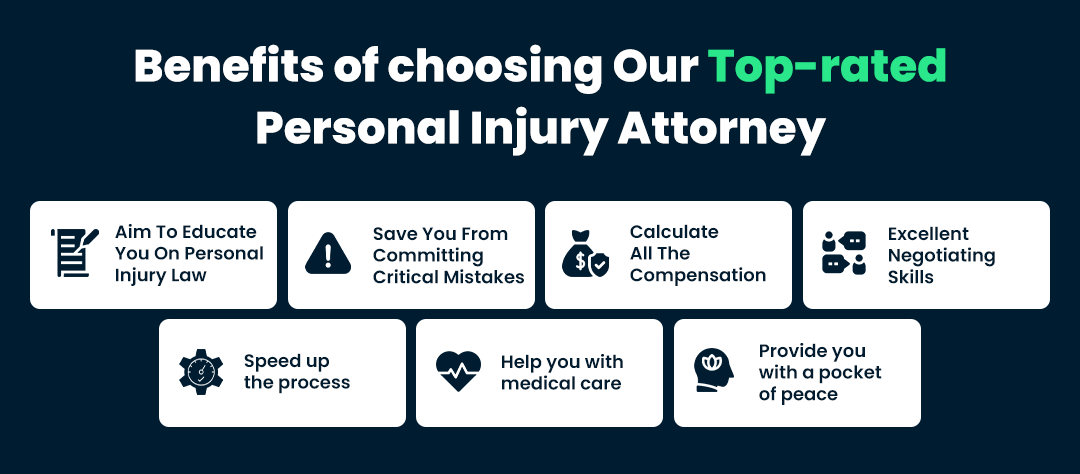 1. Aim to educate you on personal injury law
The main objective of a personal injury lawyer is not only to listen to your case and jump into the business instead make you understand the dynamics of a personal injury lawsuit. Our Personal Injury Attorney is the one that ensures the complete satisfaction of the clients. We give a clarification of how things will work and impart legal knowledge to help you know where you stand.
The aftermath of the accident is traumatizing. The victims are generally not in proper senses. We know that you look up to us as your last resort. You will receive respect and compassion that will not only help you to win a positive outcome but also help you mentally.
2. Save you from committing critical mistakes
After the personal injury accident, you will receive numerous calls from insurance companies giving assurance for your losses. They disguise themselves as your well-wisher, but you can't rest assured of the statements.
Furthermore, while filling up the paperwork, you can commit mistakes, and you must be aware of the deadlines and the proper process of filling out the forms. Any mistake might make the judge reject your form. Thus, an experienced personal injury attorney can save you from such scenarios. You need to be wise enough to choose the right attorney for your legal needs.
3. Calculate all the compensation
We will help you calculate the expenses you have made after the accident. The insurance companies and the other party will try to outsmart you and make you accept a lower deal. We know how things work in a personal injury case. We have solved hundreds of lawsuits and have smiling faces walking out of our office. We ensure that you will receive fair compensation.
4. Excellent negotiating skills
Talking about fair compensation is not a walk in the park. You will need a lawyer who is a sharp negotiator. You will need to prove that the accident was the fault of the other party involved in the accident. You will need to provide evidence that will help you prove your accusation.
We will fight for your maximum benefit; years of practice have sharpened our negotiation skills. If your case goes for litigation, we will represent you in the trial. If your insurer denies your claim, we know the keys that will set them to act accordingly.

5. Speed up the process
If you decide to carry on with the lawsuit without a lawyer, you might find yourself in the mid-ocean. Moreover, you might have to join a waiting list to serve your term. Any experienced personal injury lawyer can help you speed up the process by starting your case as soon as possible.
6. Help you with medical care
When you are involved in a personal injury, some doctors will refuse to treat you. This is because they do not want to get involved in legal procedures. A few doctors are also not habituated in how to bill the personal injury insurance company. Contact us immediately after your injury, we will help you find a doctor who is habituated to dealing with patients of personal injury disasters. The attorneys at Karpe Litigation Group have connections that will benefit you during the case.
7. Provide you with a pocket of peace
An accident not only brings physical injuries but also mental trauma along with it. You might be lucky to get away with minor injuries, it is very typical to face a mentally agonizing situation.
Dealing with personal injury victims is our bread and butter, and we have been doing this for a prolonged period. Thus, we know the mental situation our clients are in when they come to us. We assure you that you will be given emotional assistance that helps you to recover from your damages.
Conclusion
Being injured in an accident due to someone else's irresponsibility can ruin your vision for a better future. But, you have our back. Reach Karpe Litigation Group attorneys and get relevant solutions to your problems. Once you get under our roof, you can leave your tension and anxiety. We assure you that you will be in a win-win situation, no matter how deep you are in the complication.
Getting us on board will bring you closer to high compensation and peaceful life after the case is closed!
Frequently Asked Questions
1. What are the most common types of personal injury cases?

Personal injury cases are a large spectrum. There are multiple types of personal injury cases. However, the most common among them are:

2. Is a personal injury lawsuit costly?

The financial factor of a personal injury lawsuit varies from lawyer to lawyer and case to case. If the severity of your case is not too much, you can get away with nominal charges. On the other hand, if your case is complicated, you can expect a surge in the cost. A lawyer might charge you as per the way they accept fees. For instance, they are few lawyers who accept fees on a contingency basis, and there are few who have a fixed fee. Clarify with your lawyer from the first meeting about how they will be charging you. Lastly, ask your lawyer about any out-of-the-pocket expenses that you might have to bear.

3. Is it mandatory to hire a personal injury lawyer?

It is not mandatory to hire a personal injury lawyer, you can fight the case yourself. However, it is most likely that you will be hurt after a personal injury accident. So dealing with all the procedures can get tough. Also, if you are a layman, you will not know the laws in detail. Thus, it is highly suggested that you should hire an injury lawyer.

4. What is the statute of limitation?

The statute of limitation varies according to state laws and regulations. However, for most states, the statute of limitation is two years from the date of the accident.

5. What should I seek in a good personal injury lawyer?

There are a few basic attributes that make a good lawyer from the average lawyer. The attributes are:

High experience
Excellent communication skills
Good negotiation skills
Compassion
Availability
Good track record