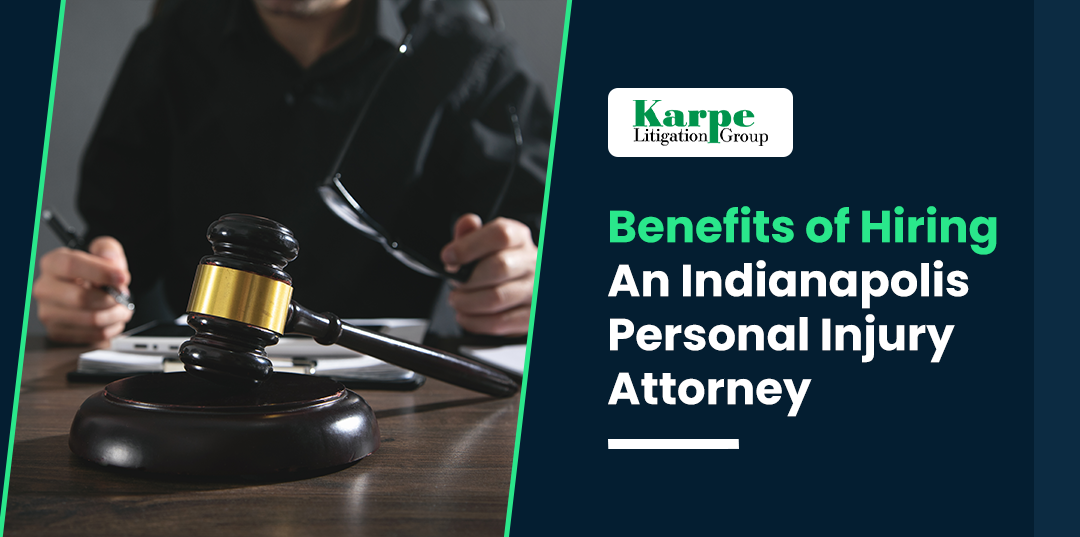 It is very unfortunate if someone else's negligence has led you to a compromised situation. If you were forced to a hospital for the injuries you had in the accident, lost the opportunity to work and earn daily wages, and are stuffed from mental anxiety after the accident. Do not sit in pain and think for too long about whether or not you should hire an attorney. An Indianapolis Personal Injury Lawyer will take all your burdens away from your shoulder and ensure that you have a smooth case with full and fair compensation.
There are numerous benefits to hiring a personal injury lawyer to fight your case. The lawyers will take care of you and your situation as soon as you onboard them in your case. From filing paperwork to comforting you emotionally at extremely dark hours, they will be your friend, philosopher, and guide.
Thus, to take off all the load on your shoulder at Karpe Litigation Group we have the best lawyer in town. An Indiana Personal Injury Lawyer at our litigation firm is experienced, seasoned, and has all the answers to your question about a personal injury case and the laws related. We are well-versed in the dynamics of personal injury accident cases. Further, we will work hard for you so that you can get what you deserve.
On this note, let's discuss some of the benefits that you will have by hiring a personal injury lawyer to fight your case.
What are the benefits of hiring a personal injury lawyer to fight a lawsuit?
If an accident has caused you physical and mental injuries, destroyed your scope to earn, or you have lost loved ones, a personal injury lawyer will be a gift sent from heaven. Surely, a lawyer can not reverse the situation that you are in, but they have all the means that can ease your pain.
The victim of a personal injury will be able to get compensation to cover their medical bills, and other monetary losses they have faced. We have narrowed down an array of benefits that comes along with a personal injury lawyer into 9 brief points:
1. Investigation and research
An Indianapolis Personal Injury Attorney has excellent investigation skills. When you onboard them for your case, the first step they will do is go back in time to research the case. They will go through all the parameters of the case, and further, gather all possible evidence that they can find under the sky to help you with your case.
They will aim to understand the case from the defendant's perspective too. They will ensure that no stone is left untouched. All the information they will gather will make your case stronger and thus help you to deal with the insurance companies, and the defendant with your head held high.
2. Legal expertise
Having a personal injury lawyer with experience and expertise is a dream come true. Experience ensures that you are not their first case. They have dealt with numerous cases of personal injury that are similar to yours from the past. Dealing with so many cases implies that they have seasoned their skills and learned from their mistakes.
Legal expertise also allows them to have a detailed understanding of the case. They will ensure that your case is legally sound so that you can get fair compensation.
3. Help you negotiate
To achieve the desired compensation, you will need to deal with a lot of negotiation. The insurance companies are persuasive and will try everything to make you settle for a lowball amount. A personal injury lawyer has sharp negotiation skills. Years of practice have made the personal injury lawyer intuitive of every tactic that an insurance company can use.
4. Communication skills
Good communication skills are important for lawyers to fight the case effectively; otherwise, it may not come out to be positive. Personal injury lawyers at Karpe Litigation Group have the correct tone and word selection that will take your case towards a positive turn. Not only they are good at communicating with different entities related to your case. But they ensure that you are answered all your questions, guided through the legalities, and are listened to.
5. Managing the legal procedures
A personal injury case has a lot more to do with presentation and compensation. The personal injury lawyer is liable to deal with the medical authorities, police, and other personnel who are involved with a personal injury case.

6. Offering guidance and assistance
If you are a layman understanding the backstory and all the closely knitted procedures of the case will be next-level hard. A personal injury lawyer will be your tour guide and help you understand the case better. They will keep updating you about the status of the case. Furthermore, you can direct all your queries to them.
7. Case presentation
According to data from Cornell Law Faculty Publication 90% of the cases are solved before they reach litigation. But if they do reach litigation, you will be represented by an Indianapolis Personal Injury Lawyer in the court of law.
They will ensure that the representation goes smoothly, arguing in the correct place to win you the best compensation possible.
8. Cost and time efficient
After the injury when you are recovering from your injuries, a personal injury attorney will do all the needful to help you win the case. Without a lawyer it will be your responsibility to present the case, gather evidence, plan strategies, etc. With an injured mind and body, you might not be able to get help yourself especially when you are not familiar with the law.
Years of being in the law department have helped them to make a lot of connections, they will ensure that they use the connection to speed up your process. Furthermore, most Personal Injury Attorney Indianapolis works on a contingency basis. That means they will only charge you if you win the case.
9. Emotional support
When you are in a compromised condition after your accident, you will probably see the future is dark. Your health, and wealth, everything is questioned. If you are the sole breadwinner of your family, sharing things with your family might be not your first option. You do not want to put your family members in a state of mental agony.
A personal injury lawyer will be there with you to support you emotionally. They will tell you exactly what you need to hear. They have to be honest and truthful to you. They will not yield any kind of false hopes in your mind.
At Karpe Litigation Group we serve what you deserve and more. All the lawyers have been selected based on their quick wits and problem-solving abilities. They have great credentials and experience as personal injury lawyers over the period.
As a customer, you will be our priority. We are extremely transparent with our actions. The excellent team we have will help you in every aspect after the personal injury. All you need to do is sit back and spend time recovering or with your family while we dedicatedly work for you.
Our charges are based on a contingency basis. Any out-of-the-pocket expenses will not be made without your knowledge. Choosing us will be your first step towards success.
Conclusion
You might feel that your life has ended after a severe accident. But when you join hands with the best Indianapolis Personal Injury Attorney, be assured that you can make something positive of the whole issue. Personal injury lawyers are like your silver lining who will do whatever is in their hands to help you get compensation.
Frequently Asked Questions
1. What are the charges of a personal injury lawyer?

Almost all personal injury lawyers work on a contingent basis. They take a percentage from the winning compensation of their clients. Thus, telling an exact amount is not possible.

2. Can a personal injury lawyer help me in suing an insurance company?

Yes, you can sue an insurance company with the help of a personal injury lawyer. The insurance companies are badly reputed when it comes to settling compensations with their policyholders. They aim to settle the amount at the lowest rate possible. If you are a victim of their game, hire an Indianapolis personal injury lawyer to sue them.

3. What are the good qualities of a personal injury lawyer?

A personal injury lawyer must be experienced, good at communication, professional, available, compassionate, well-versed, and punctual. A lawyer with all these qualities will stand out and be the best. in their field.

4. What are the common types of personal injury cases?

The common types of personal injury cases are:

3. Product liability cases.

5. Premises liability cases.

5. What is the statute of limitation for filing a personal injury lawsuit?

In Indianapolis, the statute of limitation is two years from the date of the accident. If you miss the deadline of two years, you might as well miss the chances of filing compensation.