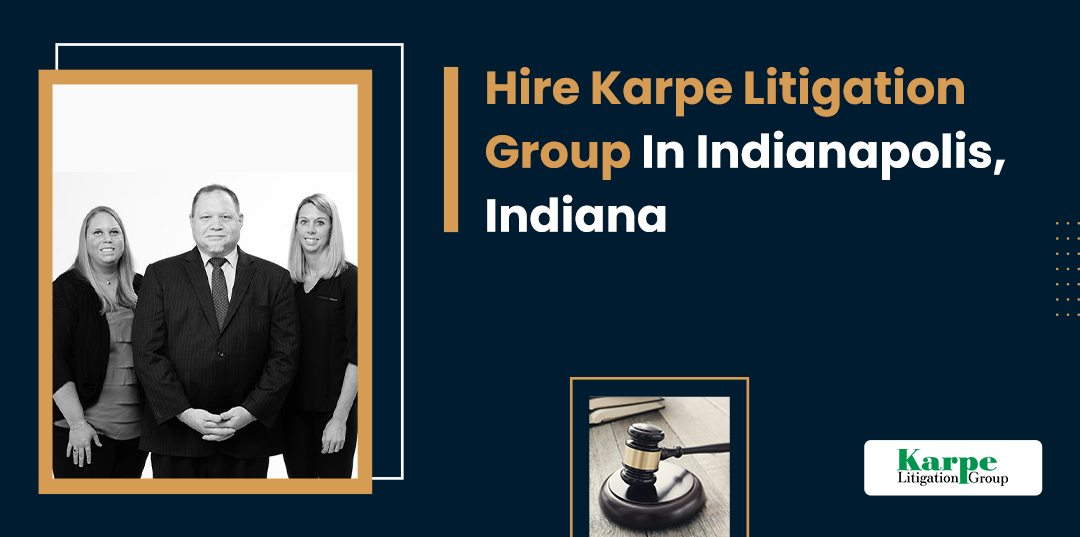 Accidents can strike anyone at any time. It's unavoidable at times. Medical expenditures, vehicle damage, pain & suffering, and missed work can soon mount up. The consequences can be more severe and even permanent. You must take the first move to safeguard yourself and your family. As you might have heard, prevention is better than cure. In today's unpredictable environment, having a top litigation firm on your side on time is a prudent move.
Karpe Litigation Group can help you when it comes to personal injury or accident cases. Our attorneys have committed themselves to assist accident victims for over two decades.
Our legal guidance is free without any upfront cost until we win the case. In case of any queries, you can come down to our workplace or contact us to book an appointment to talk with our attorneys.
We are the best choice if you need an attorney to help you seek compensation for your personal injuries. We are well-versed in the local legal community to our client's values.
Craig Karpe founded Karpe Litigation Group in 1999. He has represented plaintiffs in Indianapolis, Indiana, as well as in Virginia, California, Kentucky, Illinois, and Georgia, as an attorney. In Indiana and around the United States, the business had been dedicated to the rights of individuals against major insurance companies and corporations.
We understand your priorities and are committed to obtaining the compensation you deserve for your injuries. Our no-obligation initial consultations will guarantee that you are matched with the most qualified attorney for your situation.
You can meet with one of our honed attorneys to discuss the details of your case. Let's get in touch with us today!
Benefits of Hiring Indianapolis Personal Injury Law Firm
There are numerous advantages of hiring a personal injury law firm. The main advantage is that one will always get professional guidance throughout the procedure, which will take a step towards success.
Whereas, If you get injured in an accident and need to file a claim, a personal injury attorney is the one who will assist you in gaining the recovery for your loss.
Here are five benefits to hiring the best personal injury lawyer in Indianapolis, Indiana.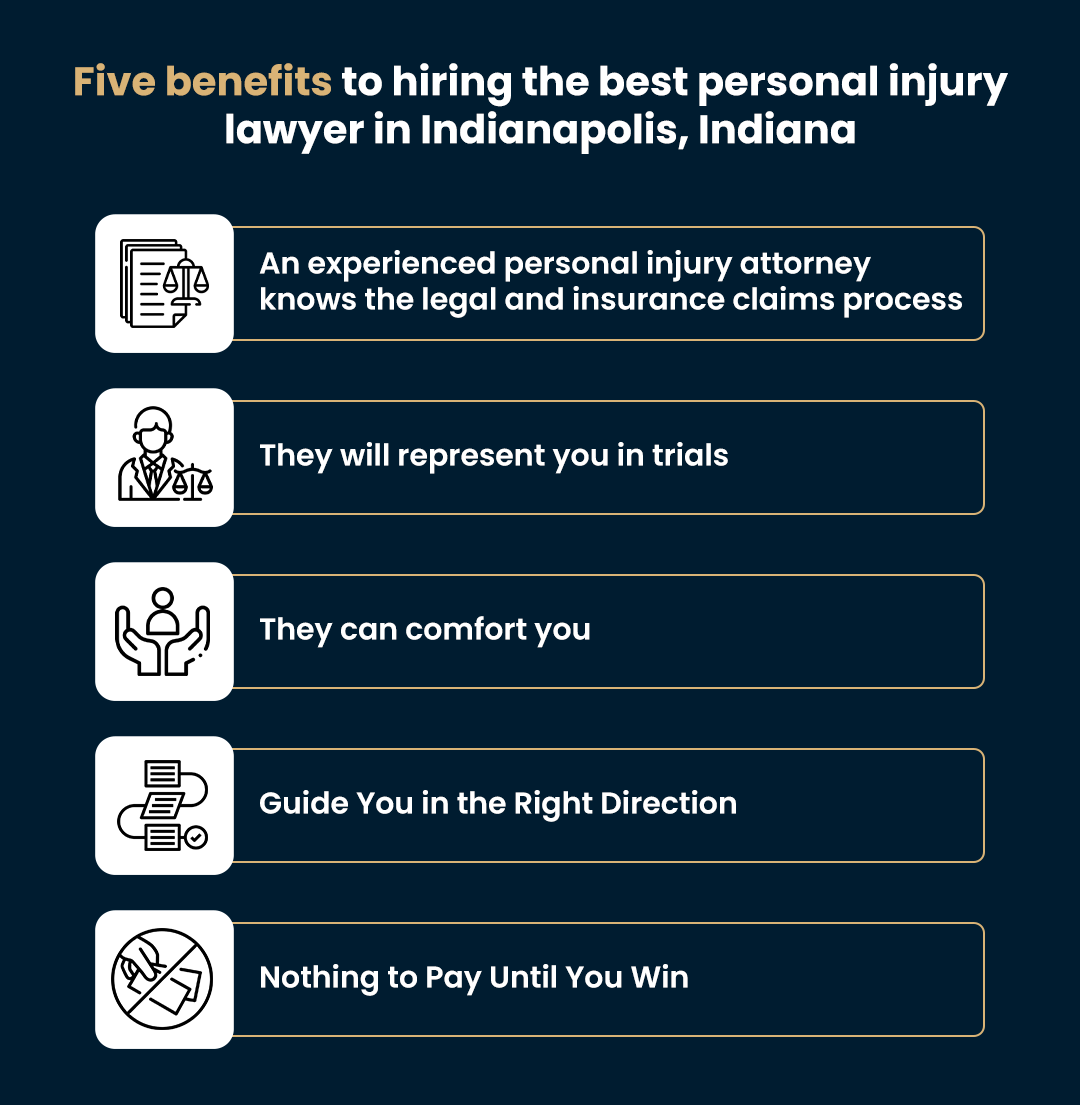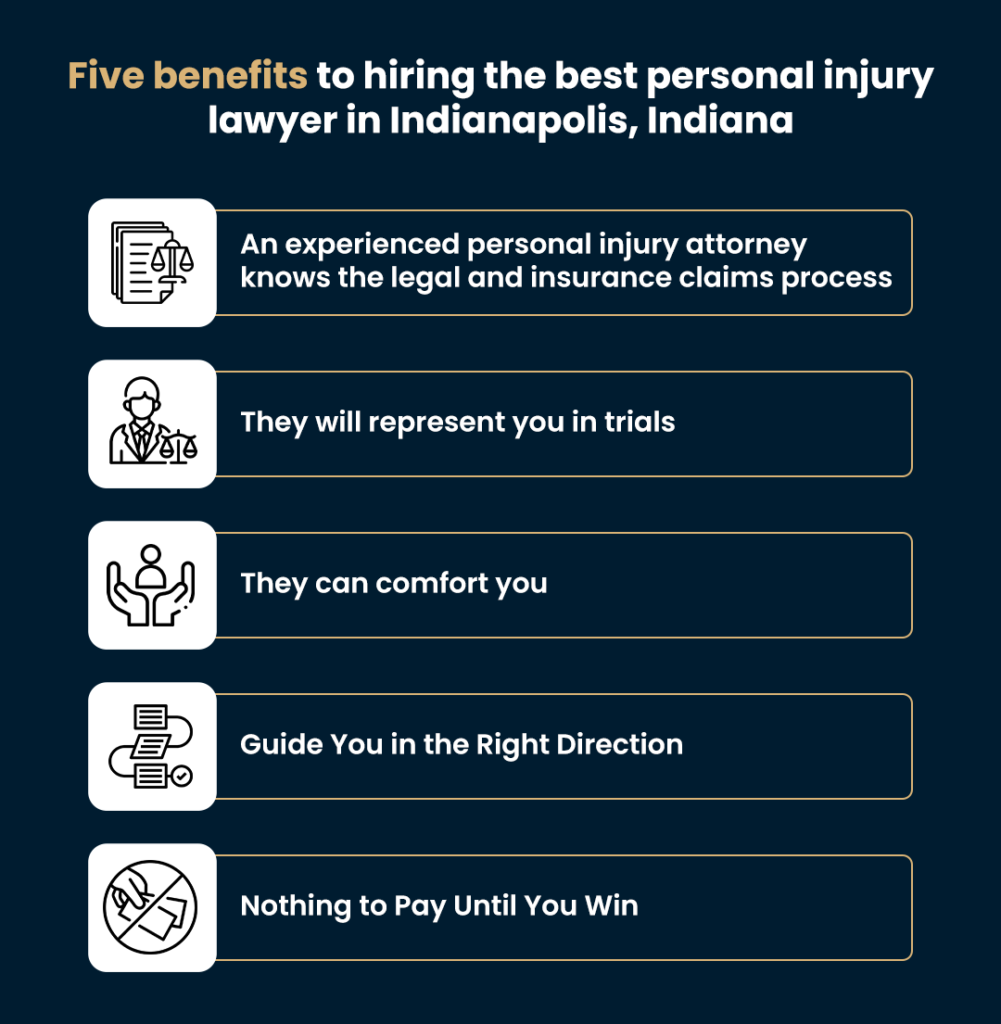 1. An experienced personal injury attorney knows the legal and insurance claims process
You may feel overwhelmed if it is your first time filing a claim. Dealing with a lot of paperwork and unfamiliar legal jargon can drain you mentally. Well, it is worth the money to engage a personal injury attorney to assist you with your claim, especially if you are unknown about the legal process. Also, professional personal injury attorney are well-versed in the legal language, which will aid them in negotiating with the insurance company. So, communicating with your insurance provider no longer terrifies you as your attorney will handle it for you.
2. They will  represent you in trials
Hiring a lawyer for your case in court will be beneficial and help you in receiving the compensation you deserve. If you have a personal injury or have met with an accident and believe the settlement offer is too low, or if the other party doesn't accept your case, your attorney can take legal actions and represent you in court.
3. They can comfort you
Once a personal injury attorney takes hold of your case you can rely on them throughout the procedure. It is obvious that an individual might feel nervous and underconfident, as he/she is going through a tough period. In this case, an attorney makes sure to give you peace of mind.
4. Guide You in the Right Direction
Nobody knows what can happen in the next few moments. You may meet with an accident or serious injury in that case you can file a personal injury claim, which can be complicated or an unknown process for a client, that is the time when you can hire a personal injury lawyer. The lawyers will guide you at each and every stage.
5. Nothing to Pay Until You Win
Many attorneys and personal injury law firms work on a contingency fee base, which means you only have to pay if you win. So, it's technically free to hire a personal injury lawyer only if you do not win the case. When you win your trial and receive your settlement amount then only you need to make a payment. There are no upfront charges to be concerned about, nor there are any legal fees.
Overall, a personal injury attorney in Indianapolis, Indiana will help you courageously ask for what you deserve, and get compensation wherever needed. Since accidents and hazards are unpredictable, it's high time to keep in touch with the best litigation firm in Indianapolis. If you are looking to hire experienced injury attorneys, Karpe Litigation Group is your best choice in the state of Indiana.
Karpe Litigation Group Practice Areas
At Karpe Litigation Group, you have an expert legal counsel who will fight hard for you, your rights, and your interests, in addition to your injury attorneys' attention and respect for the case. Besides, a case that meets the criteria is accepted on contingency bases. We only get paid when you win. Consequently, we can obtain the best possible verdicts and settlements for you without any upfront or hidden charges.
We help you in the following practice areas and walk you through every stage in detail. You can connect with our personal injury attorney to discuss the details of your case.
Check out the following Karpe litigation group practice areas.
1. Auto Accident
Do you need an auto accident attorney? Keeping in mind the ever-increasing death rate and cases due to vehicle accidents, it's a yes! Thousands of people were injured and badly bruised due to these car accidents. These days, vehicle-related deaths have been steadily increasing. In most cases, an auto accident occurs due to other parties' negligence. In this case, you deserve compensation if you are wounded and innocent. If you have been injured in a car accident in Indiana, an auto accident lawyer can assist you in receiving the compensation money.
You are fighting to get your life back on track after meeting with an accident by paying all the medical expenses, managing the household expense, and want that person to be cured soon. Karpe Litigation Group understands that vehicle accident injuries can have a very significant impact on your life. It may be a very stressful moment, and we take satisfaction in being able to help you relieve some of that tension.
A car injury and subsequent trials are tedious for you. Our team is experienced in trial car crash cases and attentive support persons act as advocates for you. We assist vehicular accident victims with expertise and understanding in navigating the complexities of securing the financial recovery they deserve.
2. Slip & Fall Accident
If you get injured on someone else's property due to a slip or fall, it may be because of a hazardous circumstance within the property owners. In this type of case, you have the right to consult with a lawyer. These injuries can sometimes result in a slip and fall lawsuit in the Indianapolis court system. Taking a tumble on slick stairwells, tripping on an uneven walkway outside your favorite coffee shop, slipping on wet grocery store tile, or falling into an unmarked, dangerous hole at a construction site are all permissible reasons to file a legal claim.
Karpe Litigations group lawyers specialize in managing premises liability lawsuits in Indianapolis, Indiana. Any personal injury lawsuit, especially a slip and fall or premises liability case, can be tough to navigate. So, you can hire our Slip & Fall accident attorney on an immediate basis. It has a no-risk, no-cost initial consultation to discover more about your options for getting the aid you need after a slip and fall accident.
3. Semi-Truck Accident
It can be difficult and intimidating to know where to look for help after a semi-truck accident. Commercial semi-truck collisions pose a unique set of challenges for pedestrians, truck drivers, bicyclists, motorists, and motorcyclists, even in less severe road collisions. A seasoned attorney can help you in such cases. Are you in a dilemma of whether to choose an advocate or not? Semi-truck accidents are continuously increasing in Indiana, and getting compensation has become challenging for the victims.
Semi-truck collisions frequently result in extremely severe injuries and fatalities. It might result in higher medical expenditures and more pain and suffering for people who have suffered an injury.
Karpe Litigation Group's semi-truck accident attorney has experience in getting compensation for the complicated concerns involved in semi-truck accidents. We have the means to assist you or the victim's family who have faced a semi-truck or tractor-trailer accident, and we will ensure you obtain the benefits you deserve.
4. Brain & Spine Accident
You know how much of an impact a Traumatic Brain Injury (TBI) or a Spinal Cord Injury (SCI) can have on your daily life if your loved one has experienced it. Severe brain or spine damage is always life-taking, and maybe the damage caused is permanent. The injured person and their family may have to deal with the consequences for the rest of their lives.
Do you know? In the case of TBI or SCI, you can be eligible for some legal advantages and an attorney with experience in personal injury laws who can guide you to recover your loss.  A victim should not bear the burden of severe injuries of medical bills in case of a traumatic brain injury or spinal cord injury. It is possible when a specialized attorney comes on the horizon.
Karpe Litigation has extensive experience in obtaining assistance for victims of TBIs and SCIs. You only have to pay if you win or settle your case; the consultation is always free and out of risk. You can schedule a personal injury legal consultation with us today to learn more about how our Brain & Spine accident attorney can help you get the help you need and deserve after your severe injury.
5. Workers Compensation Accident
Worker's compensation insurance protects employees at the workplace by providing a safety net to assist injured workers in paying medical expenditures as per their temporary and permanent disability status. Do you know? Workplaces can be hazardous, especially for those working in construction or driving trucks.
For every employee insurance is compulsory in each and every company. So that if someone is injured at the workplace he/she can claim the compensation as per the company policies.
Karpe Litigation holds a skilled team of workers compensation attorneys, including workers comp and job accident injury lawyers, who can fight with the guarantee that you receive the full reimbursement you deserve.
6. Motorcycle Accident
The Insurance Information Institute has reported large numbers of injuries due to motorcycle accidents. Over the last two years, the number of motorcyclists on the road has also increased. If you have met with a severe motorcycle accident in Indianapolis, Indiana. It's important to hire the best Indianapolis motorcycle accident attorney.
Trying to break out of the trauma and heal from your injuries while dealing with insurance providers after a motorbike accident can be a tedious experience. Specialized law firms and attorneys like Karpe Litigation Group can take care of the heavy lifting and handle the grunt work for you. Karpe Litigation's motorcycle accident attorney are dedicated to giving your injuries and cases the attention they deserve. Unless your case is won or settled, you owe nothing to us.
7. Insurance Dispute
Following a major incident, you may find yourself struggling with the insurance provider. Not just after a big accident, but at some point in your life, you have to face some tricky insurance positions.
Whether you have a dispute about your medical coverage, homeowner policy, auto insurance, disability benefits, life insurance claim, or can be property damage claim. It is critical to seek the advice of professionals like the insurance dispute attorney at Karpe Litigation Group and have your insurance dispute resolved as quickly as possible.
8. Police Misconduct & Civil Rights
The public's relationship with police officers in the United States can be challenging. Almost every day, there are reports of police misbehavior in the press. People's guaranteed civil rights are violated when police officers overstep their bounds.
The majority of law enforcement personnel are honorable people who work hard the whole day to preserve the rights of all Indiana residents.
No matter where you are within the state of Indiana, Karpe Litigation's Police Misconduct Causing Injury Lawyers is here to provide justice if you think you have been a victim of police misconduct.


As you already know, the Karpe Litigation Group has extended its expertise in various legal matters. It's not over yet! Apart from the above issues, we are eager to help you with legal claims that are outside the list. You can give us a call or book an appointment with our professional attorneys to discuss your case and get an assurance of your justice.
If you are still unsure of hiring Karpe Litigation Group, we will help you resolve your concerns. Moving on, let's discuss why we are the best personal injury attorneys and why you should hire us.
Why You Should Hire the Karpe Litigation Group In Indianapolis, Indiana?
When you are the victim of a personal injury, you may feel apprehensive, scared, overwhelmed, and afraid of what the future holds. Accidents resulting in personal injury can result in severe financial hardship. Minor or severe injuries can result in rehabilitation, lost money, pain and suffering, and mounting medical expenditures. Hiring an expert Indianapolis personal injury attorney is the best way to collect damages and recover compensation for your injuries.
Following are the top nine reasons to hire Karpe Litigation Group, an Indianapolis personal injury legal company.
1. Experience Where It Matters
Personal injury cases are more complicated than other legal matters. It takes a lot of expertise to dive deeper, investigates under the layers, excavates the truth, and bring fair compensation to the clients. Without experienced attorneys, it's impossible to get justice in case of accidents and personal injuries. However, you will be able to win your dignity back when seasoned lawyers at the Karpe Litigation Group are by your side.
Our professional attorneys have high-end experience and expertise in all the legal matters fighting for Indianapolis clients who have got injured in accidents such as slips and falls, motorcycle accidents, semi-truck accidents, public rights violations, and more. Since we have the idea of the rounds and cuts in personal injury matters, the Karpe Litigation Group assures justice for you and your loved ones in case they have experienced an unfortunate personal mishap. We are extending our experience by resolving every new case clients bring to our table.
2. No Fees Unless We Win
Paying without knowing what's at the other end is a big deal in legal cases. Since personal injury matters are complex, paying an attorney without knowing whether you'll get the compensation is a nightmare.
Our firm operates on a contingency fee basis, which means you owe us nothing until we successfully resolve your case. And we mean it! Our attorneys never charge a fee until the matter settles and you receive appropriate compensation. There will be no upfront or out-of-pocket charges because we will get a share of your settlements. It means we ensure to make you win the case in any legal matters. We don't settle down until proper investigations happen and proofs are collected to help you win the litigation effortlessly.
3. Thorough Case Investigation
Legal matters work on close examinations and valid proofs. You might not get any compensation if you cannot prove your case in court. Despite your injury and loss, the sued party might win over the matter leaving behind tons of medical bills, servicing charges, etc. It's no less than a nightmare. However, you can trust our years of expertise to direct the case investigation on the right track.
We have an experienced team of lawyers who will look into every detail of your case, perform re-enactments, question witnesses, and go through documents to ensure you get the best settlement possible. Our entire team will collect valid proof in your favor to give you an unbeatable edge in the court and fight for your rights without hesitation. So, we assure you that our attorneys will walk extra miles to lead you in the litigation at all costs.
4. Save Time
Requesting medical records, reviewing police reports, and communicating with insurance companies are time-consuming tasks. They can exhaust you without bringing out a potential outcome, leading you towards losing the case altogether. So, a quick and results-driven investigation led to a robust attorney group is always preferred to save time and ensure success.
As one of the best Indianapolis personal injury law firm, that will take care of all these seemingly insurmountable chores and establish a compelling case for you, our strategic examination process will help you find the truth and gather sufficient evidence to support you to get the required compensation for your loss. As we have worked with similar cases before, our attorneys know what to do and how to approach your lawsuit for a guaranteed victory. Thus, we do everything possible to settle the case and bring your life back on track at the earliest.
5. We Offer Objectivity
When you're in an accident, your judgment is likely skewed. When their emotions are running high, rational decision-making is very tough. So, you are likely to get swayed away and move towards losing a robust case that could go in your favor if approached efficiently. That's a loss! It's always said to maintain clarity of mind. However, addressing such a state during personal cases can be a deafening situation for most people.
At Karpe Litigation Group, our professional attorneys will remain objective and help you to make the best decisions on your behalf and ensure that you get fair compensation for your injuries. Since we have dwelled deep into the underlying aspects of personal injuries, our attorneys can lead your thought, bring more clarity, and help you stay calm and optimistic during the entire trial.
6. Bigger Settlements
Even after paying attorney's fees to Indianapolis personal injury lawyers, the research shows that people don't get a fair amount of compensation after being a victim of accidents and injury cases.
Karpe Litigation Group needs no advancements and prepares you with an army of seasoned attorneys who don't leave out any aspects of your injury case and help you get higher settlements from the alleged party.
7. Knowledge of the personal injury process
Most of our clients have little knowledge or no idea of how personal injury and accident cases work. Thus, they are unaware of the possible challenges and allegations that might be occurred from the opposing party during a trial. A series of such events might push your case towards your loss and a non-compensatory state even if you were on the right side.
Have you spent a significant amount of time studying the ins and outs of personal injury law? Yes, we have! Our team of attorneys has worked with numerous personal injury cases and gathered extensive experience around how things work. At Karpe Litigation Group, we have spent years of gauging the opposite party's moves and claims that might create roadblocks for you. So, we make a robust case by keeping in mind such speculations and assumptions to stay ahead of the alleged party.
8. Experience working with other lawyers
Did you know about divorce, bankruptcy, criminal charges, and so on? Can it affect your injury case? They can completely mold your situation, making it impossible for you to win and get the fair reimbursement you deserve for your hazard. However, managing a rapport with other lawyers and assimilating them into your injury case can be a big challenge. It can give unexpected turns in your trial and break your confidence altogether.
We understand that working with other lawyers to shield you against external allegations and claims is essential. So, we can work with your attorneys in these other practice areas to solve your best interest. We can help you create a comprehensive case and gather evidence within and outside the personal injury scope to remove the chances of your loss in such cases. If your issue goes beyond negotiations, we can also deal with the insurance company's lawyers.
9. Alternative ways to reach a resolution
Every personal injury case is different. Although experience can give us a speculating power to foresee the outcomes of cases, we don't know what's waiting for us on the other side. Our attorneys keep these aspects in mind and remain ready with alternative strategies to reach a resolution at the earliest and give you the justice you deserve. We can look beyond what's visible in your injury case and bring out-of-the-box ways to help you win overwhelming cases in a sway.
We recognize that when adjusters refuse to offer a fair settlement, alternative dispute resolution procedures are required, and we are prepared to handle your arbitration, mediation, or even trial. Our professional personal injury attorneys know the extraordinary approaches to handle the case and walk extra miles to do everything it takes to get you fairly compensated in simple and complex personal injury cases.
The Karpe Litigation Group is inclined to make your lives easier and happier by bringing the deserving amount of compensation to your doorstep and reviving your dignity after a damaging personal injury or accident. We are the leading personal injury attorneys firm in Indianapolis, Indiana who are ever-ready to raise voices to help you get compensation when personal hazards strike your fate.
Our optimum professionalism and sympathy for your injury case give us the clarity of mind to think in extreme situations. We always see the untold and create a robust case to help you safeguard your rights and get impartially compensated for your losses.
Conclusion
Do not hesitate to contact the top personal injury litigation firm, the Karpe Litigation Group. If your close one has been bruised in an accident caused by another party's negligence, hiring a qualified, experienced personal injury attorney can assist you in receiving maximum compensation while ensuring that all of your rights are safely guarded.
Do you have a personal injury case? Are you looking for Indianapolis Personal Injury attorneys who can guarantee compensation? You can contact us to schedule a complimentary case consultation today!
Frequently Asked Questions
1. What are the Karpe Litigation Group practice areas?

Karpe Litigation Group has multiple practice areas like auto accidents, slip, and fall accidents, semi-truck accidents, brain and spine accidents, worker's compensation accidents, motorcycle accidents, police misconduct, civil rights, insurance dispute cases, and apart from this if you have any legal case we will fight for you. Without any hesitation, consult us and we will find out the best possible solutions for your legal matters.

2. Why should I hire a personal injury law firm?

A personal injury law firm can benefit you in multiple ways. Some of the top advantages of hiring such attorneys are: you get legal and insurance claims process knowledge, trial support, mental comfort, and to receive a fair compensation amount.

3. Do you have upfront charges?

No, Karpe Litigation Group works on a contingency fee-base where you pay only when we win the personal injury case.

4. What if I have a personal injury case that's outside your practice areas?

Yes, kindly contact us at  1-888-228-7800 to discuss your legal matter and whether we can help you.

5. How can the Karpe Litigation Group help me?

Karpe Litigation Group is an experienced personal injury law firm in Indianapolis, Indiana having expertise in helping clients get justice and reimbursement in various practice areas. We assure success in court and don't charge a penny before you win the case and till you get a good compensation amount.