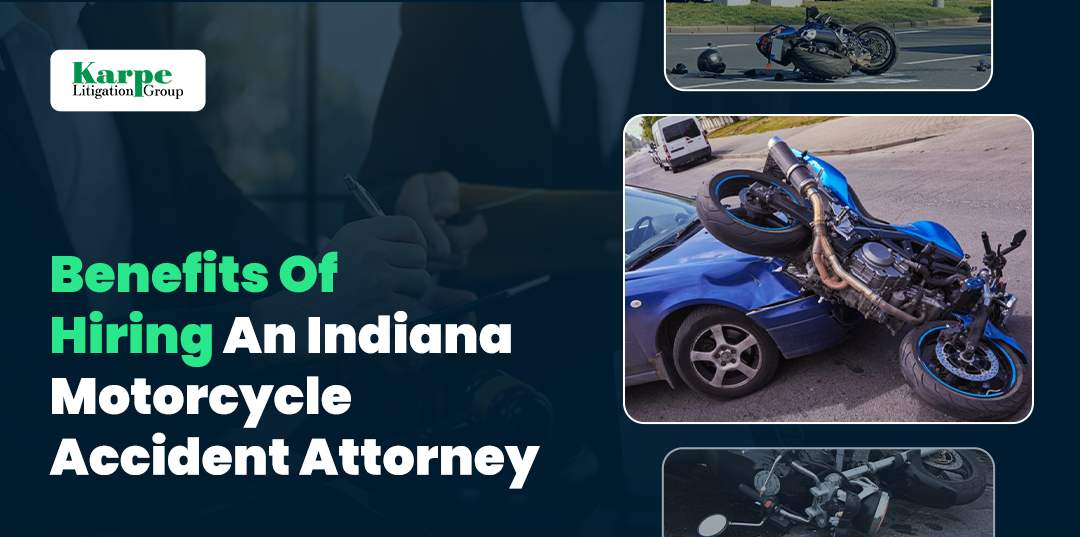 8.2% of US citizens have motorcycles. These fun rides are full of adventure and spending good memories but they are also most prone to accidents. It is not shocking if you listen to a motorcyclist who has ended up in an accident. The safety that these vehicles offer is very low. Lack of safety is the main reason behind motorcycle accidents.
If you are in such a situation, you might be suffering from physical injuries, mental discomfort, and a life crisis. Severe injuries or not, the aftermath of an accident will bring some unwanted expenses on your shoulder. Hire Motorcycle Accident Attorney to get compensation for the expenses that you have to cover. Often people do not consider hiring a lawyer in case of minor injuries. They have a notion that the lawyer will charge them more than the compensation they will receive. Petting this idea is incorrect. Injuries minor or severe, there is a window to receive higher compensation.
You can come to Karpe Litigation Group to seek help from a motorcycle accident lawyer. We are a group of legal professionals who aims in bring a smile to the worried faces stuck in the legalities.
The Benefits Of Hiring A Motorcycle Accident Lawyer
An Onboarding Motorcycle Accident Attorney will help you seek justice after your accident. If you or anyone of your family or friends have got involved in a motorcycle accident, here are the reasons to hire a lawyer to clear your dilemma.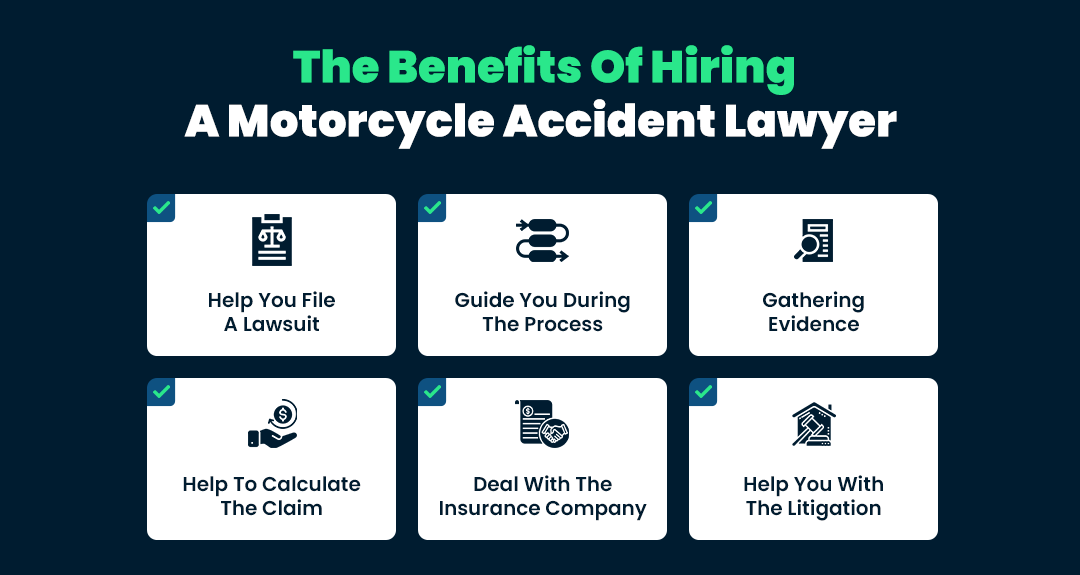 1. Help You File A Lawsuit
Right after the accident, when you contact the lawyer, there is a possibility that you are not fully recovered. From the first conversation and ultimately when you hire a lawyer they will help you with everything. You can focus on your recovery while the lawyer file the lawsuit.
Filing the lawsuit needs a lot of documentation, form fill-ups, and meeting deadlines. Being in an agonized physical or mental condition there are chances that you can make mistakes while filing the case. A motorcycle accident lawyer is experienced in handling such cases. They will ensure that no mistakes are made and file the lawsuit.
2. Guide You During The Process
Getting overwhelmed by the mention of lawsuits is acceptable. No one is prepared for an accident and to top that dealing with legalities might usher in you the thought of giving up. But thighs are not so cloudy if handled by the right person.
When you hire a lawyer, they will help you understand all the process and their significance. Every action will be monitored by them with your permission. An Experienced Motorcycle Accident Attorney has excellent negotiating skills. In case the lawsuit gets complicated while making settlements with the insurance companies or the lien party, they will negotiate and ensure that you receive what you deserve.
3. Gathering Evidence
Receiving a motorcycle injury claim is not standard two math. You have proved yourself innocent. In front of the jury, you and the other party involved are equally guilty. They will need evidence to believe that the other party was at fault.
Your lawyer will help you collect the evidence. They will go through the police records, witness testimonials, CCTV recordings, photos of the accident scene, and other details that are related to your accident. They will use this evidence to build a strong case that will help you prove your innocence. Further, the evidence will help you get compensation.

4. Help To Calculate The Claim
Depending on the recoverable factors after a motorcycle accident, An experienced attorney will help you to get a hunch about the compensation you ought to receive.
The lawyer will consider various factors like:
1. Property damages
2. Medical expenses that you have made
3. Loss of income due to your disability to work
4. Loss of consortium
5. Pain and suffering
These are the damages that you might go through after a motorcycle accident. The lawyer will consider these issues and demand compensation for each.

5. Deal With The Insurance Company
Insurance companies can get very ugly when you will demand a claim, especially if the claim is on the higher side. They will try to outsmart you and make a settlement as low as possible. In some cases, they might try to shift the blame on you too.
But with a lawyer by your side, you will not have to face the insurers. A Top-rated Motorcycle Accident Attorney is well aware of the strategies that insurance companies use to make a lowball settlement. All their strategies will be dealt with, ensuring that you do not get anything less than what you deserve.
6. Help You With The Litigation
Most motorcycle accident claims are settled outside the court. But in certain cases, both the plaintiff and the lien party or the plaintiff and the insurance adjuster can not come to a mutual agreement.
In this scenario, a lawyer will help you to take the case further to the court of law and represent you inform of the judge and jury. The lawyer will provide arguments on your behalf and try to establish your innocence and that the amount you have demanded is fair.
Why choose Karpe Litigation Group?
At Karpe Litigation Group, we have some excellent legal representatives who will help you get your claim. We hire lawyers with great credentials, which implies that they were serious about their careers from the beginning. We as lawyers are among the most experienced and skillful.
You will get a glance at the honesty and integrity we hold towards our clients. You will not receive any whitewashed answers. We know it is a tough time you are dealing with. We do not want to set your hopes high and pull you down. You will get honest insights into your lawsuit from us.
Furthermore, we hold all the good qualities that a Professional Motorcycle Accident Attorney must have to stand out in the crowd. From the first call we receive, you become a part of our family. Whether it is the first time you are dealing with a lawsuit or not, you will be guided and led by us toward a positive outcome.
If it is the first time you will be hiring us, we assure you won't settle for any other lawyers other than us in the future.
Conclusion
Choosing a motorcycle accident lawyer will help you go through the lawsuit smoothly regardless of the severity of the lawsuit. They will aim for the best results and not settle until they get what you demand. If the insurance adjuster or the defendant does not agree, they will seek your permission to file litigation. Focus on your recovery till you get the compensation to cover your damages.
Frequently Asked Questions
1. What is the main reason behind a motorcycle accident?

The main reason behind motorcycle accidents is driving recklessly, DUI, and over-speeding. Sometimes the motorcycle also comes in the blind spot of the other vehicle and faces a collision.

2. How long does it take to get a settlement claim after a motorcycle collision?

There is no specific answer to this question. The time taken might be from a few weeks to even years. The severity of the case, the time you filed the case after the accident, and the lawyer's representation hamper the speed of the case.

3. What is the amount of compensation that you can expect from your lawsuit?

The experienced motorcycle accident attorney you have hired to fight your case can give you a proper answer to this question. They will calculate the compensation amount from the expenses you have made after the accident.

4. Can you get compensation if you had very little or no injuries?

You are lucky if you did not get any physical injuries after a motorcycle injury. You are eligible to get the compensation even with no injury if your motorcycle is damaged, or if the accident has affected you mentally, you will be rewarded pain and suffering compensation.

5. Should I hire a motorcycle accident attorney for my case?

Yes. You may get misguided or receive lesser compensation if you don't seek expert counseling. So, hiring a Top-rated motorcycle accident attorney will help you immensely.

6. Where can I get more information about motorcycle accident legal services?