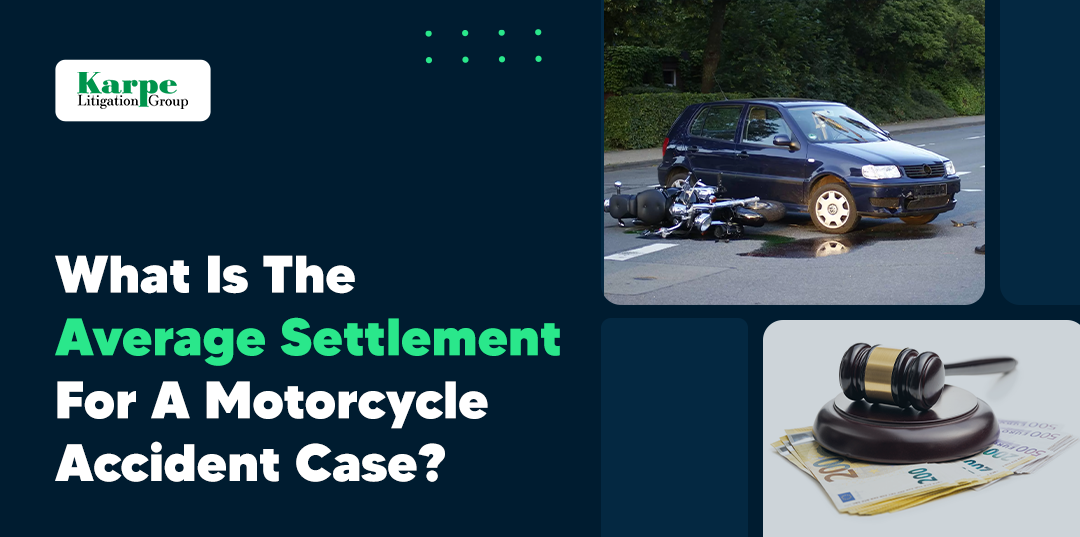 Every once in a while you can witness or hear about a motorcycle accident case. In 2020, 138 motorcyclists were killed in motorcycle accidents. Whereas in the previous year 2019, 112 people were killed. Within one year the rate of fatalities has increased by 23%. Furthermore, the number of injuries in motorcycle accidents in 2019 was 1,818 and in 2020 was 1,969. This data has shown an increase of 8%.
If you are also in a situation where you have landed up in a motorcycle accident, reach out to an Indianapolis Motorcycle Accident Attorney. The lawyer will help you in getting compensation and cover the expenses that have come along with the accident. However, the settlement that might be made in a motorcycle accident case is highly subjective. Therefore, giving an exact figure will be misleading you.
To help you with all your further questions and get you the best settlement deals, Karpe Litigation Group is here to render all legal aid. We are a hub of highly professional lawyers who will help you out of the thick situation you are in. Dealing with several clients over the years has widened our vision and we know exactly what you might be going through. We assure you that we will work tirelessly for your benefit.
Nevertheless, here are some factors that will help you understand why giving an average settlement claim for a motorcycle accident is impossible.
Factors affecting the motorcycle accident settlement claim
Certain factors in a motorcycle accident determine how much you will be receiving compensation. A Motorcycle Accident Lawyer Indianapolis will try their best to fetch a bigger amount of settlement for you but they have to strategize the case keeping the factors in mind. For instance, the fact that you have collided with a car or a passenger vehicle like a truck will affect the outcomes of your case. Keeping that in mind let us have a quick look at the factors: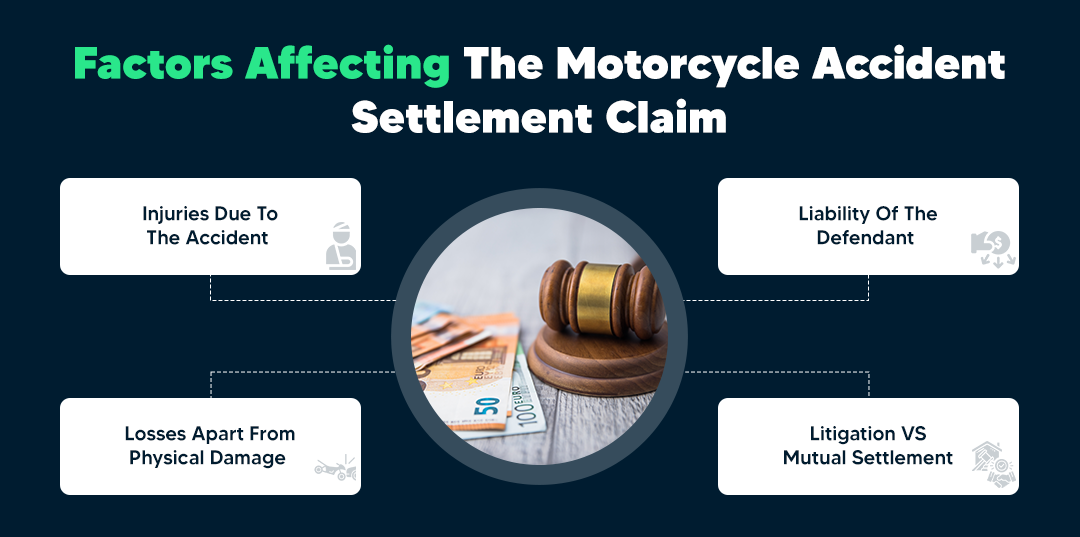 1. Injuries due to the Accident
A motorcycle claim is affected by the seriousness of your injuries after the accident. Minor injuries conclude that the accident was not severe, further, the medical cost and other expenditures would be lower owing to the minor injuries. The National Center of Biotechnology Information (NCBI) claims that motorcycle accidents mostly leads to head injury and might get severe damage in brain.
In case of death, the claim will significantly rise. National Highway Traffic Safety Administration (NHTSA), the chances of fatalities in a motorcycle accident are 28% higher than in other accidents. The death of a person makes their family members eligible for damage for wrongful death compensation. The cost of burial, funeral, medical bills, and miscellaneous costs are included in the compensation.

In case your injuries are increasing your pain and suffering, you can claim 'pain and suffering" compensation. This is regarded as a non-economic claim and can make a bulk out of the motorcycle accident lawsuit.
2. Liability of the Defendant
You can sue the other party as the cause of your accident but you will also have to prove that the defendant was liable for your accident. Till you can prove the liability of the lien, you will not be able to receive any compensation. Oftentimes, the defendant might refuse your accusations, that increases the case difficulty. They have the full right to hire a lawyer to defend themselves. The lawyer will try their best to prove their innocence.
Hire an Motorcycle Accident Attorney, they will gather the needful evidence like CCTV footage, picture, and witness testimonial so that your compensation can increase. If you do not have sufficient evidence, there are chances of ending up with little or no compensation.
3. Losses apart from Physical Damage
Apart from physical injuries, there is an array of damage an individual has to face after an accident. You might have excessive property damages, change of lifestyle after the accident, unable to work and earn wages, etc., which are some of the factors that can affect your settlement amount. For example, if your motorcycle has a dent your compensation will be lower than a motorcycle that is totaled.
On the other hand, depending on the severity of your injuries you might need to stop going to work so that you can recover fully. While there are workplaces that are good with their policies and help their employees in such times but there are workplaces that do not entertain absence from work on any occasion. It means that the employees might not get paid till they recover and start working again. Promotions, savings, and raised also get hampered due to the loss of work. After the injuries, people also experience a lack of ability to enjoy the simple pleasures of life.
A Motorcycle Accident Attorney Indianapolis will help you build a strong case determining all the losses you are at after the accident. They will also consider the future expenses that you might be making due to the accident and calculate an amount that will cover all your expenses.

4. Litigation VS Mutual Settlement
A higher number of cases are settled outside the courtrooms with the help of a lawyer. The defendant and the plaintiff might come to a mutual agreement and settle for an amount that is suitable to pay and suitable to cover the damages. In these cases, the settlement is considerably lower. But on the other hand, the fees of your lawyer also see a down surge.
If the defendant and the plaintiff are unable to settle mutually, the case goes to litigation. Here, the judge and the jury decide the compensation which might be lower or higher depending on their viewpoint.

Why choose Karpe Litigation Group?
The Indianapolis Motorcycle Accident Attorney from Karpe Litigation Group is seasoned with all the finest attributes that the best lawyer must possess. They will by hook or crook ensure that you receive full and fair compensation. We as lawyers are vigilant of the trouble you might be facing after an uninvited incident. You will be offered compassion and guidance once you arrive at our adobe.
We are well-versed in the laws that concern damages, liability, and injuries. From filling up the paperwork, and gathering evidence to negotiating with the other party, we will be there by your side till you get what you deserve. Apart from the legalities, we understand the mental anxiety of our clients and will go to any lengths to support them emotionally.
We are a team of lawyers who handle cases on a contingency basis. You will be paying us only when you have the compensation in your hands.
Conclusion
If you or someone you love is unfortunate enough to get involved in a motorcycle accident, an Indiana Motorcycle Accident Lawyer will help you out with all the legalities. Let our lawyer help your case while you spend time with your family and recover from the accident. Karpe Litigation Team has knowledge and experience that will not let things go the wrong way. Contact us today!
Frequently Asked Questions
1. Can a car accident lawyer help in motorcycle accident cases?

A car accident lawyer can definitely help with a motorcycle accident case. They have the credentials and authority to do so. However, it is suggested that you hire an attorney who has a niche in dealing with motorcycle accident cases. They will be much more familiar with the dynamics of a motorcycle accident case.

2. What is the statute of limitation to file a motorcycle accident case?

The status of limitation to file a motorcycle accident case is two years from the date of the accident. If you miss filing within this period you might not be able to file the case any longer.

3. Can I get compensation if I am not injured?

If you are not injured physically that does not means you are not suffering from a post-traumatic issue. There are cases when the victim suffers from anxiety and other mental outbreak after an accident. Your Indianapolis motorcycle accident lawyer can help you get the compensation that is termed as "non-economic" damage.

4. How much will a motorcycle accident lawyer charge?

The fee structure of an Indiana motorcycle accident lawyer varies from case to case and lawyer to lawyer. Some work on a contingency basis, while others will charge you a lump sum at the beginning of the case.

5. What are some common types of motorcycle injuries?

Traumatic brain injuries, broken limbs, spinal injuries, organ damage, internal bleeding, whiplash, etc., are some of the most common motorcycle injuries.