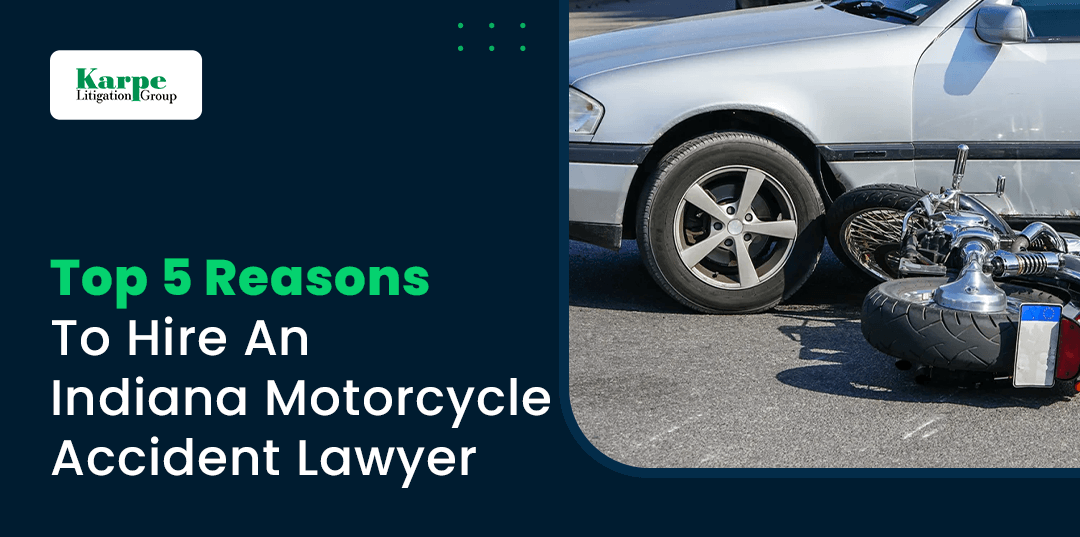 Nearly 2,600 motorcycle accidents happened in Indiana in 2019, causing 112 casualties, 1,607 people injured but not fatally, and 211 people hurt as passengers. It suggests that motorbike collisions often happen in the state. Most frequently, roadway negligence by other drivers results in motorbike accidents.
Motorcycle accidents can lead to deadly injuries, and if you don't employ the legal counsel of the best motorcycle accident attorney in Indianapolis, you may find up paying out-of-pocket for your property damage and medical expenditures. Unfortunately, riders are frequently held accountable for accidents even when they weren't at fault, so you must present compelling physical proof that another driver is at fault.
So, it's better to consult with a motorcycle accident lawyer if you were hurt in a motorbike accident. To secure the financial compensation you are due for your accident, a knowledgeable motorcycle accident attorney will assist you in proving your personal injury claim.
At Karpe Litigation Group, we have skilled motorcycle accident attorneys to help you construct a winning case and recover the damages you have incurred. Get in touch with our team now!
Now let's review the top five reasons to hire the Indianapolis motorcycle accident attorney in the upcoming sections!
Top 5 Reasons To Hire An Indiana Motorcycle Accident Lawyer
You might know how crucial it is to keep safe on the road since you ride a motorcycle. However, no matter how cautious a biker you are, there are occasionally other drivers who aren't as cautious on the road.  Thus, the chances of getting hurt when riding a motorcycle are significant.
Hence, the practical move is to hire the most suitable motorcycle accident attorney. Keep reading for five strong arguments in favor of hiring a lawyer to handle your motorcycle accident claim.
1. To Provide You With Support And Guidance Through The Legal Process
The decision of filing a lawsuit after an Indiana motorcycle accident can be challenging. Making your way through the system on your own can be challenging if you don't have the necessary legal training to understand the specifics of your insurance coverage.
Apart from that, insurance policies can often be complex. Also, making mistakes in information interpretation, or missing deadlines can affect your case collectively. Consequently, it can decrease the amount of damage you receive and delay your reimbursement date.
An experienced lawyer is often familiar with the laws and regulations that are in effect in Indiana. They are also trained to review your policy to make sure your insurance company is adhering to its standards. They can assist you in comprehending and knowing your legal alternatives for suing your insurance company. As a result, consultation with a motorcycle accident lawyer can be helpful in these situations as they can best support and direct you through the difficult legal process.
2. To Prove Liability
Having to demonstrate that another person's negligence led to your injuries is one of the trickiest aspects of a motorcycle accident damage claim. And with that stated, keep in mind that both parties will probably try to deny the incident or shift responsibility, which can make it more challenging to establish who is to blame for your injuries.
You can develop and support your case with the aid of the Indiana motorcycle accident lawyer. They may assist you in arranging the required paperwork, give you legal guidance, collect evidence to construct a robust case, and legally represent you in court when needed to prove liability in your case.
3. To Calculate The Monetary Amount Of Your Damages
It can be challenging to determine the losses you've suffered after a motorbike accident. So, most accident victims believe that receiving compensation for medical bills is sufficient. After all, it can take considerable time to figure out the damages incurred after facing injuries and realize the complete harm you've sustained.
Apart from your wounds, your compensation should also cover property damage, diminished quality of life, lost wages, wrongful death of a loved one, and the agony and suffering you endured.
An experienced lawyer is familiar with the nuances of motorcycle accident injuries, damages, and how to accurately determine the collective compensation for your losses. This computation can give you an accurate picture of the effects your injuries have had on your everyday life in terms of physical, emotional, and monetary expenses.

4. To Fight Unfair Biases And Negotiate A Fair Settlement
Certain insurance companies might have unreasonable prejudices against anyone who makes a claim, including motorcycle riders, who are sometimes viewed as dangerous drivers who drive too fast and are frequently difficult to see on the road.
Besides, insurance adjusters have a lot of experience settling claims. They have received training in how to bargain in the organization's favor. So, receiving the compensation you are due may be more challenging due to these types of rulings or opinions.
Therefore, hiring a motorbike accident lawyer to defend your rights might be quite beneficial. An Indiana motorcycle accident attorney makes sure you receive fair treatment and negotiate a favorable agreement in your favor.
5. To File A Lawsuit
A motorcycle accident lawyer can efficiently bargain with your insurance provider and reach an agreement on a payment. It will enable you to keep your case out of court. So, their priority would be to avoid legal proceedings in court.
It is evident that filing a lawsuit and appearing in court could make your life more difficult and cost you money. However, it will be worthwhile if it ultimately results in you receiving a considerably higher settlement.
So, if a settlement cannot be reached, your lawyer can take care of bringing a personal injury lawsuit on your behalf. Depending on the specifics of your Indiana motorcycle case, they can explain why bringing a lawsuit is in your adequate interests.
All these reasons necessitate hiring a motorcycle accident attorney in Indianapolis to help you get what you deserve. However, finding the right motorcycle accident attorney for your case can be challenging. Not anymore!
Why Hire Karpe Litigation Group's Motorcycle Accident Lawyer?
The experts at Karpe Litigation Group are aware of the traumatizing experience a motorcycle accident can have on victims. Our attorneys are ever-ready to do everything we can to ensure that you receive the just recompense.
We have the right experience in handling cases like yours, collecting evidence, and helping you receive compensation if you weren't at fault during the accident. Our attorneys ensure that you are in the most experienced hands by trusting our years of expertise.
Karpe Litigation Group does everything to collect evidence and record witness statements from the accident site. We have the knowledge and expertise to strengthen a case involving a severe motorbike injury. Our team ensures that seasoned and skilled attorneys will handle your case from end to end.
Your case will be handled by our honed team on a contingency basis, so there won't be any fees unless money is recovered in a settlement. So, you can focus on recovery and rehabilitation while our skilled lawyers handle the rest effortlessly.
We'll be available whenever you're ready to talk. Drop a message to our team or give us a call immediately. We'll come together right away to assist you with your motorbike accident lawsuit. You can rely on the top motorcycle accident law firm in Indiana, Karpe Litigation Group, for assistance. Contact us now!
Conclusion
Although you ride a motorcycle carefully, some other drivers do not share your level of awareness or thoughtfulness. So, an Indiana motorcycle accident attorney should be retained if you were hurt in a motorbike accident. You can obtain the money you are due with their expertise and counsel without interfering with your healing process. For further inquiries, schedule a free consultation now!
Frequently Asked Questions