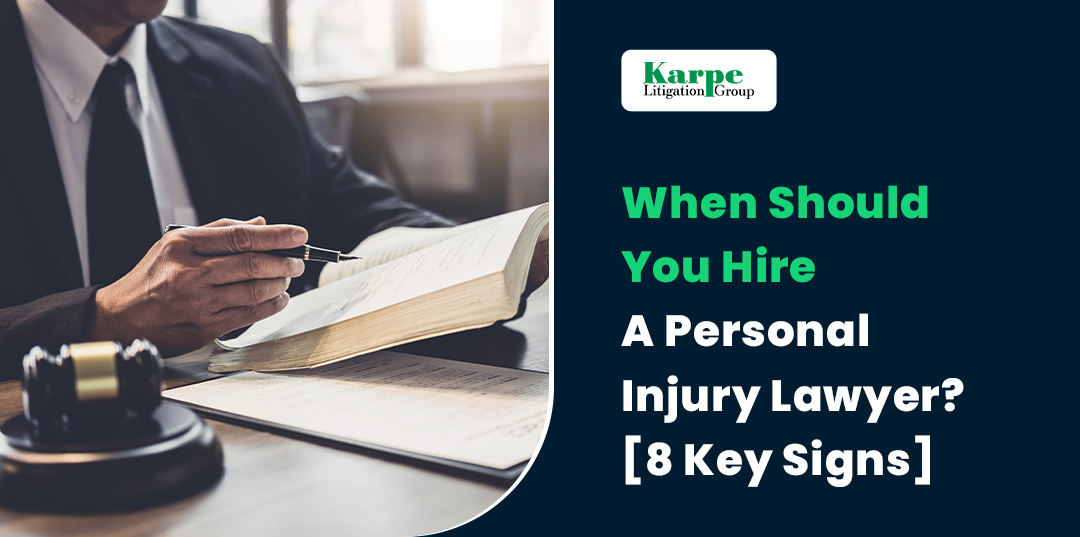 Accidents are often terrifying, especially when a person barely escapes with their lives and sustains severe injuries, but the subsequent legal impacts can be equally stressful and have long-lasting effects. However, you can fight for your sufferings and get compensated for everything you go through.
A victim can focus on what's important: mental and physical recovery, by taking quick action with the aid of an expert legal team to obtain justice and monetary recompense. Personal injury lawyers focus on defending clients who haven't received fair compensation for their injuries due to the consequences of their injuries' long-term effects, an insurer's refusal to pay, ambiguous culpability, or other complicated legal concerns.
Not every mishap necessitates the prospect of legal action. However, if your situation exhibits any of the following signs, a personal injury attorney may be able to assist you.
At Karpe Litigation Group, the best law firm for personal injury in Indianapolis, we have the most experienced personal injury attorneys who can help you get the compensation you deserve for your injuries, suffering, and agony. Contact our team now!
Let's dive into the signs that indicate hiring a personal injury lawyer.
8 Key Signs You Should Hire a Personal Injury Lawyer
A personal injury attorney assists individuals who have not received fair compensation for their injuries as a result of numerous legal problems. Additionally, these attorneys are qualified and skilled in managing instances involving personal injury legislation.
Here are some indicators that you should consult Indianapolis personal injury attorney if you have any doubts about your case: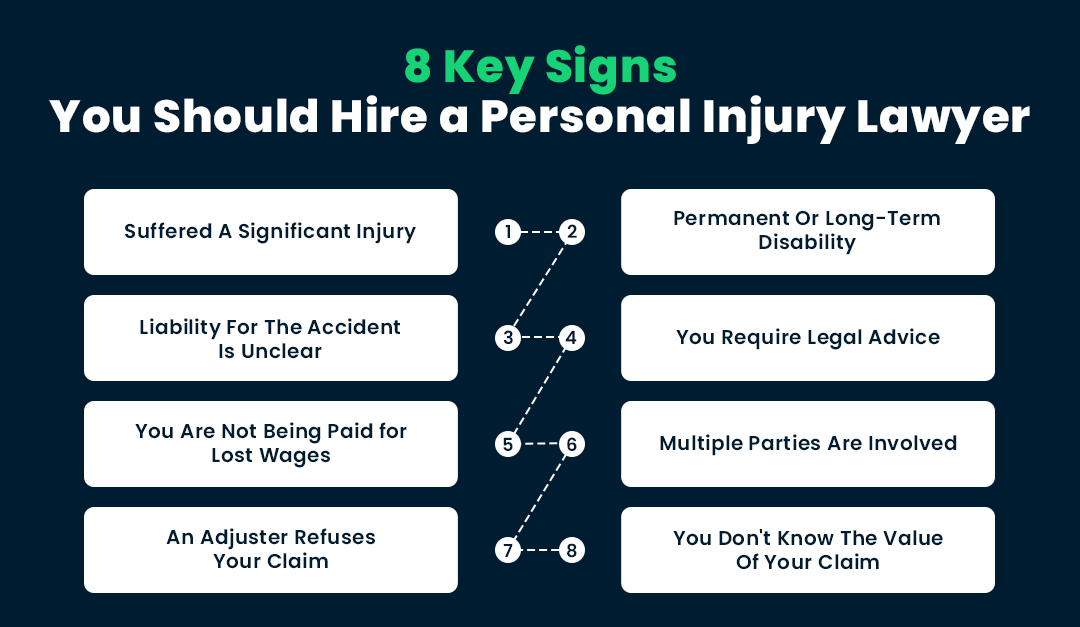 1. Suffered a Significant injury
Smaller injuries and minor scrapes and bruises are unlikely to exceed the policy's maximum in places where the insurer of the at-fault party is liable for covering your medical expenses. However, if an injury is more serious, you can face the issue of only receiving compensation for a portion of what you must pay to cover the long-term care for your injuries.
You may avoid being forced to handle increasing and projecting medical bills on your own by working with a personal injury attorney to pursue the compensation you are entitled to for your injuries.
2. Permanent or Long-Term Disability
It is conceivable that you will have to pay medical expenses for a considerable amount of time if your injuries have resulted in the emergence of conditions that may call for treatment in the months or years to come, ranging from chronic pain to impairment.
Many insurance policies only provide coverage for specific expenses whilst claimants are still being charged for their injuries. You can determine whether you may be eligible for much more compensation due to your long-term suffering by speaking with an Indianapolis personal injury lawyer.
3. Liability For the Accident Is Unclear
A personal injury attorney can assist you in defending yourself if, on the other hand, it is unclear who is at fault by compiling information and constructing a case against your liability while attempting to establish the other party's misconduct.
Finding a competent specialist soon from leading law firms, like Karpe Litigation Group, is essential since the evidence is critical. Get in touch with our honed personal injury attorneys now!
4. You Require Legal Advice
The success of your claim depends on your ability to assert your legal rights. It may be challenging to obtain the financial compensation to which you are entitled due to a lack of understanding.
A personal injury lawyer can provide you with legal guidance to ensure the highest chances of winning the lawsuit. You'll be guided through the entire procedure and be aware of your legal choices with the aid of a highly skilled personal injury attorney.
5. You Are Not Being Paid for Lost Wages
Accidents may occur, but many people are not financially prepared for the costs associated with one, particularly if it renders them disabled for several weeks or months. The worst part is that you might not be able to work during this period, which could put you in a worse financial situation because you wouldn't be getting paid.
However, you have the right to ask the other party for payment for these lost wages if you were not found to be at fault for the accident.
6. Multiple Parties are Involved
Numerous personal injury lawsuits, such as those involving medical abuse, construction accidents, multiple auto collisions, and others, include several parties. There may frequently be disagreements regarding who is accountable for your injuries or how settlement money should be divided when many parties are involved. In these situations, having legal representation on your side can help to defend you.
7. An Adjuster Refuses Your Claim
Insurance companies frequently reject claims or provide inadequate settlement amounts. Insurance providers are skilled at this game and will take all reasonable measures to persuade you with a nominal compensation. They will employ dishonest methods to reduce, postpone, or reject the victim's compensation claims.
Top-rated Personal injury attorneys are aware of all the strategies used by insurance providers to settle cases quickly and cheaply. You may be confident that, with the help of a personal injury lawyer, you will receive the just recompense, whether through settlement talks or a courtroom trial.
With a personal injury attorney on your side, you can stay assured that the ball will be in your court. Get in touch with the Karpe Litigation Group now!
8. You Don't Know The Value of Your Claim
Without experience and familiarity with personal injury laws relevant to your case, it can be challenging to determine how much your claim is worth and which offers you should take.
If this is the case, you ought to consult a knowledgeable personal injury lawyer. To account for past, present, and future expenditures and losses related to your case, they can assist you in determining the fair worth of your claim.
The Importance of Hiring an Indiana Personal Injury Lawyer
Take your time choosing a trustworthy personal injury lawyer to guide you through the challenging process of obtaining fair compensation for your pain and suffering if you have been involved in a major accident due to someone else's fault.
A personal injury claim can cost you time and money, including time missed at work and hefty medical expenditures. You will feel stress-free and secure after enlisting the aid of a knowledgeable and reliable personal injury attorney who can assist you with your injury claim.
Hire Karpe Litigation Group's expertise and experience to help you with your injury claim. Contact us right now to arrange a consultation about your claim with our top-rated Indianapolis personal injury lawyer.
What Does a Personal Injury Attorney Do?
Personal injury attorneys handle typical legal activities, including constructing a case, collecting evidence, conducting research, etc. Personal injury attorneys represent their clients both before and during the trial. A personal injury attorney's duties include the following: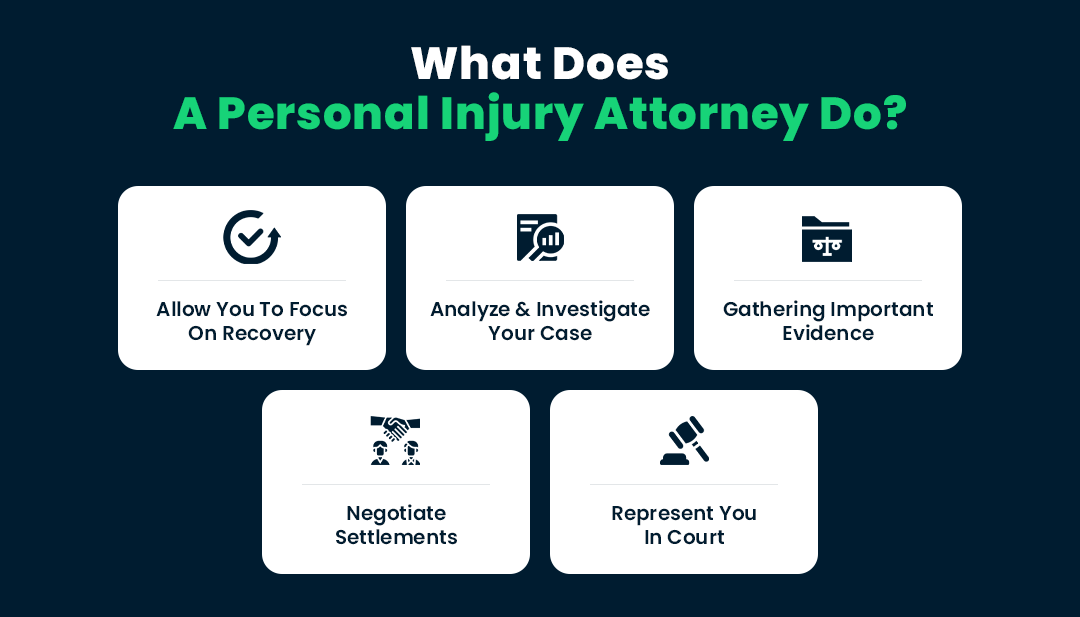 1. Allow You to Focus on Recovery
You could experience tension and overwhelm following an accident. Retaining a personal injury attorney can help you relax by handling the legal intricacies. A personal injury lawyer will answer any questions you may have and keep you informed about the progress of your case.
Overall, you'll be able to do both while concentrating on your recuperation and spending time with your loved ones. You may relax knowing that your case is in capable hands when a professional is handling it.
2. Analyze and Investigate Your Case
Personal injury attorneys frequently investigate your case and analyze the area of improvement to make your case strong.
So, personal injury attorneys take considerable care in assessing and screening their clients since they must finance the lawsuit themselves until a favorable decision or settlement is reached.
3. Gathering Important Evidence
A personal injury attorney's job starts with compiling all of the case's information. The gathering of information and proof is crucial since it supports the case for the wrongdoer's accountability. It includes information about the type and scope of the harm that was done. Also, it involves:
Taking images of the damaged property
Collecting accident data
Assembling medical data, invoices, and reports
Gathering reports of property damage
Assembling employment records and employment statistics
Acquiring police reports, films from surveillance cameras, and witness statements
Monitoring witnesses
4. Negotiate Settlements
Regular negotiations between personal injury attorneys and insurance providers are conducted. So, the ability to negotiate is crucial for a personal injury attorney.
A personal injury lawyer manages all interactions with the insurance company, from going over the specifics of the policy to figuring out the maximum compensation and submitting demand letters for damages. They make sure the injured party doesn't do anything that could hurt his claim.
5. Represent You In Court
The fact that the majority of personal injury cases are resolved before a trial is a cliché. Many cases go to trial, which requires a personal injury attorney to defend his client and represent his case, just like any other attorney would.
Hire Indianapolis Best Personal Injury Lawyer Now!
You require a personal injury legal firm that is willing to put in a lot of effort on your behalf if you're having trouble recovering from a major accident. At Karpe Litigation Group, the best personal injury law firm in Indiana, we are ready to do it on your behalf. Our personal injury attorneys can handle your case with the necessary knowledge and experience.
Your needs will come first while our team of distinguished injury lawyers bargains for compensation for your suffering, including medical expenses, missed wages, and emotional anguish. To get a fair settlement, we have tirelessly assisted our affected clients for several years during every step of the personal injury claim filing process. Hire Indianapolis's best personal injury lawyer now!

Conclusion
If any of the previous indications apply to you, it's time to retain a personal injury attorney who can guide you through the court system while you concentrate on your rehabilitation or healing. The best personal injury attorneys can assist you in navigating the legal system and bringing the deserving compensation to you.
Frequently Asked Questions
1. Why should I hire a Personal injury lawyer for my case?

Hiring a personal injury lawyer ensures that you'll get the proper compensation and someone to legally represent you while you are busy recovering from the losses incurred.

2. When should I hire a personal injury lawyer?

3. Can a personal injury lawyer provide legal guidance?

4. Will a personal injury lawyer construct my case?

Yes. Personal injury lawyers can investigate the case and help you collect evidence to construct a robust case with the maximum chances of winning and getting fairly compensated.

5. Do personal injury attorneys answer questions during free consultations?

6. Which is the best personal injury law firm in Indianapolis?