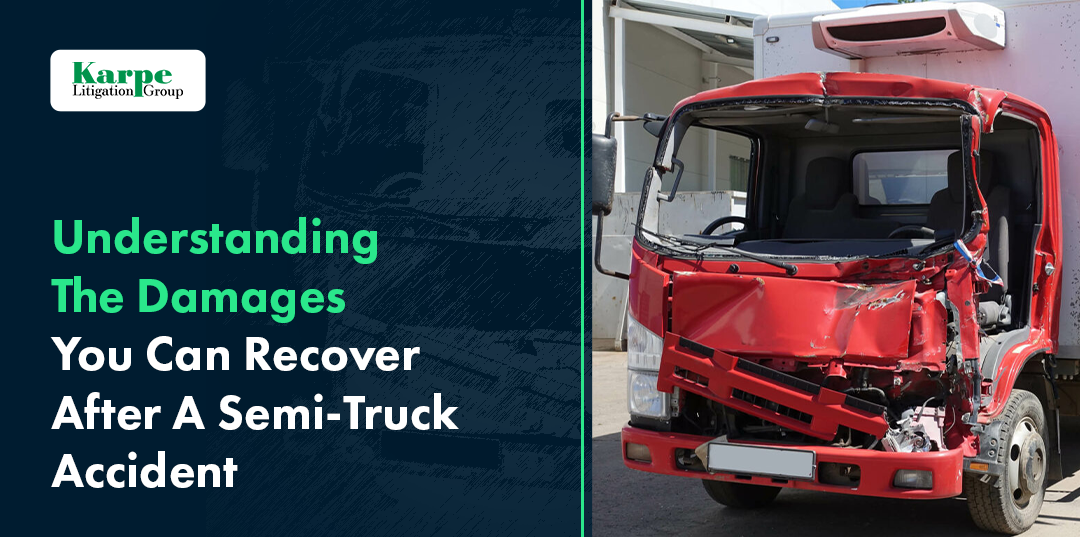 Semi-truck accidents are too common in Indiana. On 20th October 2022, a semi-truck driver was killed in a collision on an Indiana interstate. Unfortunately, the driver lost his life. However, this reference makes you aware of how frequently semi-truck accidents happen in Indiana.
These cargoes are one of the leading reasons for truck collisions. If you are lucky enough not to get killed in an accident, you may suffer from long-term injuries and hospitalization. The treatment requires money and you can get the money that you have spent after the accident by claiming compensation. The Semi-Truck Accident Attorney will help you to build a case and fight for your settlement.
You can contact a semi-truck accident lawyer in Karpe Litigation Group. Our legal firm is an organized hub where you can get in touch with a personal injury lawyer, each specializing in a segment of personal injury. We, as lawyers, have extensive years of experience. However difficult your case might be, we assure you we can help.
Furthermore, you can have a look at the ways you can recover from your damages after a semi-truck accident. Keep reading to know more.
Types of Damages after a Semi-truck Accident in Indiana
Each Semi-Truck Accident is different from the others. Thus, the damages will also vary from one person to the other. There are two major types of damage: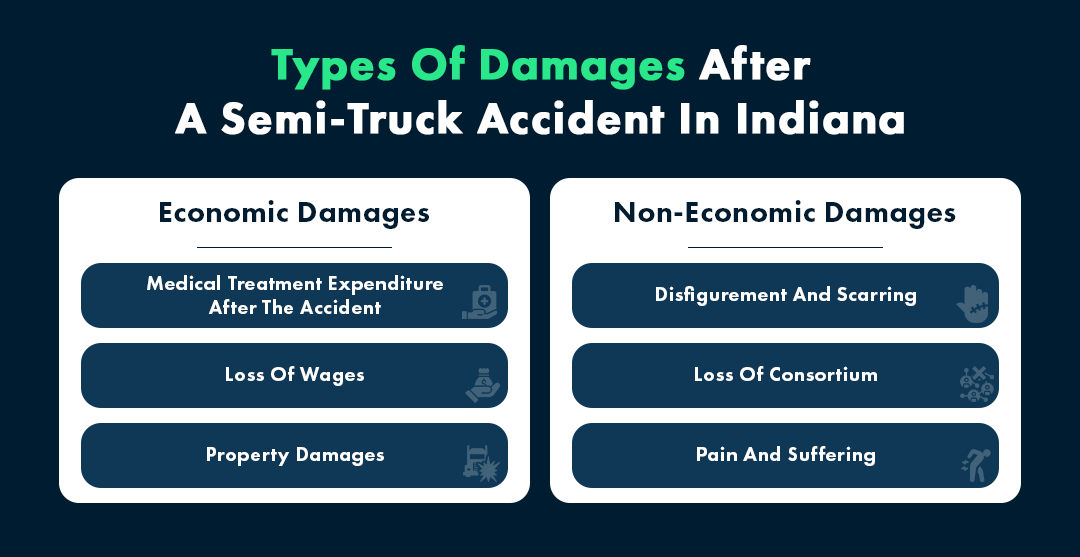 Economic Damages
The damages of which you have fixed values are referred to as economic damages. The damages you have faced will be calculated based on the medical bills, hospitalization receipts, pay stubs, and invoices.
The economic damages are:
1. Medical treatment expenditure after the accident
After the accident, you might face several medical expenses like- doctors' fees, ambulance charges, medication bills, physical therapy, surgeries, etc. For all the expenses you are making post-accident, you have the right to reimburse the amount with the help of an Indiana Semi-Truck Accident Attorney. All the treatments that you will require will cost you a fortune. You can not let go of so much expense without fighting for it. With the help of a lawyer, you can calculate the amount spent, further following the steps to recur the amount.
2. Loss of wages
You will need time to recover from the injuries post-accident. The doctor might suggest bed rest for an extended period till you recover. It will restrict you from going to work.
A lawyer will help you establish the fact of your absence from work. Getting compensated for the loss of wages is a must, or you will have to burn your savings.
3. Property damages
After the accident, your truck might have undergone havoc damage. You can get compensation for these damages by approaching the truck insurance company. If you have purchased an insurance policy, the physical damage your truck has faced will be compensated by the insurers. However, the insurance companies can get very hard with the settlements and try to pay you less than what you deserve. A Semi-Truck Accident Attorney Indianapolis will help you deal with the insurance companies and ensure you get the compensation you deserve.

Non-Economic Damages
The aftermath of an accident is not just physical pain but also has to do with a lot of mental stress and anxiety. A lawyer will help you draw compensation for all the pain and suffering you had to go through post-accident.
Ways to recover from the following non-economic damages:
1. Disfigurement and Scarring
An accident can disfigure you permanently or temporarily. You might lose a part of your body or get a scar that will stay with you for eternity. They will build up your case in such a way that you will be compensated for your loss.
2. Loss of Consortium
If you have lost your relationships due to the accident, thankfully, you can claim compensation for that too! A loss of a relationship might leave you wounded emotionally forever. But you need not fear as you have An Indiana Semi-Truck Accident Lawyer who will help you get compensation for the loss of consortium.
3. Pain and suffering
Often after the accident, a person might suffer from Post Traumatic Stress. Mental suffering is worse than physical suffering as you might not know when you will recover from it. As you will face a drastic change due to the emotional pain, you can claim compensation for the same.
Calculating non-economic damages is amongst the toughest of all the steps of a semi-truck accident lawsuit. A lawyer will help you calculate your non-economic damages depending on your losses.

Why choose Karpe Litigation Group?
At Karpe Litigation Group, we have amongst the best Semi-Truck Accident Attorney. You can get almost all the legal solutions to any of your problems. Our clients are what matters the most to us. We will prioritize you and your needs like no other law firm. We are just a call away if you are in an emotional breakdown.
You will receive fair compensation if you decide to choose us. We have been in the field for a long time, encountering hundreds of the easiest and toughest truck accident cases. Clients have benefited from us on regular basis.
The lawyers at our firms hold credentials that are extraordinarily impressive. This shows that they are dedicated to the legal industry from the beginning of their careers.
From the first time you call till the day you receive the compensation, you will be entertained with compassion and integrity.
Conclusion
Semi-truck injuries need a special kind of attention. There are lots of entities that are involved in truck accident cases. Not only the driver but the employer, truck insurance company, defendant, trucking companies, etc., are involved in a truck accident lawsuit. Hence, you need to get your hands on an Indiana semi-truck accident lawyer who is dedicated to dealing with only truck accident cases. Karpe Litigation Group will guide you through this phase of life without hampering your physical condition.
You might think that your life has ceased to exist. But you can win it back!
Frequently Asked Questions
1. Can a car accident lawyer help in a semi-truck accident case?

Yes, they have the authority to help you. However, we will suggest you specifically choose the best Indianapolis semi-truck accident attorney. A truck accident is complex and requires special attention. A person who is involved with only a semi-truck accident lawsuit will have the proper knowledge and expertise to deal with it.

2. How much will a semi-truck accident cost?

Giving exact figures regarding a semi-truck accident lawsuit will be misleading. A lawyer might take their fees at once, or they might take it on a contingency basis.

3. What is the statute of limitation that is applicable for a semi-truck accident lawsuit?

After the date of the accident, you will get a time frame of 2 years from the date of the accident, within which you'll have to file the case. If you fail, you can not claim further settlement.

4. Shall I apologize if it was my mistake?

It is good that you have the courage to admit your mistake. But, recognize your faults only inside your mind. Do not speak about it or apologize to anyone. A good lawyer will help you to win the case or get away with huge penalties if it was your mistake.

5. Where can I get more information about semi-truck accident legal services?