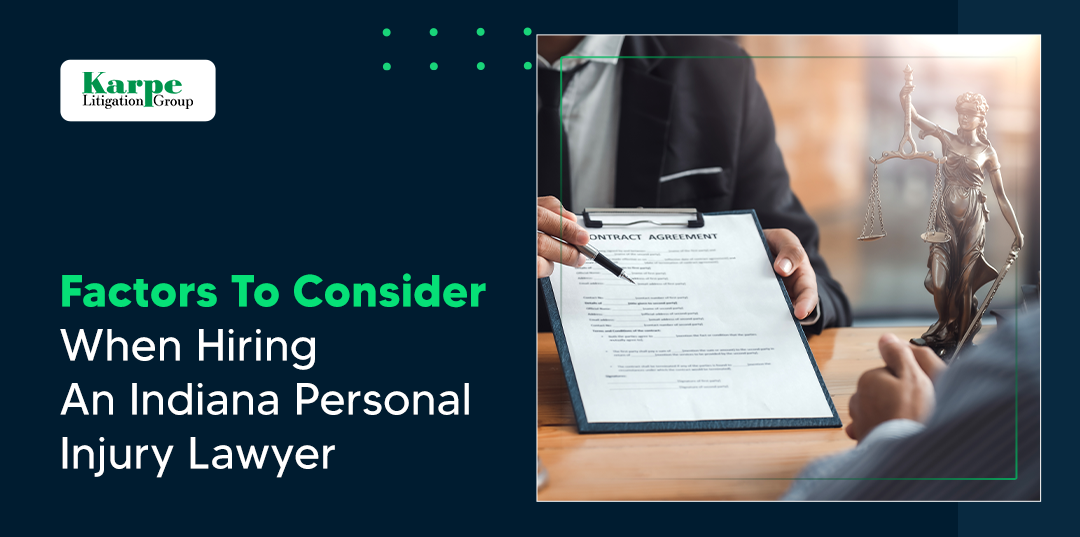 Have you ever suffered injuries in an accident that wasn't your fault? If someone hurts you, you might need to file a personal injury lawsuit to get compensated for the harm, suffering, and losses another individual caused.
However, you cannot be compensated for your claim if you can't support your case with evidence. It can be difficult to demonstrate that the other person is accountable for your damages.
Each legal prerequisite for negligence or a related cause of action must be established. Due to this, you must retain Indiana's best personal injury attorney who is knowledgeable about the law and can give you the best opportunity of getting just compensation.
Karpe Litigation Group is the leading law firm to help customers manage their injury cases and get the deserving compensation. Get in touch with our Indiana personal injury attorneys now!
However, there are a few points that an individual should keep in mind while hiring an attorney.
Factors to Consider When Hiring an Indiana Personal Injury Lawyer
Dealing with accident claims can be unpleasant without an experienced personal injury attorney, which increases your stress. So, you require someone to provide you with the support and assistance you need to get through this trying period.
Here are some important factors to take into account while hiring an personal injury lawyer.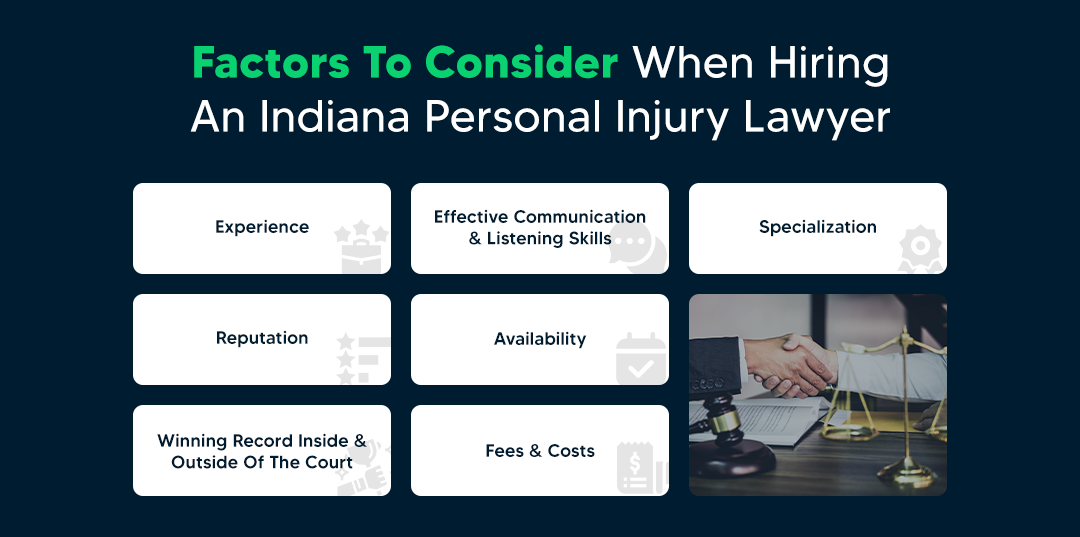 1. Experience
Having a degree in personal injury law is one thing. It's another thing entirely to have used that degree to succeed in court.
Thankfully, several legal firms can handle your case with very competent personal injury attorneys. As a result, look for a lawyer with a wide range of specialists who can assist you in achieving the goal. An experienced personal injury attorney has a higher ratio of winning the cases, and thus one should prioritize an experienced attorney.
2. Effective Communication and Listening Skills
If a lawyer promises you millions of dollars before hearing about what occurred to you, find another one. Ideally, you must receive appropriate answers regarding the case.
Also, he must be open to hearing you out. Effective listeners are those who pay close attention to what you are saying and pause to consider what you said before responding. However, a willingness to listen also exhibits other traits you like in a personal injury lawyer, such as analytical prowess and logical reasoning.
You will also benefit from effective listening when the attorney interviews witnesses, understand your case, and cross-examines witnesses in court. The attorney probes and pays close attention to each answer. Effective listeners also exhibit patience and a desire for accuracy. This attribute enables the lawyer to ask further inquiries that might yield important cues.
Find out how frequently you may expect updates and whether you can get in touch with the lawyer if you have any questions or concerns. Also, it is important to find out from the lawyer how he interacts with clients.
3. Specialization
Think about the specifics of your case before selecting a personal injury attorney. Look for a personal injury lawyer who focuses on situations just like yours. These attorneys will be more familiar with the relevant legislation, recent cases, and procedures. Personal injury attorneys deal with a variety of cases and can have several specializations, including:
2. Animal bites
4. Elder abuse and neglect
5. Defamation
7. Assault
8. Product and premise liability
10. Wrongful death
When constructing your argument, you can draw on their knowledge and expertise. You can ask the attorney how many cases similar to yours they handled in the past to better utilize their specialization and experience.
The Karpe Litigation Group lawyers have specialization in dealing with cases like yours. So, we can help you get the deserving compensation. Reach out to our personal injury lawyers now!
4. Reputation
The reputation of a firm is one of the important factors to be considered while hiring an attorney. Naturally, you'll want to work with someone who is respected in the industry and can be relied upon to give every case their full attention, including yours. It would be advisable to read past client reviews for the lawyer and firm and observe their level of satisfaction or dissatisfaction. These criteria will help you choose the best personal injury lawyer.
Additionally, you'll feel more confident knowing that you've chosen the right person for your situation. On the other hand, it will take some time and patience to find the best attorney for your case. But in the long run, it will be well worth the effort, endurance, and money.

5. Availability
Do you have any trouble or difficulty making attorney appointment times? Do they frequently leave the office and take a while to return your calls?
An attorney who is more responsive and available than that is what you want, ideally. You need a person who is aware that you can have numerous queries and worries. If they seem annoyed with you and remain unavailable, think about finding another law firm.
At Karpe Litigation Group, the best law firm for personal injury in Indiana, Our attorneys give personal attention in every case and are available for the client 24/7. Contact us now!
6. Winning Record Inside and Outside of the Court
Without the need to file a personal injury lawsuit, many personal injury claims are settled. To establish a settlement agreement, the parties may engage in settlement negotiations. However, some matters will proceed to trial because the parties are unable to agree.
As a result, you need a lawyer who is both a smart negotiator and a courageous trial advocate. It will keep you assured that your attorney is ready whether your case is settled or goes to trial.
Insurance companies keep track of how many cases are resolved by legal counsel. Negotiating with an insurance company may not be as fruitful for attorneys who never appear in court.
7. Fees and Costs
Both money and time may be spent on a personal injury case. You'll need to know upfront how much your lawyer will cost you for the duration of your lawsuit.
To choose the greatest lawyer for your situation at the best price, it's crucial to understand your lawyer's fee schedule.
A majority of Indiana lawyers work on a contingency fee basis, so personal injury lawyers charge their clients a portion of the money they receive in a settlement. If you lose your injury claim, your attorney might not get paid.
Hire Karpe Litigation Personal Injury Lawyer Now!
Accident victims in Indianapolis are given free consultation by Karpe Litigation Group. Our personal injury lawyer will understand your case and examine the severity of your injuries to find out the best roadmap according to your case. We would be pleased to analyze your case and address any inquiries you may have for our injury attorneys.
The first meeting with our attorneys will help you get the answers to most questions you have in your mind. So, you can get enough points to decide whether to continue with us or not. However, after 1-2 conversations, you can decide whether you want to continue with us or not. Hire a personal injury attorney in Indianapolis from us now!
Conclusion
It can be a little overwhelming to choose a lawyer for the first time for your injury case. Luckily, you can find the best personal injury law firm and lawyer for your case as most lawyers give free consultations.
It may be beneficial to prepare a list of inquiries for your initial visit with a lawyer. So, you can ask all the necessary questions before finalizing a personal injury lawyer or a law firm for your case.
Frequently Asked Questions
1. Why should I hire a personal injury lawyer for my case?

If you have suffered an accident due to someone else's negligence, hiring a personal injury lawyer can be the best decision. A personal injury lawyer can help you construct a robust case, negotiate with insurers, and get the deserving compensation for your suffering.

2. Will the personal injury lawyers negotiate on my behalf?

Experienced personal injury lawyers have years of experience negotiating on behalf of their clients. So, they can help you get the right compensation for your case, according to the injuries you have suffered and losses incurred.

3. When should I ask about the cost structure of a law firm?

It's better to know the price scheme of the law firm in the first meeting with personal injury attorneys. Once you know the cost structure of the in-focus law firm, you can make better and more economical decisions.

4. What are the key factors that I should consider before hiring a personal injury lawyer?

You can keep a few things in mind when hiring a personal injury lawyer for your case. For example, their experience, specialization, reputation, communication abilities, and charges are the best things to consider when appointing a personal injury lawyer for your case.

5. Which is the best personal injury law firm in Indianapolis?