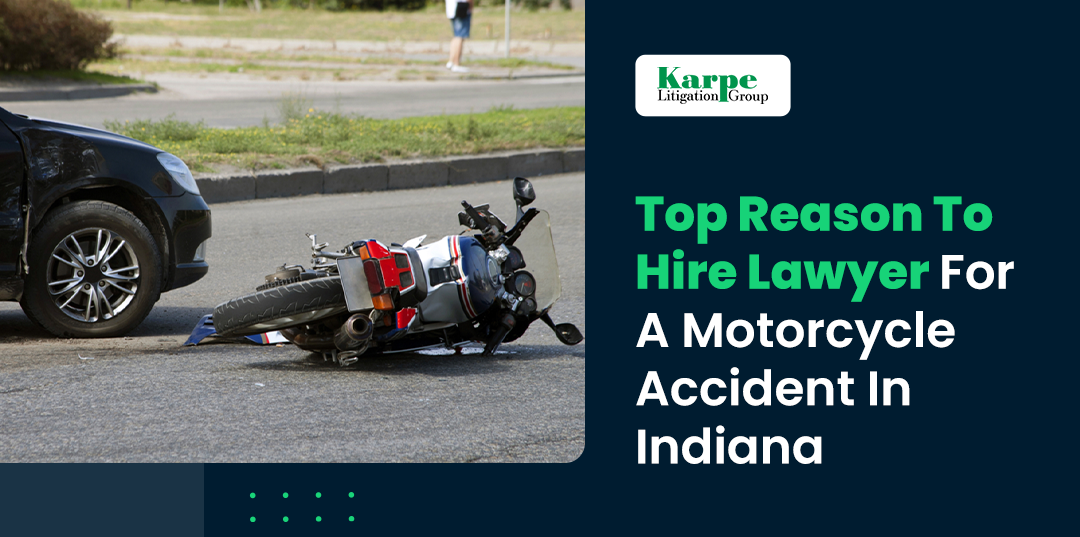 Motorcycle accidents can result in serious and even fatal injuries. Unfortunately, riders are frequently held accountable for accidents even when they weren't at fault. You risk having to cover your own property damage and medical expenses if you don't seek the legal counsel of a motorcycle accident attorney. So, you must present compelling physical proof that another driver is at fault.
That's when an attorney can help you! You must speak with a motorcycle accident lawyer if you were hurt in a motorbike accident. To secure the financial reimbursement you are due for your accident, a knowledgeable motorcycle accident attorney will assist you in proving your personal injury claim.
As one of the top motorcycle accident law firm in Indiana, we can help you to understand the role of an experienced attorney in your motorcycle accident case. Our experts reveal the reasons why hiring a motorcycle accident lawyer in Indianapolis would be beneficial. Have a look!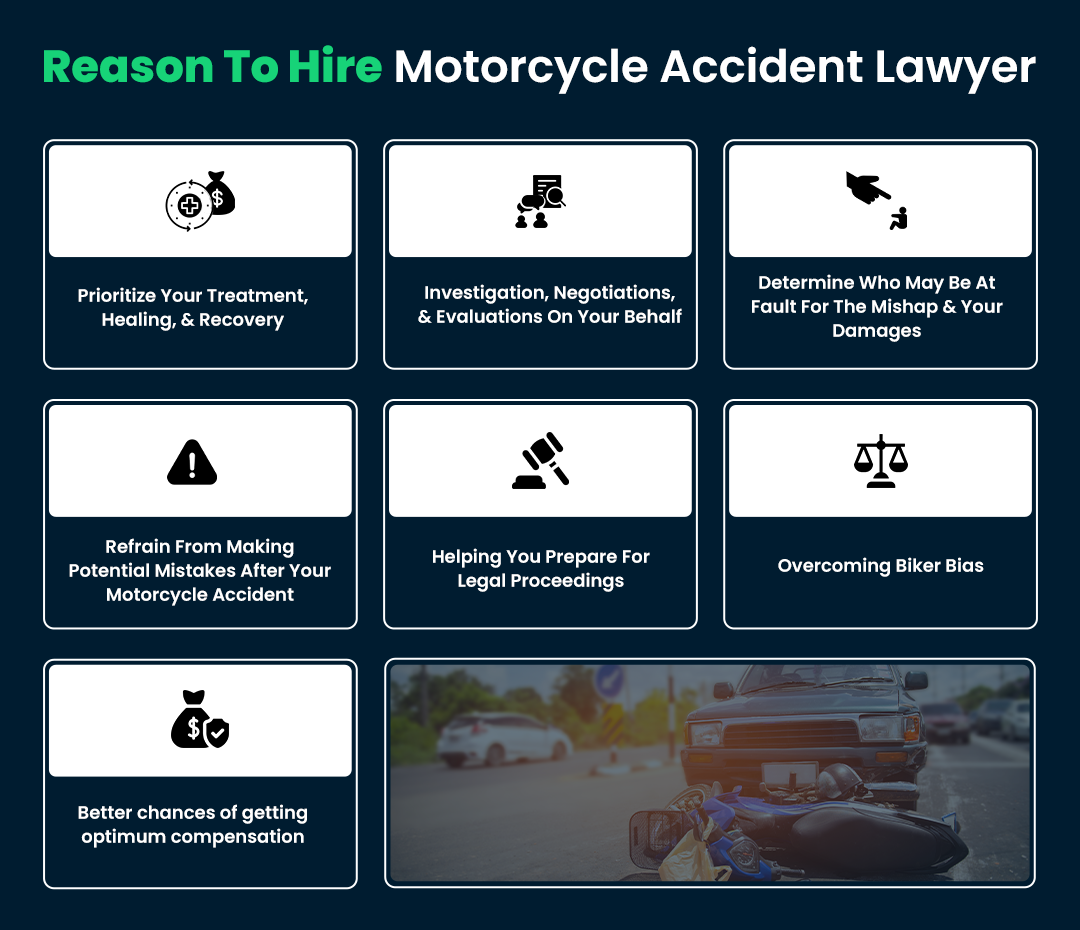 1. Prioritize your treatment, healing, and recovery
Depending on the severity of your injuries after a motorbike accident, you might spend days or even weeks in the hospital.
It will be tedious for you to conduct your own investigation into the accident, determine the value of your claim, and take on the attorneys for the insurance company if you are recovering from serious injuries or getting accustomed to threatening consequences like brain injury or permanent disability.
These crucial aspects of your case can only be handled by the best motorcycle accident attorney in Indiana to ensure that you receive the justice you deserve.
2. Investigation, negotiations, and evaluations on your behalf
The defendant's insurance adjusters will make a blood and sweat effort to make profits for their company by disputing your claim, offering you a low settlement early, or claiming that you were partially or entirely at fault.
This is because the serious injuries frequently caused by a motorcycle accident can lead to higher awards than other vehicle accidents. An adept lawyer will understand can help you in such scenarios by:
Investigating your collision in great detail to show that the other motorist was at fault.
Establish the appropriate amount to be claimed for medical expenses, missed pay, and property damage.
Estimate your compensation for pain and suffering, both physical and mental.
Recognize when a proposal is too low and bargain to get a reasonable award.
Besides, Indianapolis's best motorcycle accident attorney can help you gather evidence to build a robust and undeniable motorcycle accident case in court.
Analyze the accident report: Your attorney will go over the police report that describes the collision and will scan it for any information that can implicate the other motorist.
Eyewitness statements: A motorcycle accident attorney will endeavor to locate and speak with any witnesses to the collision in order to gather information to support your claim.
Subpoena evidence: Your attorney may be able to subpoena proof of fault to support your claim. For instance, if the accident was captured on a security camera, your attorney can demand the video to show that the other driver was at blame.
Approach reconstruction experts: To recreate the incident in question, attorneys consult accident reconstruction specialists. You can use these qualified witnesses to demonstrate that the other motorist is at fault.
3. Determine who may be at fault for the mishap and your damages
Finding responsibility in a motorcycle accident might have a big influence on your ability to get compensation from the at-fault people who caused the accident for your losses.
Motorcycle accidents can be complex, after all. At every chance, insurance companies, at-fault parties, and other interested parties will try to minimize their responsibility and shift the blame to you.
A motorcycle accident attorney will spend considerable time carefully examining the circumstances of your case and identify any parties who might be held accountable for your injuries.
4. Refrain from making potential mistakes after your motorcycle accident
By failing to know the proper actions to take or the errors to avoid immediately following the accident, many motorcycle accident victims reduce their prospects of receiving just compensation. The earlier you seek legal counsel, the more likely you are to steer clear of the usual blunders that might damage your claim and lower your compensation.
Waiting until memories get hazy and important evidence is lost or misplaced is not what you want to do. Fortunately, the investigation can begin while the accident is still fresh in your mind and the minds of any witnesses if you get legal counsel as soon as possible.
5. Helping you prepare for legal proceedings
You will probably be required to respond to the attorneys for the insurance company of the at-fault driver. If you don't have legal counsel, this process could make you anxious and possibly lead to replies that are detrimental to your case. The leading personal injury attorneys in Indiana can assist you in getting ready for your proceedings so you can react in a way that supports your claim.
6. Overcoming biker bias
If your case proceeds to trial, your attorney can help you get ready for the hearing and help you overcome any bias the judge or jury may have towards motorcycle riders. Your lawyer will use bike crash statistics, your own good driving history, and other relevant data and information in your case.
7. Better chances of getting optimum compensation
You must provide documentation of every type of loss you have suffered in order to receive full compensation for your injuries. In addition to less physical losses like your medical expenses and lost wages, there are also intangible losses like the discomfort brought on by your injuries, the mental distress you experienced as a result, and your worst quality of life.
These losses are actual, but proving them in a claim may be more challenging. Luckily, a lawyer can assist you in demonstrating these losses so that you can receive full reimbursement for the suffering you've endured.
Now that you have understood the reasons for appointing motorcycle attorneys, you might be intrigued to know about the benefits you can get by hiring a relevant law firm in Indianapolis. The upcoming section will illustrate the advantages of choosing the best motorcycle accident law firm in Indianapolis. Have a look!

Benefits of hiring a motorcycle accident law firm in Indiana
If you're worried about the cost of appointing a motorcycle accident attorney, you shouldn't be. Our motorcycle accident attorneys at Karpe Litigation Group don't have an upfront payment model. We don't charge a single penny until we win the case. Hire the best Indianapolis motorcycle accident lawyer from us now!
From the first investigation of the incident to settlement negotiations to the trial, if necessary, a law firm will pay the costs associated with your accident case. Once your case has been resolved, your attorney will be compensated for their fees and case expenses out of a portion of the settlement or court judgment.
The motorcycle accident attorney will perform a variety of tasks, including:
1. Looking into the incident
2. Assembling your medical history
3. Preserving documentation of your lost wages, medical expenses, and other losses
4. Distributing document request letters
5. Preparing your legal defense
6. Ensuring the preservation of crucial evidence
7. Taking care of all correspondence with insurance companies
8. Deal-making negotiations
9. If settlement negotiations fail, going to trial
As we already said, motorcycle accident lawyers and law firms can help you recover numerous damages. But what are these damages? Or, more precisely, what types of damages can you expect to recover after a motorcycle accident? Follow along with the resource to know more!
What types of damages can you recover?
Depending on your circumstances and injuries, you may be able to recover several forms of damage following a motorbike accident. You might be entitled to financial recompense for:

Property damage: Damage done to your bike
Medical bills: Covering all medical expenses like prescriptions, surgeries, doctor's visits, in-home care, physical therapy, and more.
Lost wages: Any wages you lost due to your injuries while you were unable to work.
Loss of future earnings: In the event that a motorbike accident rendered you temporarily or permanently disabled, you may be eligible to recover your lost potential wages.
Pain and suffering: Damages that cover the emotional, mental, and bodily suffering you endured as a result of your accident.
Undoubtedly, obtaining such damage recovery can be a challenge without entailing an Indiana motorcycle lawyer or a law firm. So, are you seeking the best Indiana motorcycle accident law firm? Karpe Litigation is the right answer to your question. Hire a motorcycle accident lawyer in Indiana from us now!
Conclusion
You will get the highest chance of receiving the compensation you are entitled to if you contact the best law firm for personal injury in Indianapolis, Indiana, like Karpe Litigation Group, as soon as possible. We are eager to help you and bring you the compensation you deserve. Contact our motorcycle accident attorney now!
Frequently Asked Questions
1. Should I hire a motorcycle accident attorney for my case?

Yes. You may get misguided or receive lesser compensation if you don't seek expert counseling. So, hiring a Top-rated motorcycle accident attorney will help you immensely.

2. What are the benefits of hiring a motorcycle accident attorney?

You can get numerous advantages by hiring a motorcycle accident attorney in Indiana, including collecting evidence for your case, legally representing you in court, getting someone to fight for your rights while you are recovering, and so on.

3. Why should I approach a litigation firm in Indianapolis?

An experienced motorcycle accident law firm in Indianapolis can help you access professional lawyers with expertise in building robust cases, estimating the closest compensation, and fighting on your behalf in court. Thus, contacting the best litigation firm in Indianapolis is a must for motorcycle accident victims.

4. What types of damages can I recover?

You are entitled to recover both economic and non-economic damages after facing a motorcycle accident in Indiana.

5. Which is the best motorcycle accident law firm in Indiana?