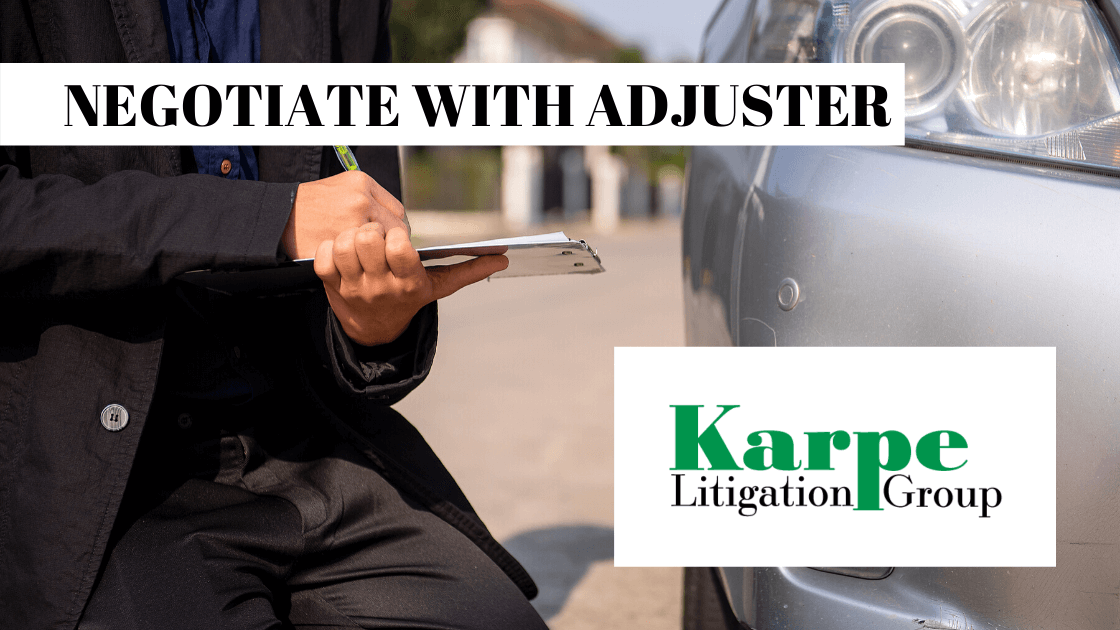 Unfortunately, if you have been in an auto accident, your injury will require extended negotiations with insurance adjusters or investigation. Often, people have difficulty in negotiating with an insurance claims adjuster. Many people who have been hurt due to someone else's negligence will need legal representation to ensure they get the compensation they deserve. As a top rated attorney for an auto accident, we at Karpe Litigation Group passionately serve our clients from our office located at 19 W 19th Street, in Indianapolis. There are few very specific situations when you should call an auto accident attorney to defend your rights. We are here at 888-228-7800 to help defend your rights in an auto accident.
Insurance Adjusters
An insurance adjuster, also known as an insurance claims adjuster, is an individual who determines how much an insurance company should pay for an insurance claim after a car crash.
Claim adjusters can either be in-house or independent people hired by your insurer. They investigate issues such as:
Bodily injury
Medical bills
Property damage
Insurance claims adjusters figure out an insurance settlement in a few ways. Insurance adjusters make their decisions by:
Speaking with you
Assessing damages to the vehicles
Speaking with witnesses
Analyzing police reports
Have You Been Seriously Injured and Have a Claim
Severe injuries mean more uncertain total cost of physical treatment. The job of insurance claims adjusters is to offer the lowest possible amount acceptable to you, which often is not nearly enough to cover all of your medical expenses or compensate you for other, non-monetary damages.
Receive an Insufficient Claims Offer
In many cases, insurance companies make offers that don't fully compensate you for your injuries, and may refuse to negotiate further. Having a lawyer on your side can influence the decision of an insurer to make a higher decision, one that is more in line with the actual valuation of your case.
Have Your Insurance Claim Denied
Occasionally, the auto insurance company refuses to admit fault and subsequently deny your insurance claim. In this case, you'll need an auto accident attorney that understands how to prove the liability and ensure that your rights as the insured/damaged are taken into consideration and respected to the fullest.
Have Your Car Accident Attorney Deal with an Adjuster
When you've been hurt in an auto accident that has occurred due to the negligence of another individual(s). It's not equitable for you to bear the all of the subsequent financial consequences. The car accident lawyers at Karpe Litigation Group have experience fighting the poor decisions of insurance claims adjusters. We stand up for your interests and have a duty to passionately guide you through every step of the insurance claims process, and help you realize the maximum award for your property damages. Visit our website to learn more and schedule a free consultation by calling 888-228-7800 to speak with an expert attorney today.