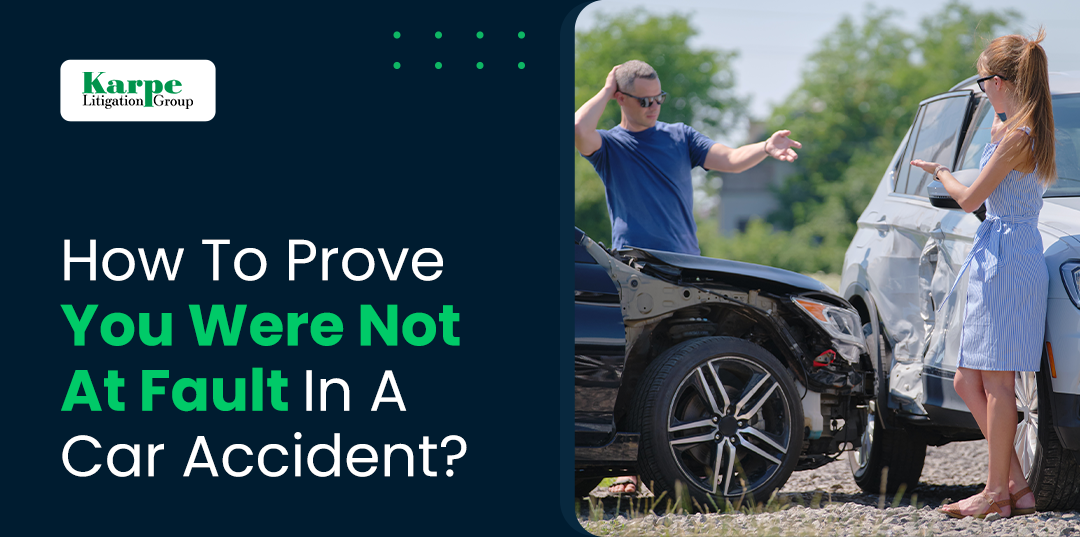 Car accidents are unfortunate and sudden incidents. Finding out who is at fault is not always that easy. As both parties hold the same level of responsibility for an accident. Until and unless the accident is not proved no one is at fault. Car accidents can lead to serious injury and huge property damage. One goes through a lot when they are in a situation where neither the health nor finances support. In the end, no one can share the physical pain but one can recover their finances.
However, it is mandatory to prove who is guilty to be entitled to compensation. There are a few points that determine who is responsible for the accident.
Firstly let's see what it means by negligent.
What Does it Mean to Be Negligent?
According to the law, negligence is when someone fails to act reasonably to ensure the safety of others despite having a duty to do so. A person may be deemed careless in an automobile accident lawsuit for acting negligently.
However, to prove your negligence you need to exhibit a few factors given below:

1. Duty of care
You must first prove that the motorist owed you a duty to act reasonably to prevent harm to others. This idea is implicit when it comes to driving a car, it becomes simple to defend a car accident lawsuit.
2. Breach of duty
You must then demonstrate how the other driver violated the obligation to drive safely. It can be more challenging to explain this, but it will support your claim if there is proof that he/she was speeding, running a red light, or was under the influence of alcohol.
3. Causation
Justifying that the driver ran a red light is not enough. You must also demonstrate that the fact that he/she ran the red light caused him to crash into your automobile, which led to your injuries.
4. Damages
Finally, you must prove how your loss in personal finances was caused by your injuries. This may result in expensive medical costs, lost productivity, and vehicle damage. You will need to provide documentation for these damages.
However, if more than one party is involved it is said to be comparative negligence in Indiana. In a personal injury lawsuit, you may sue any other liable party, according to Indiana Code sections 34-51-2-5 and 34-51-2-6, but your damages will be diminished by a ratio that corresponds to your share of liability. Additionally, if you were more than 50% at blame for the accident compared to other parties, you would not be eligible for any compensation. Indiana is now a "modified comparative negligence" state as a result.
Now that we have learned about negligence, let us see what all more factors can prove your accident.
Key Evidence and Witnesses
It is very important to gather the pieces of evidence and related paperwork. It becomes easy for the juries to declare the decision because evidence gives a clear picture of the case. Although, if you hire an attorney, they will collect all the important evidence initially. The key proofs include:

These documents are necessary to gather initially to make your case stronger. However, all these physical proofs give a base to the case and give a clear picture of an accident. One can also create an animated video of the incident to represent in court.
Well, if you hire the best car accident attorney in Indiana, they will suggest more different ways to represent the case. In the end, once you have all the evidence, it is important how you or your attorney represents the case.

Seeking Appropriate Medical Help
After an accident, a lot of injuries are observed immediately, but few injuries occur with time. One should take professional help who can appropriately diagnose all the health issues. This is crucial because it shows how severe the accident was and how many wounds it gave you. If one is undergoing treatment he/she can claim for the upcoming medical bills too. There are different laws for accidents and the recovery amount is determined on the basis of the case.
When you hire an attorney while you are admitted to a hospital or bedridden an attorney visits your place and then accordingly gathers the documents.
However, these are important points and apart from these, there is a very important law in Indiana for car accidents.
Statute of Limitations
In Indiana, the Statute of Limitations is applied in most car accident lawsuits. Which states a strict time limit on the right to claim a legal file. Whereas, these deadlines are based on the injury or the type of case you filed. Specifically, in Indiana section 34-11-2-4 gives you two years of the time period to claim any personal injury case and property damage. The time starts from the day of the accident. But, many top car accident law firms in Indiana suggest filing it as soon as possible, as it becomes easy to represent when the injuries are fresh. Also once the case is filed it takes months to get justice. Ultimately, it is better if one claims the file in time.
Hiring the Best Car Accident Attorney
A car accident attorney is a skilled person who is aware of all the ins and out of legal services. They will analyze your case deeply and give you appropriate solutions which can be best for your case.
If you go with Indianapolis's best car accident lawyer they will take the entire responsibility for the case. From collecting documents to representing you in court. An attorney represents your case appropriately, by observing the opposition step. Well, hiring a lawyer is an all-time good option to make your case more worthy.
Conclusion
In the end, it becomes easy if a victim gets consulted by the best personal injury attorneys in Indiana, as they will analyze your entire case and give appropriate solutions. Although, hiring the best Indianapolis car accident attorney is always an effortless option. A lawyer has experience in dealing with car accident cases. So they are aware of every small aspect of legal services. Also, one doesn't have to think about the finances immediately as a majority of attorneys work on a contingency basis. They don't charge a single penny until you win the case. This gives a high probability of winning the case and receiving a deserving recovery.
If you are looking for the best lawyer for personal injury in Indiana you can connect with Karpe Litigation Group. We hold a core team of experienced car accident attorneys. They are dedicated to the residents of Indiana to give them their rights.
Frequently Asked Questions
1. Can I receive compensation if I am partially at fault for the car accident?

However, it depends on the situation and what evidence proves the accident. If both parties are involved partially then it comes to what percentage will be assigned to each driver. Later it depends on the jury's decision.

2. Is FIR a mandatory document to prove you are not at fault?

Yes, it is a crucial document after an accident. An FIR contains all the information regarding the accident. It is valid proof about your car accident.

3. Which is the best car accident law firm in Indianapolis, Indiana?

4. Where can I get more information about Car accident legal services?