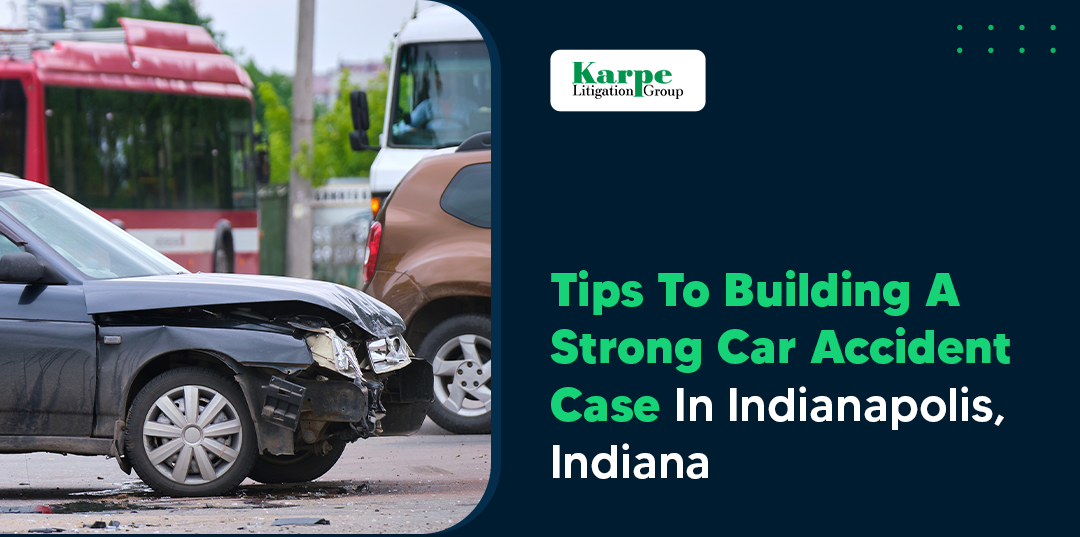 Sadly, car accidents happen frequently. They usually result from the negligence of one or both drivers. For example, a victim of a car accident may think about claiming if it is obvious which driver was negligent or severely negligent.
It might be challenging to file a car accident claim, so you must ensure your case is as solid as possible. For example, building a solid case may result in the best compensation to pay the considerable expenses due to an accident.
The top car accident law firm in Indianapolis, Indiana, such as Karpe Litigation Group, can assist you in developing a compelling case. Contact our top car accident attorney for your case!
Here Are The Quick Steps To Follow After The Accident:
1. Right after the accident, inspect if you and your car passengers are okay.
2. Seek medical assistance as soon as possible.
3. Inform the police and let them investigate your case. It can be a significant aspect of a lawsuit.
4. The concerned authority will document the accident area. You can click pictures and record videos of the location to collect evidence.
Continue reading to find out how to create a compelling car accident case!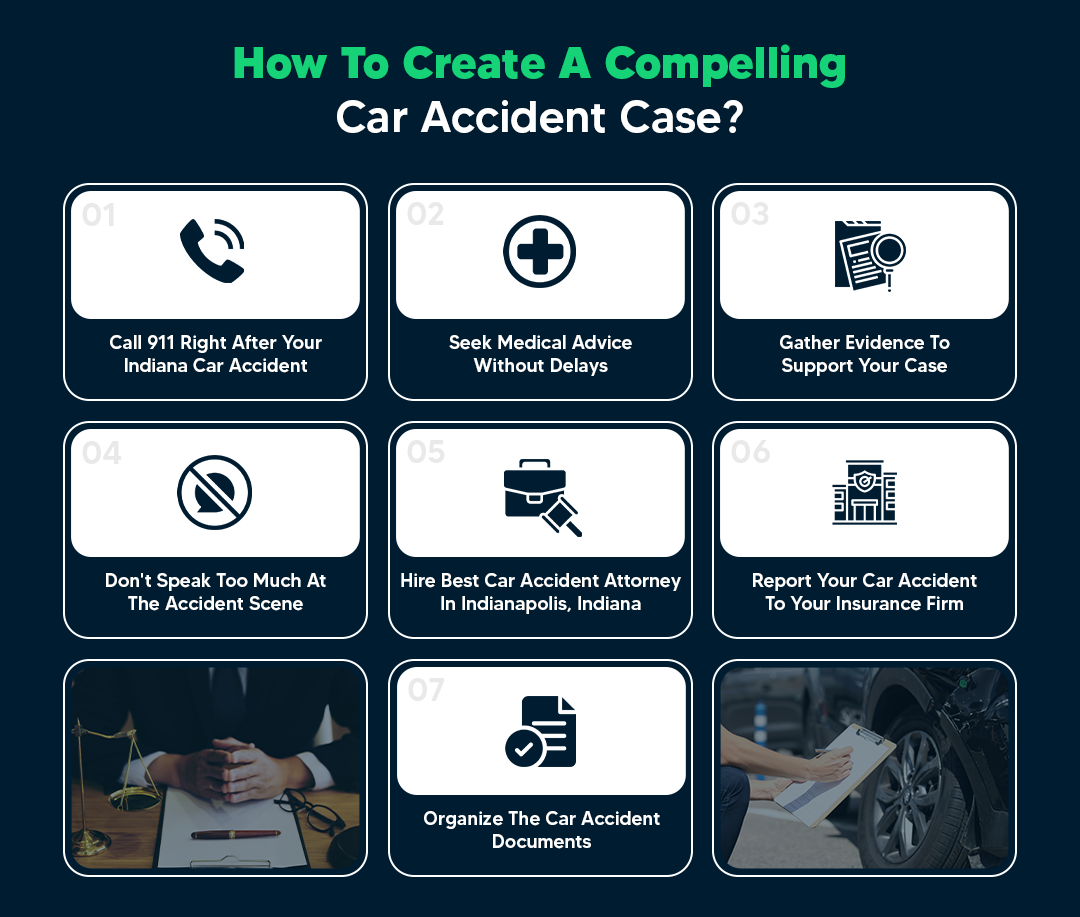 1. Call 911 right after your Indiana car accident
You won't be able to take medical action on your own if your vehicle accident left you with serious injuries. However, if you are unharmed, take some time to find out how the occupants of your car or the other one are doing. After you have finished the preliminary damage assessment, dial 911 to report the collision.
Occasionally, the other driver could try to talk you out of dialing 911 by saying they don't want the police getting involved. They might try to negotiate a deal with you directly in order to avoid having their insurance company become involved.
However, you should Inform the 911 operator of the accident's location as well as any nearby landmarks. It is preferable to report the crash and remain at the scene until the ambulance and police officers arrive because giving in to their demand or request could come back to haunt you in the future. So, give them information on the extent of the damage as well as any risky developments, such as fuel leaks, so they can make plans to deal with the problem.
2. Seek medical advice without delays
You must keep in mind that many potentially fatal disorders, such as internal bleeding or brain injuries, may not be immediately apparent from the outside. Additionally, the indicators of an injury may be hidden by the adrenaline rush brought on by the shock of the collision. It can become a massive blunder if you don't seek medical assistance immediately.
A Must To-Do Checklist Without Delays:
1. A doctor will assess your injuries as a result of the collision and record their severity.
2. In order to prevent gaps in your medical records, go to all scheduled appointments with the doctor and obey their recommendations.
3. Having medical records on hand will make dealing with insurance companies easier and improve your chances of receiving a fair settlement.
Accident victims who sustain cuts, fractures, or other noticeable injuries always go to the hospital as soon as they are harmed. However, if the victim feels physically okay, they may believe that seeing a doctor is unnecessary for injuries that don't appear right away. So, seeking medical advice is necessary right after collisions.
In light of this, get medical attention as soon as possible, even if you feel fine. Any slight anomalous sensation or feeling should be reported to the emergency personnel, who can decide whether it is relevant in determining your medical status.
If you decline medical care at the scene of the accident and then file a claim for damages, the insurance company will seize the chance to deny, minimize, or lessen the value of your claim. They will argue that because you declined medical attention following the incident, your injuries were not caused by accident but rather by some other factor.

3. Gather evidence to support your case
It's always better to record the individuals in both vehicles at the time of the collision, any injuries they may have incurred, and your impression of their behavior.
Things To Consider While Assembling Evidence:
1. While the evidence is fresh, take pictures of the accident scene.
2. You can check nearby CCTV footage (if possible)
3. With a smartphone or camera, you may capture walk-around videos of your car. This can provide compelling visual evidence of the harm you've suffered.
According to Indiana law, following a collision, drivers involved in the accident must exchange information on their identification and insurance. Obtain the other motorist's full name, legal address, email address, and phone number.
Also, make detailed notes of any details that may be important in determining what caused the collision, such as whether anyone was wearing a seatbelt or whether there were any beer cans in the vehicle (drunk-and-drive evidence).
4. Don't speak too much at the accident scene
The leading personal injury attorneys in Indianapolis, Indiana, say that it is only natural to want to comfort someone who has been hurt and is upset. Still, you must be extremely careful not to apologize or try to defend your behavior after meeting with an accident.
The other party will be waiting for such a chance just as eagerly as you are, wanting to record all the other driver has to say in the hopes that it would support your case. Keep in mind that the opposing person may subsequently use any statements or words you utter at the site of the accident against you.

5. Hire the Best car accident attorney in Indianapolis, Indiana
Consider speaking with a vehicle accident lawyer before speaking to anyone at an insurance company. Even if you decide not to hire the best lawyer for personal injury in Indianapolis, Indiana, you should know that they can offer wise legal counsel in handling your case.
Expert attorneys from a seasoned law firm, like Karpe Litigation Group, can assist you in developing a compelling case and defending you in court. Our Best Indianapolis car accident attorneys make sure that you receive the maximum compensation for your suffering, mental anguish, and loss.

6. Report your car accident to your insurance firm
Make sure to report the Indiana accident to your insurance provider as soon as possible, regardless of whether you or the other car driver was to blame for the collision. It is significant because your auto insurance policy almost certainly contains a provision requiring you to notify the provider if your car is involved in an accident.
After a car accident, the one who waits too long to notify their insurance company runs the risk of being approached by a dishonest person claiming to be a person who was hurt and demanding compensation. There is no room for such bogus claims when you promptly notify your insurance provider with specific information about the collision.
Also, remember that your insurance provider will be in charge of representing you in court if the driver of the other vehicle seeks to sue you for the collision.
7. Organize the car accident documents
Write down your story of the crash as soon as possible when it occurs, describing every detail as precisely as you can. It's because when you decide to file a claim for damages, any piece of information about the accident could be helpful. In light of that, be careful to arrange and keep all of these papers. Also, get the police report after they examined the accident scene.
Here's a summary of all you need:
1. Witness statements
2. Police report
3. Videos and photos of the collision
4. Copies of medical records and bills
5. Wage loss proofs
6. Car repair and servicing receipts
Keep track of your doctor's appointments, and submit any bills you get from the therapist, pharmacy, or doctor who assisted in your care. Get a copy of your medical history from the hospital providing treatment.

Conclusion
No-fault laws do not apply in Indiana. It is a fault state where you can make a claim against the reckless motorist. So, if you have faced a car accident, you can file a claim with their insurer. With the tips mentioned above, you can build a strong car accident case with the highest winning chances. Among all of these points, hiring a professional law firm for your case is crucial.
However, with Karpe Litigation Group lawyers, you can create a robust car accident case and get the deserved compensation. Hire the best car accident lawyer now!
Frequently Asked Questions
1. Why should I hire a car accident attorney in Indianapolis?

Hiring a car accident attorney in Indianapolis ensures you get justified compensation for your losses, pain, and suffering in the mishap. Professional lawyers help you build the best car accident case having optimum winning chances in the trials.

2. What are some tips for building a robust car accident case in Indianapolis?

Some crucial tips you should remember to build a car accident case are:

1. Call 911 immediately,

2. Seek medical help,

3. Report your accident to your insurance provider,

4. Gather all documents (medical reports, police reports, etc.), and

3. What are the things to do at the accident spot?

The things you should do at the accident spot include checking other passengers, avoiding talking at the site, calling 911 immediately, seeking medical health irrespective of how you feel, and collecting evidence from the accident location to build a robust car accident case in Indianapolis.

4. Do you have an upfront payment model?

No, you don't have to pay us anytime before winning the case and getting fair compensation for your misery. We don't have an upfront payment model.

5. Which documents should I collect for the car accident case?

The most essential documents you should collect are witness statements, videos and photos of the collision,  the medical reports of all passengers in your car, and a copy of your police report. Also, keep all bills and expense documents incurred from the hospital, doctor's appointments, physiotherapy, etc.