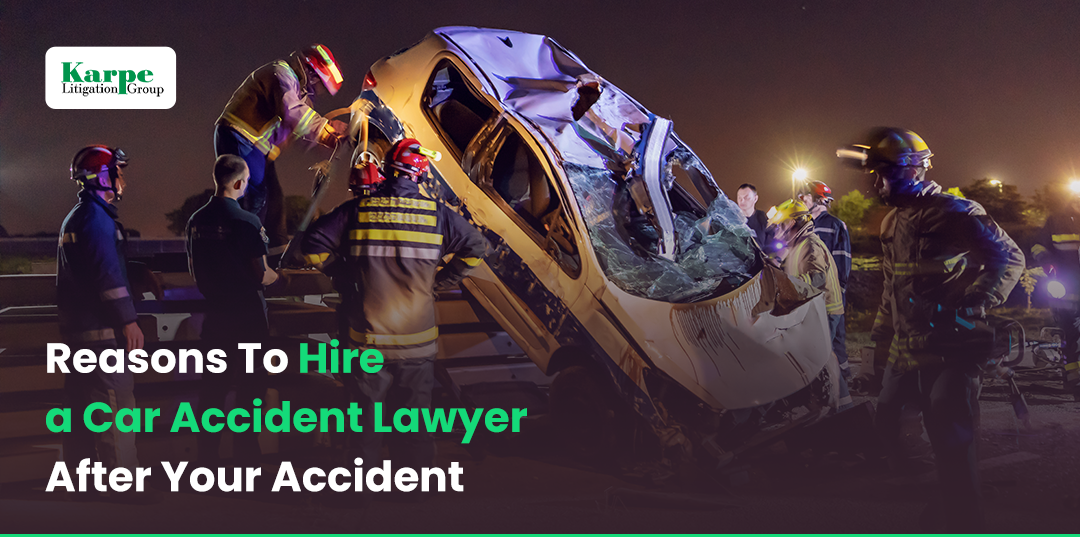 Accidents can be highly unpredictable for anyone. It results in severe injuries and property damage. According to the National Highway Traffic Safety Administration (NHTSA), 639 people were killed in car accidents in Indiana in the year between January 2020 and September 2020. In 2021, the ratio was 9% higher, as 699 fatalities were recorded between January 2021 and September 2021.
Indianapolis has recorded higher accidental ratios in the last few years. Personal injury victims have to bear a lot of medical expenditures and property damage. Out of finances, they have to endure a lot of pain, depression, and anxiety.
However, dealing smartly in such situations can relieve stress and give you financial support. The personal injury victim should be aware of the fundamental legal rights through which they can compensate for the loss. You can't share your pain, but you can recover the losses. You can ask for your compensation and file a legal case. It is always better to hire a car accident lawyer to undergo a legal procedure. They are the ones who know the ins and outs of legalities. Once the case is in a lawyer's hand, they investigate it and appropriately represent you.
If you are still not convinced, let me give you seven solid reasons why you need to hire a car accident lawyer.
Top 7 Reasons You Need to Hire a Car accident lawyer After Your Accident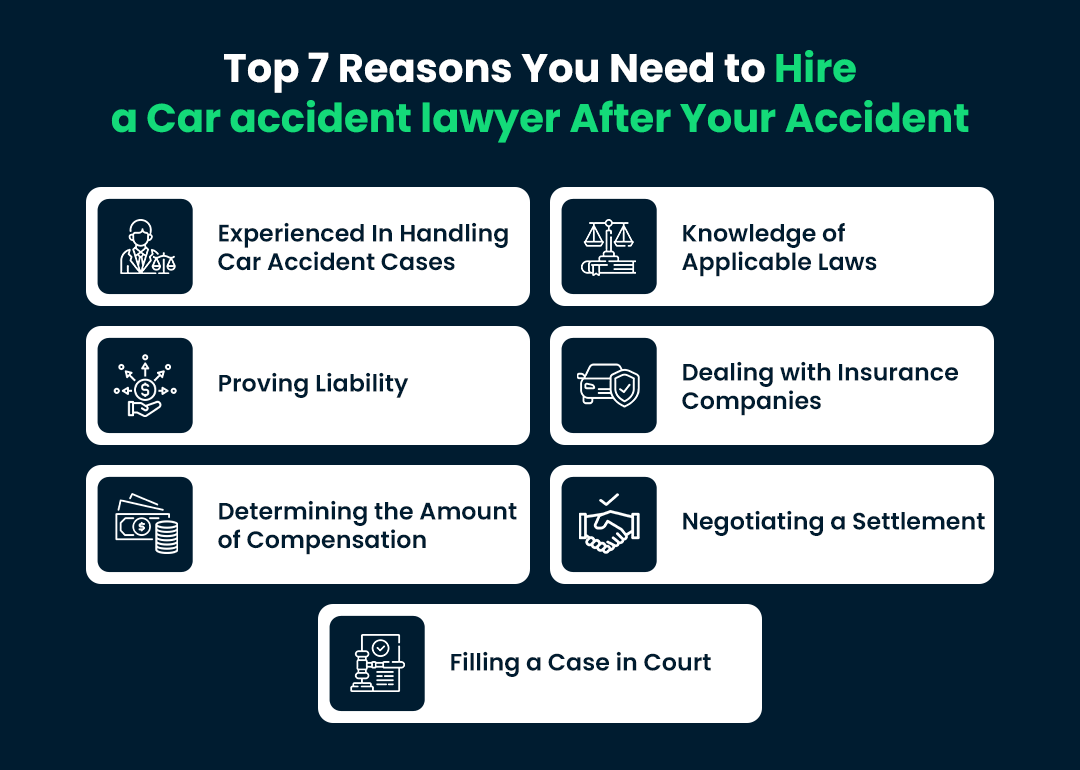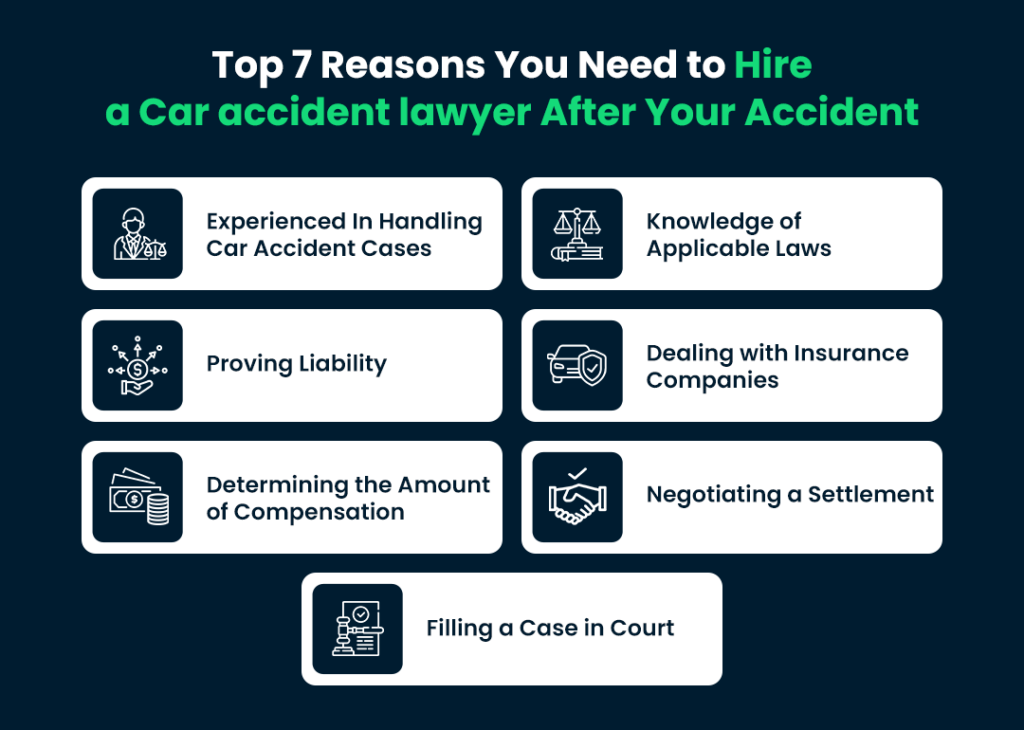 1. Experienced In Handling Car Accident Cases
A qualified and experienced car accident lawyer will have a thorough understanding of legal terms and how to apply them to your case. They know all the internal rules and regulations of car accident cases. To fight in court is a piece of cake for the best car accident attorneys, as it is their daily bread and butter. They suggest appropriate legal steps based on your case. An attorney collects the relevant evidence and witness, which can give your case importance. They also take care of all the necessary paperwork.
It is pretty unlikely that you know all the legal procedures and what all legal rights fall under your case. If you think of fighting the case independently, you might take time to understand the legal rules. An experienced car accident lawyer is known for all the legal matters and they can help you in a better way.
A top Indianapolis car accident lawyer can help immediately and give you the possible solutions in no time.
Ultimately, It saves time and energy.
2. Knowledge of Applicable Laws
A car accident lawyer has complete knowledge of legal rules to receive fair compensation. Victims are entitled to compensation for medical expenses, disability, disfigurement, and suffering. They may owe you for the lost wages/salary if you are incapacitated. However, it depends upon the case to case and how much damage has been caused to physic as well as property.
A car accident lawyer knows how much injuries and mental stress are worth. When you evaluate the amount, you might aim low due to a lack of knowledge.


3. Proving Liability
Proving liability can be dicey than you think. Though police reports and witnesses state that the other party is at fault, but proving that they were careless on the duty of care towards you can be challenging. Though you have a strong case, it is necessary to prove appropriately that you are liable for the compensation you deserve. Sometimes, it becomes difficult to prove the case in court, but an experienced car accident lawyer takes hold of the case and makes sure to recover all your damages.
A car accident attorney will work to prove the negligence of responsible people.
4. Dealing with Insurance Companies
Sometimes it becomes difficult to deal with insurance companies. They try to undervalue your claim. As they are known that you are not knowledgeable enough regarding the laws. You might end up getting less amount than you deserve. A top Indianapolis car accident lawyer will be prepared to file your claim and fight in court for what you deserve.
When you reach a car accident attorney for your case, you can rely on him entirely. On your behalf, they will look after the communications with the insurance provider, create a written settlement, ensure your proofs are not been tampered and most importantly, negotiate for compensation appropriately. When everything goes according to the law and procedure, then you have a higher chance of winning the case.
5. Determining the Amount of Compensation
There is no set compensation for any victim. From case to case, the compensation varies. Your eligibility for compensation is determined after a thorough analysis of the case by a car accident attorney. The amount of compensation a victim has filed might change with the time period if the victim is undergoing medical treatment.
An experienced car accident lawyer will ensure that the victim receives compensation for medical bills, lost wages/income, pain and suffering, property damage, physical therapy, and other expenses.


6. Negotiating a Settlement
This is the most important aspect of a case when it comes to settlement. Insurance companies will try to compensate less or deny your claim. A top Indianapolis car accident attorney is already aware of what information and proofs will increase the chance of winning the case and what actions should be taken. Insurance companies offer a monetary settlement; they will pay out as little as possible. At this point, negotiation is mandatory. A car accident lawyer negotiates on your behalf and settles with the maximum amount possible.
7. Filling a Case in Court
Going through a car accident is not easy. It might change your life forever. After all, the procedure is done, and yet you feel that the compensation you got is low, you must speak up for your legal rights and recover the entire amount.
An experienced Indianapolis car accident lawyer will help you to file a case in court. They will take the entire responsibility to gather necessary documents, witnesses, and proof. In court, your auto accident attorney will represent your case very efficiently with all the evidence and witnesses and assure you get the maximum settlement.
Hopefully, the above reasons have convinced you why to hire the best Indianapolis car accident lawyer.
There are various benefits to hiring a top Indianapolis car accident attorney. Hence, it saves your time and efforts, moreover releases your stress, and gives the relief to recover from injuries.
Why Hire Karpe Litigation Group's Car Accident Lawyers?
If you are seeking a car accident lawyer, we are right here to help you. It is very depressing to experience a car accident. An individual face physical issues but moreover has to go through a huge financial loss. We understand the pain and suffering of our clients and take all the responsibility for achieving success. We don't charge a single penny until we win the case, which means we give maximum chances of winning the case.
We, the Karpe Litigation Group, hold a team of experienced and skilled lawyers who will help you get justice by recovering the amount of your loss. We are committed to giving justice to the residents of Indianapolis, Indiana. We will stand by your side whenever you need and secure the full compensation you deserve.
If you need an experienced Indianapolis car accident attorney, then contact us now. As the Karpe Litigation Group is one of the best car accident lawyers in Indianapolis, Indiana, we are here to help you receive the compensation you deserve.
Conclusion
Accidents are unpredictable; it changes your life entirely. Some accident wounds recover with time, but few are for a lifetime. Nobody can share your load, but you can seek compensation and recover your financial loss. So, they need to hire the Best Indianapolis car accident lawyer to get justice and the best compensation after your car accident.
Frequently Asked Questions
1. Why should I Hire an Indianapolis car accident lawyer?

Hiring the best Indianapolis car accident lawyer is always beneficial because they are the one who is known for all the legalities to fight against the responsible person or insurance companies. They can help you with recovering the amount of damage you have. Moreover, they will guide you with all what actions you can take and will negotiate on your behalf.  You can reach us at 1-888-228-7800  if you are seeking the best car accident attorney in Indianapolis, Indiana.

2. How Much Does It Cost to Hire a Car Accident Lawyer in Indianapolis, Indiana?

Well, it's not fixed; it varies from case to case. If you hire the best Indianapolis car accident lawyer, their initial consultation is free of cost, moreover, they don't charge a single penny until they win the case.

3. What Damages are available if I'm injured in a car crash in Indianapolis, Indiana?

If you are injured in a car crash in Indianapolis Indiana, there are various damages including:

1. Medical Expenses

2. Nursing Care

3. Cost of repairing and replacing the damaged property

4. Lost income/wage

5. Temporary or permanent disability

These are the most common damages caused by car crashes. Apart from these, people go through many severe cases; also, many lose their life too or lose their loved ones.

4. How Much is My Car Accident case worth?

We can't accurately tell the worth of a car accident case. As every accident differs from each other and has different consequences. The best way to evaluate the worth of your case is to hire an experienced Indianapolis car accident lawyer. They will guide you and give you the best relevant solutions.

5. Where can I get more information about car accident legal services?