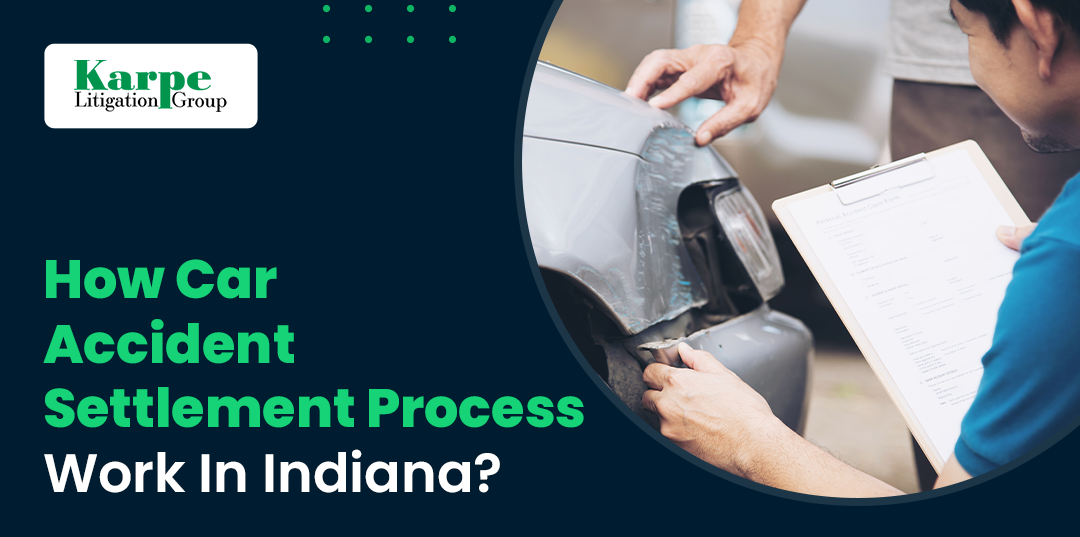 If you're considering suing someone for a car accident, you should know that the procedure could take some time. There are several steps in the legal process, and for your case to be successful, you must be ready at each one. In reality, many accident victims make errors that reduce their chances of being compensated by not knowing the exact car accident settlement process in Indiana.
Karpe Litigation Group is the best car accident law firm in Indiana, having years of experience dealing with various car accident claims. Our experts can give you detailed insights into the process and assist you in getting fair compensation in complex car accident cases. Contact us right away!
The Car Accident Settlement Process in Indiana
As we already said, a typical car settlement process in Indiana involves numerous phases. Some of the steps you will encounter in your journey as mentioned below. Pay close attention to the upcoming section to better know Indiana's car accident settlement process.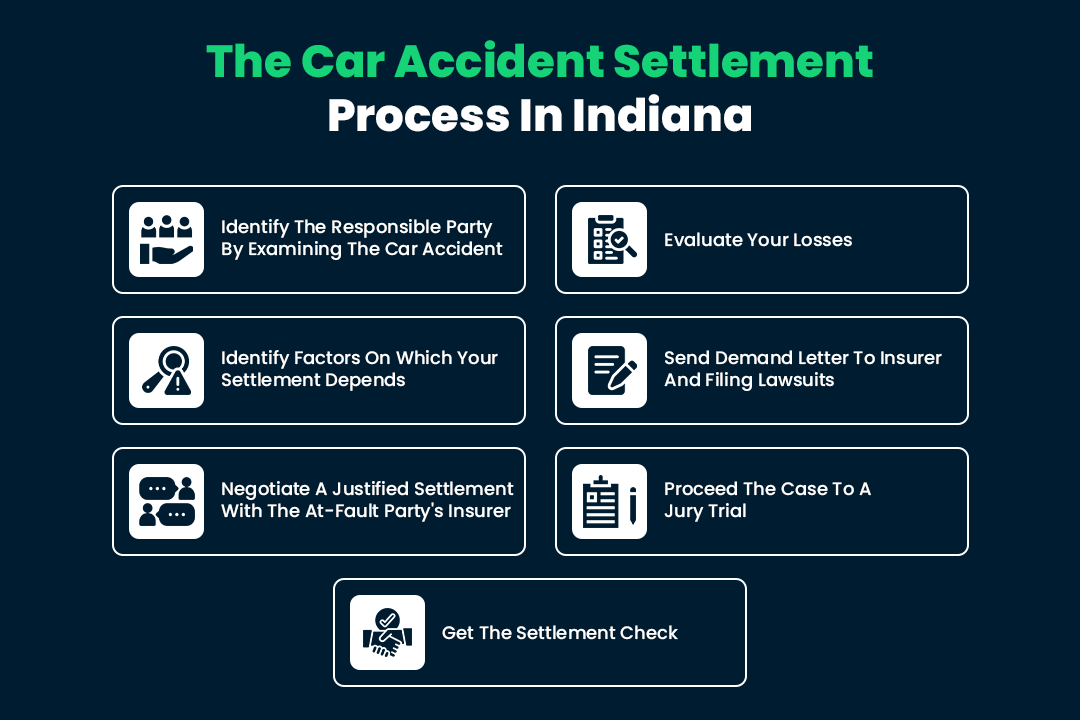 1. Identify the responsible party by examining the car accident
Collecting evidence is the first stage in every vehicle accident investigation. The top car accident lawyer in Indianapolis, Indiana will gather evidence for your case with your help to create a strong case file.
Also Read: Tips To Building A Strong Car Accident Case In Indiana
Some examples of the proof your attorney might gather are as follows:
2. Your medical information and reports
3. Traffic citations
4. Photos and videos entailing your injuries, vehicle conditions, and the situation on the roads
5. Traffic CCTV footage to better view the accident
6. Eyewitness statements
Using this information, your car accident lawyers will try to identify the liable party before proceeding.
Some of the accused parties involved in your car accident can be:
1. The other driver if he was reckless, speeding, and negligent
2. The other driver's employer who might have hired an unqualified driver for his/her vehicle
3. Car parts manufacturers if they provided inferior vehicle fittings
4. The government authority if the roads were damaged during your accident
5. The mechanic who repaired either vehicle improperly
2. Evaluate your losses
Furthermore, car accident attorney will determine the types of losses you have incurred. Based on whether your damages are economic or non-economic, they will build your case and determine the settlement amount for your specific car accident trial.
3. Identify factors on which your settlement depends
Once they find out the type of damages you deserve, your lawyer will consider your expenses after the accident and estimate the settlement amount. Apart from tangible damages, you may also get compensation for your pain and suffering.
Here are some expenses you can expect to get reimbursed for your car accident trial.
1. Current and previous medical treatment expenses
2. Wage loss documents
3. Disfigurement
4. Pain and suffering
5. Lost earning potential
6. Reduced quality of life
7. Property damage and repairing expenses
8. Other out-of-pocket costs
Your medical bills, auto repair bills, pay stubs, and other records will be used to determine how much compensation you deserve to receive for economic damages. Therefore, to ensure that you receive fair compensation, you should save all of these records and show them to your lawyer.
4. Send a demand letter to the insurer and Filing lawsuits
After gathering proof and figuring up your damages, your lawyer will draft an insurance company demand letter. This letter will ask for the compensation you are entitled to. The insurance company has three choices: to pay the claim in full, to refuse to do so, or to counteroffer.
You may also choose to file a personal injury lawsuit to receive monetary compensation. You should be aware, though, that if you don't participate, the court can decide to close your claim, leaving you with little to no chance to recoup. Fortunately, your lawyer should be able to help you finish your lawsuit before the deadline.
5. Negotiate a justified settlement with the at-fault party's insurer
Your lawyer will continue attempting to negotiate a settlement on your behalf if you are not satisfied with the counteroffer offered by the other party's insurer. Sometimes, this step will push you to go on to the discovery stage, in which each side discloses facts about the other.
The attorney for the other side can challenge your understanding of the car collision. Though it can be intimidating, your lawyer should assist you in preparing for this meeting. They will support you throughout the discovery process and object if the opposing attorney asks an unfair or irrelevant question.

6. Proceed the case to a jury trial
Following this meeting, negotiations might continue, or the opposing lawyer might desire to settle your matter. Your attorney may decide to present your case to a jury if you're still unsatisfied with the settlement they offer. Usually, when the opposing party anticipates a court date, they will just offer you a settlement to avoid paying court costs.
Although it is uncommon, trials do occasionally take place. Your car accident attorney will likely present your case and question witnesses while doing so. The jury will then render its decision following the hearing of both sides.
7. Get the settlement check
Each person's car accident settlement timetable and the process is different because your case could be resolved at any time. The insurance company will send your check to your attorney a few weeks or months after it settles, if and when it does.
If you choose a contingency-fee law firm, they will pay the medical providers who treated your injuries as a result of the vehicle accident after deducting their fee from the settlement. The remaining portion of your restitution will subsequently be sent to you. Once your lawsuit is resolved, you cannot request extra money.
If you wish to hire a seasoned law firm for your car accident case, Karpe Litigation Group is your best option. Reach out to us now!
Moving on, do you want to know how our expert car accident attorney can help you with your car accident claim? Follow the upcoming section to find out!
How can Karpe Litigation Group Help You with Your Car Accident Claim?
Karpe Litigation Group is an experienced car accident law firm in Indiana. Our attorneys have deep expertise in handling complex car accident cases and helping our clients get desired compensation effortlessly. Here's how we can assist you!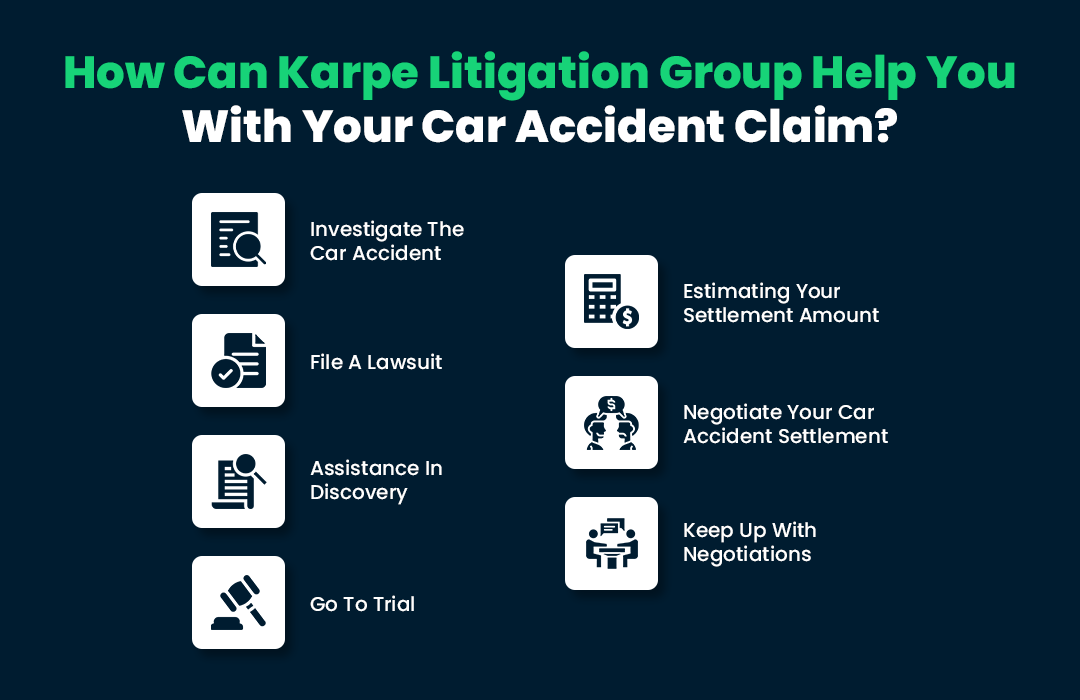 1. Investigate the car accident
We will establish who was at fault for the collision and identify the at-fault driver's insurance coverage.
2. Estimating your settlement amount
It includes predicting future expenditures, and losses and totaling your incurred medical expenses and other losses. We also forecast your income losses based on your current salary, injuries, and work experience.
3. File a lawsuit
If we are unable to conclude a fair settlement for your car accident claim, we will file a lawsuit and ask the judge to force the defendant to pay your claims for damages. The defendant is then required to respond to the action, essentially to admit that a legal claim is being made.
4. Negotiate your car accident settlement
Each settlement offer will be presented to you together with our recommendation as to whether it is a fair offer. If you accept a settlement offer related to a car accident, we can promptly, often within a few business days, get a check on your behalf.
5. Assistance in discovery
Each side in a lawsuit gets information from the other side during the discovery phase of the legal process. In a deposition, you'll probably be asked questions by the defendant's counsel. Although we can't tell you what to answer, we can anticipate common queries and can object to unfair or pointless inquiries. Overall, we'll be there with you and help you get ready for the kinds of questions that will be posed to you.
6. Keep up with negotiations
We'll keep working to get a just settlement for you while the case moves forward in the pre-trial stage. Some insurance providers don't take settlement negotiations seriously until a lawsuit has been initiated and a trial date set. Occasionally, during discovery, the merits of our case become more apparent, and the insurers then make more fair settlement offers.
7. Go to trial
We will be ready to file your lawsuit in court if we are unable to come to a car accident injury settlement that you are comfortable with. We'll be prepared to make a strong argument. We'll ensure you understand what's going on at all steps.
Contact our Indianapolis Car Accident Lawyer Now.
Facing a car accident and going through a rigorous legal process can be challenging. However, our seasoned Indianapolis car accident lawyers ensure that everything goes smoothly and you get what you deserve eventually.
The Best Indiana car accident lawyers at Karpe Litigation Group will move promptly to help you recover compensation for your losses in a car accident. If you want our attorneys to help you with your car accident, call us immediately! We will be pleased to help you.
Frequently Asked Questions
1. What are types of damages in an Indiana car accident case?

Typically, there are two types of damages – economic and non-economic damages. However, if the jury finds the at-fault party to have willfully caused the accident, they might issue punitive damages where the accused party may be punished and penalized.

2. Who are the liable parties in a car accident case?

There can be numerous liable parties in a car accident case. Some of the accused authorities include the other driver, their employer, government authorities, car mechanic, vehicle parts provider, etc.

3. Which documents do I need to preserve to build a strong car accident case?

4. Will the car accident lawyers investigate my case?

Yes. The car accident lawyer will thoroughly investigate your case to collect evidence and deduce a fair settlement amount for the victim.

5. Which is the best car accident law firm in Indianapolis, Indiana?