As the number of motorcycles on the road continues to rise, so do the chances of being involved in an accident. Motorcycles are more vulnerable than other types of vehicles, and riders may sustain serious injuries.
According to reports, more than 2,5000 motorcycle casualties happened in the year 2019, which led to 112 deaths, around 1600 non-fatal injuries, and 200+ injuries to passengers. Moreover, only 34.7% of riders wore helmets during their accidents, which is among the major causes of fatalities.
In addition, around 60% of the accidents were caused by the fault of a motorcyclist. The number of people who died from severe injuries is surging by 1.3%, and it's a severe matter. If you or your loved one has been involved in a motorcycle accident, you must consider hiring the top-rated motorcycle accident lawyer who is experienced and trained in this field.
A motorcycle accident lawyer is a professional who specializes in cases related to injury from a motorcycle crash, as well as any other related aspects such as financial compensation and insurance settlements. In this article, we will discuss why it's essential to have a motorcycle accident lawyer on your side.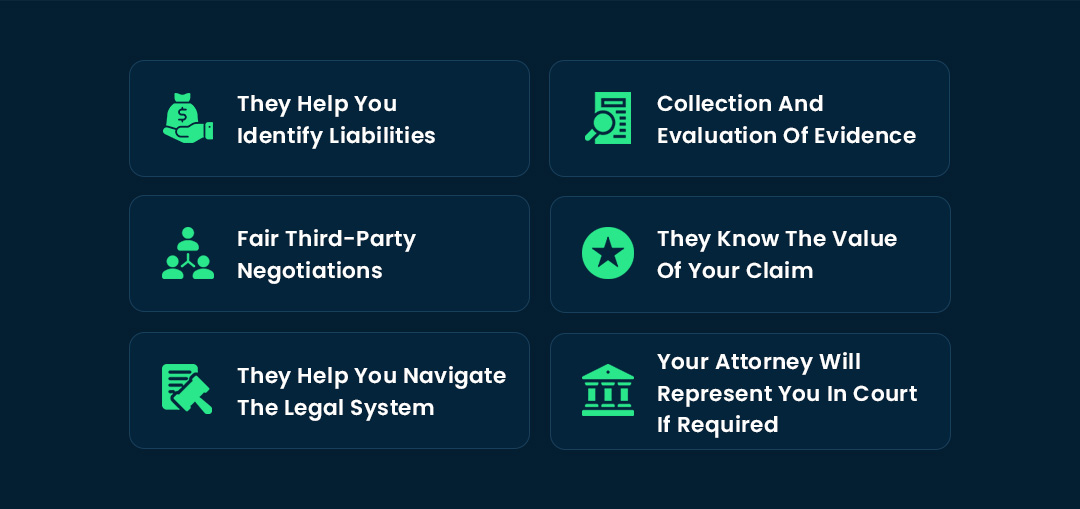 1. They Help You Identify Liabilities
Your experienced Indianapolis motorcycle accident attorney is an expert in determining who is at fault and responsible for the fees related to damages. They are well-versed in state and local laws, so they can help you identify any liable parties. Moreover, they will often have relationships with other parties, such as insurance companies or law enforcement officers, that can help speed up the process of getting you a fair settlement.
It happens several times that you were driving your car safely, but at the same time, you are being blamed for the fault of others. In such cases, a motorcycle attorney can help you determine who is responsible and hold them accountable. In addition, the level of experience and knowledge that they possess can save you from getting overwhelmed in such a difficult situation.
2. Collection And Evaluation Of Evidence
Motorcycle accident attorneys are experts in collecting evidence, including medical records and police reports. They have the skills to evaluate the evidence correctly and present it in a way that is favorable to you. Moreover, they are also experienced in determining the proper damages and losses you may have suffered from the accident.
Moreover, a skilled motorcycle accident lawyer can use eyewitnesses to help strengthen your case. An attorney can also negotiate with the defendants and help you receive a fair settlement. The amount of time and effort these lawyers save you is their actual value.
3. Fair Third-Party Negotiations
A qualified motorcycle crash attorney in your corner can make all the difference, as they will negotiate on your behalf to get you a fair settlement. Insurance companies often want to pay the least amount possible and may even deny liability altogether. An attorney with extensive knowledge of the law can protect your rights and ensure that you get the proper compensation for your injuries.
They understand that you or your loved one is already going through a tough time, which is why they will help you get a fair settlement without any hassle. Moreover, they will take care of all third-party communication, so you don't have to be involved.
4. They Know The Value Of Your Claim
When you're involved in a motorcycle accident, there are often multiple factors to consider, such as lost wages, medical bills, and other expenses. A skilled motorcycle accident lawyer can assist you in calculating the total value of your claim and help you get the compensation that you deserve.

They are well-versed in Indiana laws and statutes related to motorcycle accidents, so they can help you understand the complexities of your claim and ensure that you receive total compensation for your damages. Moreover, you can be assured that they will fight aggressively for your right and make sure that you are not taken advantage of by the other party. They will ensure that you receive fair compensation for your injuries.
5. They Help You Navigate The Legal System
The legal system can be a confusing and daunting place, especially when you are dealing with a sensitive issue such as a motorcycle accident. An experienced motorcycle accident lawyer can help you navigate the legal system and provide you with valuable advice to ensure that you are adequately protected.
They will help you ensure all the necessary paperwork is filled out and submitted correctly, as well as serve as an advocate in court if needed. Additionally, they can provide you with the support and guidance to help make sure that your rights are protected throughout the process. They understand that the legal system can be intimidating, so they are there to help you through it.
6. Your Attorney Will Represent You In Court If Required
If the case goes to trial, a motorcycle crash attorney can represent you in court. They will be able to present evidence and facts in an organized manner to help show that you were not at fault for the accident. Additionally, they will be able to cross-examine witnesses and negotiate settlements on your behalf.
There are some scenarios where they will represent you in court, like if the opposing party refuses to accept fault, if you need to file a lawsuit against the other driver, or if you are facing criminal charges. They will make sure that the process runs smoothly and that you get the justice you deserve. That's the reason you need help from a professional motorcycle accident attorney like Karpe Litigation Group.
Why Choose Karpe Litigation Group For Motorcycle Accident Lawsuit?
As one of the best motorcycle accident attorneys, we provide comprehensive legal counsel and representation. We have a team of highly experienced and qualified attorneys who are committed to helping you get the compensation that you deserve.
Our attorneys have the knowledge and expertise to build a strong case for you so that you can be confident in pursuing your claim with the assurance that you will get a fair outcome. We have the resources and experience to handle motorcycle accident cases of any size, so you can be sure that you are in good hands.
If you or a loved one has been involved in a motorcycle accident, don't hesitate to contact us and get the justice you deserve. Our attorneys are here to ensure that your rights are protected and that you get a fair result.
Wrapping Up!
With the best motorcycle accident lawyers, you can make a massive difference in the outcome of your claim. A qualified attorney can provide you with the legal advice and representation needed for a favorable outcome. By hiring a skilled motorcycle accident lawyer from Karpe Litigation Group, you can rest assured that your rights are protected and that you will receive justice.