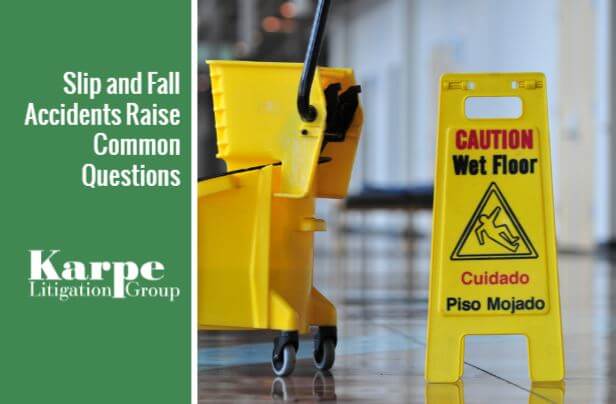 The CDC estimates 3 million older adults are treated in emergency rooms each year for fall injuries. People over the age of 55 account for the largest amount of falls, with those over 65 accounting for the largest number of fatalities.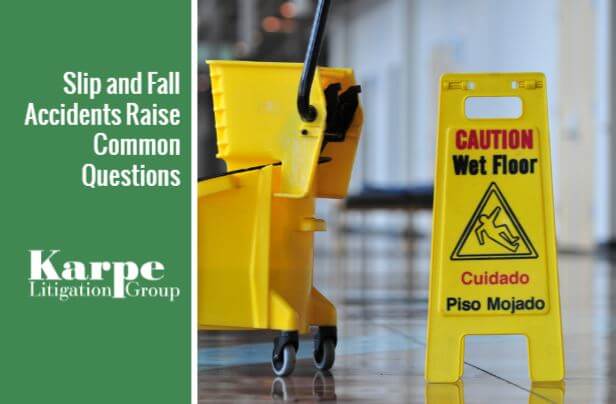 While visiting your local grocery store, you slip on a freshly mopped patch of flooring and tumble to the ground. Your injuries can be substantial – broken bones, spinal injuries or a concussion. Is the store responsible for your medical bills, lost wages and other expenses while you recover?
Locations and Causes of Slip and Fall Accidents
Many slip and fall cases involve private property or places of business, although other locations and causes can also result in a premises liability claim. We've identified the most common locations and causes of slip and fall accidents:
Office buildings
Grocery stores and supermarkets
Schools
Parking lots and ramps
Amusement or recreational parks
Department stores and shopping malls
Motels and hotels
Icy, wet and slippery floors or surfaces
Inadequate lighting
Uneven or broken pavement in walkways
Elevators and escalators
Falling merchandise
Inadequate security
The Older You Get, The More Likely You Are to Slip and Fall
Slip and fall accidents affect everyone, but we know the older you get the more likely you will be involved in a slip and fall. People over the age of 55 account for the largest amount of falls, with those over 65 accounting for the largest number of fatalities.
The CDC reports 3 million older adults are treated in emergency rooms each year for fall injuries. By 2030, an estimated 74 million people will be affected, resulting in 12 million injuries, according to the CDC's STEADI Initiative (Stopping Elderly Accidents, Deaths & Injuries).

Common Questions Regarding Slip and Fall Injuries
If you or a loved one are involved in a slip and fall accident and sustain injuries, you have questions. These are some of the most common questions our clients have:
Who is responsible for a slip and fall injury?
There is no set way to determine premises liability for a slip and fall accident. The main determination centers on proving the accident is the result of a "dangerous condition." The owner of the property must be shown to have known about the existing condition and you, as the injured party, would not have anticipated an unreasonable risk.
In order to establish the owner of the property knew of a dangerous condition, it must be shown that the owner created the condition, or it must be shown the owner knew of the condition and negligently failed to correct it. An owner can also be found liable for a condition that existed for a long enough period of time that it can reasonably be expected that the condition would be identified and remedied.
For example, if a bottle of olive oil falls and spills in a grocery store and by the next day no one has cleaned up the spill, anyone who slips and falls can reasonably claim that the grocery store should have noticed and cleaned the spill and is therefore negligent.
How much is a slip and fall claim worth?
While it's natural to want to know how much money your claim is worth, there are many different factors that must be investigated before determining what your claim is potentially worth. While it's understandable that piling medical bills makes an individual anxious to settle the case quickly, it is actually in your best interest not to take a quick settlement from an insurance company. Let the professional team of attorneys at Karpe Litigation Group work to make sure you receive the best settlement.
There are many factors that may not be known at the time of the accident that can affect the worth of the claim. Strains on personal life, psychological trauma and ongoing medical treatment may present after the initial injury, all of which can affect the final claim amount.
Is it difficult to win a case against a store?
While the factors of each case are different, stores have a responsibility to keep floors clean and conditions safe for their customers. Employees are required to make routine inspections in order to provide a safe shopping experience. If it can be shown that a store owner was aware of a potentially dangerous condition, or if it can be shown that the condition existed long enough that it should have been discovered and remedied, then a store can be found liable.
In fact, big box stores typically give out bigger settlements because they can afford the kind of insurance to cover such claims. A 41-year-old truck driver who experienced a slip and fall on some grease in a Denver Walmart received $10 million in a State Supreme Court settlement.
Should I fill out an accident report at the time of the accident?
Yes, ideally you should fill out a report at the time of the accident, including a description of the circumstances, who was present and any statements from witnesses. It is important to collect as much evidence as possible soon after the incident in order to make a stronger case. If possible, take photographs of the scene of the accident, noting the location of any dangerous condition, lighting, and other relevant information.
Also read:- Benefits of Hiring an Indiana Slip and Fall Accident Attorney
How is security related to premises liability?
Property owners are legally required to provide a safe environment for employees and customers. Premises liability cases can be brought for injuries due to lack of security, inadequate security, improper security or negligent security. Our knowledgeable staff of attorneys can win you compensation for medical bills, pain and suffering, lost wages or emotional trauma.
Who is liable for injuries involving city sidewalks?
Many states have statutes protecting government entities from liability for injuries on public sidewalks. In states that do not have such statutes, it is possible to recover damages from the city in cases where it can be established that the municipality did not meet their required duty to keep streets and sidewalks in repair.
Personal Attention from Professional Attorneys
If you or someone you love needs a lawyer experienced in premises liability, talk with a top-rated Indianapolis personal injury attorney at Karpe Litigation Group today. We are experts in injury law, winning the most challenging cases and helping those in need for 20 years and counting. There is no fee until we win for you. Committed to making things easy for you, we are happy to meet by appointment on evenings and weekends, and travel to you when needed. Give us a call today at 1-888-228-7800 or fill out our contact form to schedule your free initial consultation.