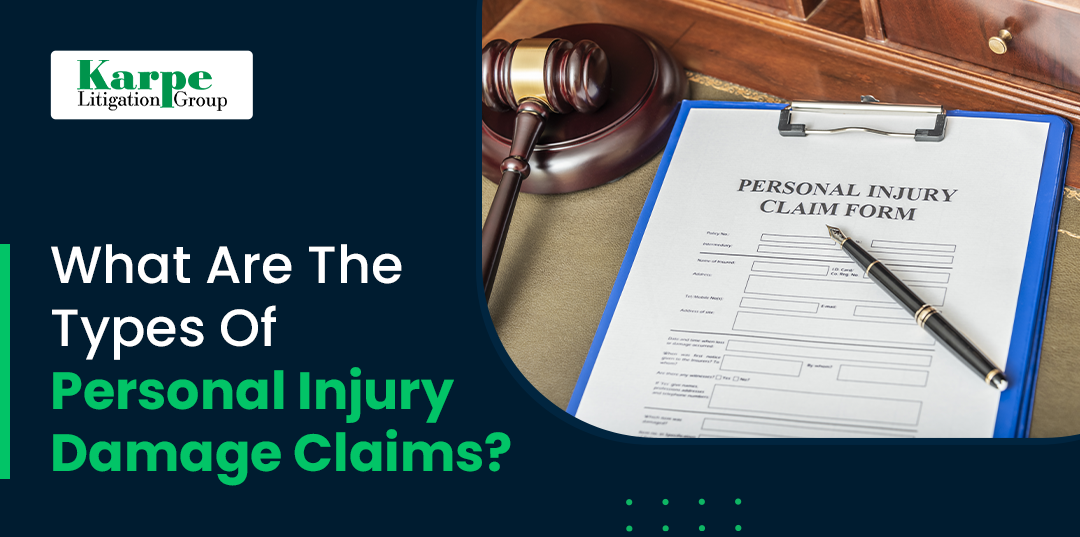 Personal injury compensation comes in many different forms. If you have met with a personal injury, it's essential to know the types of reimbursements involved. Typically, personal injury damages are of two kinds: compensatory and punitive. We will discuss more of these types in the following blog post.
Throughout your personal injury settlement process and trial, you can use this guide to know about the various personal injury damages. Furthermore, the skilled personal injury attorneys at Karpe Litigation Group will guide you and assist you with the types of damage claims throughout your personal injury case.
If you're searching for a personal injury lawyer for your case, the Best Indianapolis personal injury attorney at Karpe Litigation Group are here to help. Contact us at 1-888-228-7800 to schedule a consultation.
Let's just move on to the types of personal injury damages in a refined manner.
Types of Personal Injury Damages
In a personal injury case, the injured can seek compensation from the party that caused or contributed to their losses, whether they have suffered an injury, property damage, or any other sort of loss. Damages are the legal term for such remuneration.
In practically all injury cases, including those involving auto accidents, medical negligence, and slip and fall incidents, compensatory damages can make up for the suffering the injured party has endured.
Although there are many distinct kinds of compensatory damages, they can be broadly divided into general, special, and wrongful death damages.
On the other hand, punitive damages are often only granted in a few instances. Punitive damages are given directly to the injured or harmed party. Punishments are given to the wrongdoer for specific forms of heinous action and have nothing to do with the type of harm the injured party has experienced.
We are here to help you if you have a specific personal injury lawsuit. Contact Karpe Litigation Group now!
Let's look at the many forms of compensation that a plaintiff in a personal injury case can claim.
1. Compensatory Damages
As the name suggests, these damages reimburse or compensate you for the costs associated with the injury. It's better to know that compensatory damage is a broad category with multiple sub-categories. The upcoming section will give you complete details on various compensatory damages. Seek out our personal injury lawyers to get more information now!
1. Special compensatory damages
Special compensatory or economic damages involve tangible costs where you receive compensation for your expenses and are met with other financial downturns after injury due to the other party's negligence. Some of the most prominent special compensatory damages are:


1. Compensation for medical expenses
Many personal injury cases will necessitate some kind of medical care in the future, possibly including a long-term care plan. Fortunately, all medical expenses you have incurred and seek in the future can be compensated for in a claim.
It can include the medical bills, lab examinations, and surgery charges, cost of hospital stays, rehabilitation, physical therapy, at-home caretaking, and pain management bills.
2. Loss of earning capacity or lost wages
You could file a claim for the income you have lost due to the injury's impact on your ability to work. It can include money you've already lost by missing work and a loss in your capacity to make money in the future.
3. Damage of property
You might be eligible for compensation regarding repairs or replacement if any of your personal property was lost or destroyed due to the accident. This kind of loss frequently occurs in auto accident cases, but it can also occur in slip-and-fall accidents or other mishaps that result in the loss or destruction of a victim's personal belongings.
4. Expenses related to canceled or altered trips
You might have planned a big trip before meeting with an accident. However, your injury prevented you from carrying out your original intentions, in which case you may be entitled to financial compensation for any losses you could not recover.


Now that we have reviewed special compensatory damages, let's walk through general compensatory claims below!
2. General compensatory damages
When you are hurt, you may incur expenses for which there are no receipts. Although these expenses can be recovered by the accused party, they are challenging to track. General compensatory damages cover it.
General compensatory damages include, among others:


1. Prolonged pain and suffering
The compensation related to an accident victim's physical pain and suffering falls under this category. These damages cover the victim's physical injuries at the scene of the accident and afterward. Besides, your compensation claim may also involve ongoing pain and suffering.
Remember the rule of thumb where the more serious the harm, the more acute the pain and suffering, and the more money the defendant will have to pay in damages.
2. Poor or unsatisfactory quality of life
Unfortunately, many different sorts of personal injuries prevent their victims from continuing to enjoy life the way they once did. For instance, people who sustained an amputation or a TBI due to their injuries cannot live a life they used to enjoy before getting injured. So, you deserve compensation in such a scenario.
3. Loss of consortium
You are entitled to loss of consortium compensation if you discover that you have lost companionship with your spouse or family or are unable to maintain a healthy relationship with your spouse as a result of your injuries.
4. Reduced enjoyment of life
Accidents and injuries often leave the victims bedridden or hospitalized for a prolonged period. Such victims cannot enjoy life and events like spending time with their families, going on a vacation, or participating in sports, especially when they are recovering from their injuries. So, personal injury victims may claim compensation for a loss of enjoyment of life when they are unable to engage in activities that used to make them happy.


Finally, let's learn the meaning of wrongful death damages and the typical scenarios involved.
3. Wrongful death damages
These damages are a combination of general and special compensatory damages. It applies in wrongful death instances that occurred due to an accident. Since the victim has succumbed to the injuries, these damages go to his surviving family members.
Some of the wrongful death damages can be:


1. Burial and funeral expenses
Funerals and burials are frequently costly. Wrongful death damages may assist the family in getting a justified compensation for these expenses from the accused party.
2. The price of medical care before the wrongful death occurred
When a loved one receives medical attention after an accident, but before passing away, their family might want assistance in covering the costs of their care. The wrongful death damage helps them get such expenses appropriately covered.
3. Reduced family income due to wrongful death
Since the injured victim has passed away, the family might experience a reduced family income over time. Couples with kids or partners who weren't the sole earners will benefit the most from such damages. Overall, the victim's income loss is made up for by this compensation.
4. Emotional agony and mental suffering of surviving family members
These damages are intended to aid the surviving family members in moving forward with their lives after the wrongful death of a dear one. To reduce emotional distress and suffering, these compensations can be helpful.

Those were the common types of compensatory damages. Now, let's walk through the meaning and significance of punitive damages.
2. Punitive Damages
The punitive damages penalize the party accountable for your injury or a loved one's wrongful death. So, they are not intended to make up for your losses. Punitive damages may be granted to you if the court decides that the compensatory damages you received are insufficient and the accused party deserves punitive measures to prevent them from repeating such incidents.
The court will likely grant punitive damages when the accused party engages in willful or plotted misconduct. Courts may also impose punitive damages to individuals involved in high-profile cases where the at-fault party tried to set an example through their heinous actions.
Conclusion
If you or your loved one has recently met with an accident & got injured and looking for the Best Indianapolis personal injury lawyer, then Contact Karpe Litigation Group. Our skilled personal injury attorneys can walk miles to cover your loss with all types of damage claims possible in your case. Reach out to the Best Indianapolis personal injury lawyer now!
Frequently Asked Questions
1. What are personal injury damages?

Personal injury damages are settlements given to the victims as compensation for the harm caused by the opposing, at-fault party.

2. What are the types of personal injury damages?

Typically, personal injury damages are of two types – compensatory and punitive damages. Compensatory damages are reimbursements that victims receive from the accused parties. In contrast, punitive damages are the punishments the court gives to the at-fault party.

3. What are the various types of compensatory personal injury damages?

The compensatory damages can be sub-categorized into three types.

1. Special compensatory damages

2. General compensatory damages

3. Wrongful death damages.

4. Which is the best personal injury law firm in Indianapolis, Indiana?

Karpe Litigation Group is the best personal injury law firm in Indianapolis, Indiana. We have experienced personal injury attorneys having knee-deep knowledge of the compensatory damages. Our lawyers can help create a robust case for you and bring you the reimbursements you deserve for your injury and suffering. Contact us now!

5. Why should I hire Karpe Litigation Group for my personal injury case?

Karpe Litigation Group has been offering top-notch legal assistance in various fields. We specialize in personal injury lawsuits and have a high success rate in the same. Moreover, we are the best Indianapolis personal injury lawyer with a diverse experience in the field and are the top choice for legal assistance providers in personal injury lawsuits.

6. Where can i get more information about personal injury damages claims?