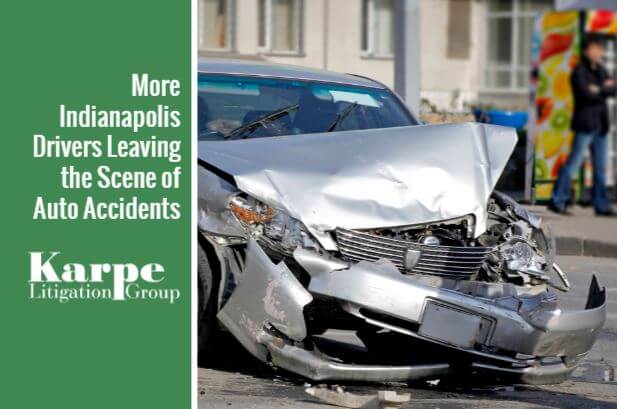 In 2007, four hit and run auto accidents claim a person's life in Marion County. By 2016, that number jumps to 20 – and continues to rise.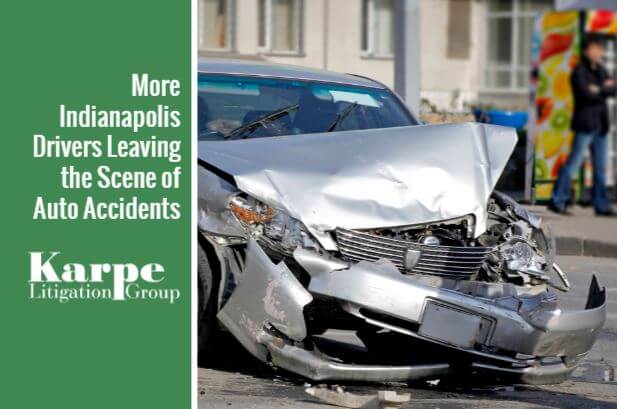 On a Friday night in May 2019, a man is killed on the near west side of Indianapolis. According to Indianapolis Metro Police, a dark-colored passenger car slams into his Ford F-150 while he is likely lying underneath, working on the pickup outside of his home on West Michigan Avenue.
The driver of the car takes off on foot and the man, unidentified and transported to Eskenazi Hospital in critical condition, is pronounced dead on arrival. Neighbors express surprise that someone would be working underneath a vehicle on this very busy road, particularly after dark.
Hit and run auto accidents such as this are not only tragic, they are all too common – especially here in Indianapolis where reports of drivers leaving the scene of auto accidents continue to rise.
More Hit and Run Investigations
Three Injured on the Near East Side. Fox 59 reports in April 2019 on a hit and run accident that causes serious bodily injury to three unnamed adults. The incident involves three vehicles and occurs around 3:40 A.M. at E. 38th Street and Arquette Drive. Police are still searching for the suspect, who was driving a green 2001 Chevrolet Silverado, according to witnesses at the scene.
11-Year-Old Girl Injured. An accident on the eastside of Indianapolis leaves police searching for the driver, according to RTV6. Rickonna Dixson and her 11-year-old daughter are waiting on East Pleasant Run Parkway North Drive to turn into the Kroger at the Twin Aire Shopping Center. Rickonna recalls looking in her rearview mirror and seeing a truck she thinks is moving too fast. When that truck slams into her, the impact is so hard it pushes her into oncoming traffic where she is struck by a van.
"When we were hit, all I could think about was my daughter in the back seat," Rickonna says. "It's a miracle, really a miracle, that my daughter made it. She has half of her ear missing. My car is totaled." Police are still looking for the driver of the 1997 black Dodge Ram that hits them.
Leaving the Scene of An Indianapolis Auto Accident Costs More
A Fox 59 investigation finds a sharp increase in the number of hit and run car accidents after analyzing crash reports obtained from the Indianapolis Metro Police Department (IMPD). "In 2016, there were 5,049 hit and runs reported to IMPD; 543 of them involved injuries. The next year, that number jumped to 5,539 hit and run reports. The number of injuries jumped as well, to 594. By October of 2018, IMPD had already written up 4,236 hit and run reports with 398 of those reports involving injuries."
In the face of more hit and run accidents than ever, Indiana Governor Eric Holcomb recently signed a bill into law creating more serious penalties for drivers who leave the scene of a crash. Now, a hit and run that results in a fatality is considered to be a Level 5 felony. Before, drivers thought they would see more leniency in sentencing after leaving the scene. Today, the law clearly states that running will result in a more serious punishment.
14 Hit-and-Run Accidents a Day in Marion County? The Number Is Rising
Analyzing data records for Marion County, a noticeable spike in the total number of hit-and-run incidents is revealed. In 2007 there were a total of 5,315 hit and run accidents reported, and that number stays pretty consistent for the next seven years.
The total number jumped in 2015 to 6,016, then 7,603 in 2016 and 7,038 in 2017. That's a 117% increase in the total number of accidents from 2014-2015 and a 126% increase from 2015-2016.
Even in the year with the lowest number of incidents (4,908 in 2011), there is still an average of 14 hit and run accidents per day. And that number appears to be on the rise.

Reasons Drivers Leave the Scene of An Auto Accident
Why would someone leave the scene of an accident? After all, it's unlawful and irresponsible, not to mention inhumane. The most common reasons include:
The driver has legal problems unrelated to the crash and does not want to have to deal with the police when they come to investigate
There is a warrant for the driver's arrest
The driver is drunk or high
The driver does not have a driver's license
The driver does not have current auto insurance
The driver is experiencing an emergency
Simple fear or panic
Hit-and-Runs Resulting in Injury
Fortunately, most hit and run accidents do not cause personal injury. There can still be great cost associated with a hit and run, including property damage and emotional distress. Even just focusing on the number of accidents with injury, the number is rising along with the number of total accidents.
For instance, in 2007 there were 624 hit and run accidents resulting in injury. The numbers hover around that until 2016, when they jump to 801. Then, in 2017, the number drops back slightly to 741. There was a 116% increase from 2014 to 2015 and a 129% increase from 2015 to 2016.
Hit-and-Runs Resulting in Death
The most shocking jump in numbers when analyzing the Marion County data is the number of hit and run accidents resulting in death. In 2007, only four hit-and-run auto accidents claimed a person's life. By 2014 that number jumped to 14 and then jumped to 20 in both 2015 and 2016. In fact, of the 120 fatal hit and run accidents over the past 11 years, nearly half (45.83%) occurred in the last three years.
At Karpe Litigation, we're all too familiar with the pain and suffering that can be caused by a hit and run auto accident. If you should ever find yourself in a situation where you have caused an accident, make sure to remain on the scene.
Personal Attention from Professional Attorneys
If you are a victim of a hit and run auto accident, talk to the professional attorneys at Karpe Litigation Group today. We are experts in auto accident law, winning the most challenging cases and helping those in need for 20 years and counting. There is no fee until we win for you. Committed to making things easy for you, we are happy to meet by appointment on evenings and weekends, and travel to you when needed. Give us a call today at 1-888-228-7800 or fill out our contact form to schedule your free initial consultation.